Il Piccolo Blog
Luxury kitchens with island: here is a dynamic and luxurious concept of the kitchen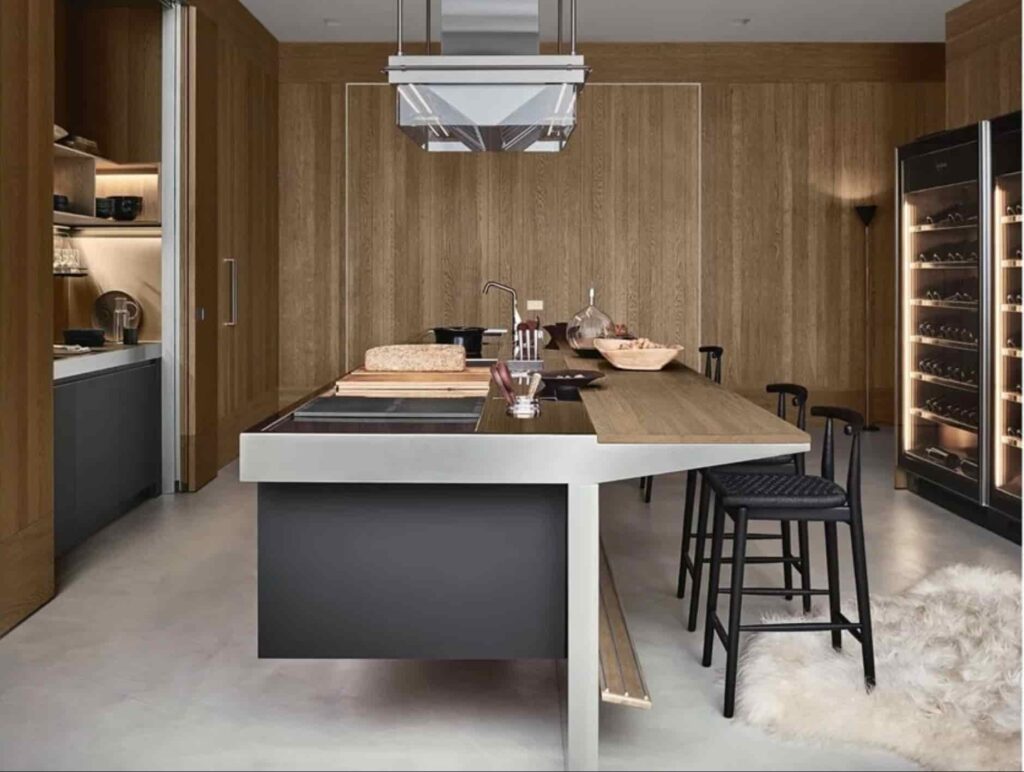 Kitchens with island, luxury arrives in the kitchen
Kitchens with island are a very popular option lately when it comes time to choose the kitchen of your dreams. Those who intend to furnish a house in luxury style, must start from the kitchen. This environment is no longer just a room used for the preparation or consumption of meals, but it is a real living environment where the inhabitants of the house can spend a lot of time and luxury kitchens with island are no exception. Most modern style kitchens are well matched to the use of an island, but to switch from modern to luxury style, thus having classic luxury kitchens with island, some tricks are necessary.
How should luxury kitchens with island be?
Kitchens with island provide functionality and beauty, and it is essential to choose carefully the materials, the appliances and the use of space functionality precisely because, nowadays, the kitchen is a dynamic environment and frequently used by the inhabitants of the house. Luxury kitchens with island wink at the contemporary and are perfect for social or convivial occasions. Family members can converse, play board games or even study and work right on the island, or they can make use of it for evenings with friends and relatives. The central islands are generally used for preparing meals because of the presence of the cooking surface, which in the luxury version that creates luxury kitchens with island can be enriched by technological hoods. Also interesting is the idea of using them as a table where you can have a quick meal.
The most suitable fine materials for these kitchens
When looking for solutions for luxury kitchens with island, perfect are the Italian marbles, certainly among the most valuable in the world, which offer the perfect combination of aesthetic beauty and functionality (they easily resist wear and tear, are easy to maintain and are a guarantee of hygiene), solid wood or even ceramics, often to be combined with the aforementioned wood, not to mention stainless steel, glass, lacquered wood and laminate. It must be said that the made in Italy is the master in this field, so much so that luxury kitchens with island made in Italy are also in great demand abroad. Adjusting everything with a suitable lighting, with attention to detail, luxury kitchens will be simply wonderful, a riot of elegance, royalty and functionality, perfect for a modern and luxury home.
Luxury kitchens must be technologically advanced
The presence of the island gives luxury kitchens with an island a unique practicality and livability, providing a space where the inhabitants of the house can perform the actions they prefer, from studying to eating a snack, but every area of the kitchen must be functional and easily usable. Therefore, automatic opening and closing systems, sensors or other very modern technologies are excellent.
Speaking of kitchens of this type, you can not leave out the appliances. These must be produced by great brands and certified with class A+++. Now there are the latest appliances for any need of luxury kitchens with island, such as freezer or refrigerator or even induction hobs.
What distinguishes luxury kitchens from other types of kitchen is undoubtedly the aesthetic beauty. While it is true that this is not everything, and that it is important to ensure that luxury kitchens are, as we have seen, also practical and functional, they actually can not be anything less than elegant, beautiful to see, able to leave you speechless. When designing, therefore, it is necessary to marry practicality and functionality with aesthetic taste, for a truly stunning effect. For those who wish, in open spaces, you can create open kitchens, perfect for the inclusion of an island.
Devi realizzare un progetto di Interior Design?
Devi arredare casa o un singolo ambiente?

Scegli una falegnameria di alto livello.
Contattaci
Il Piccolo, a second-generation family-run joinery, opens its own showroom in Lugano. With over 50 years of experience, Il Piccolo brings with it a wealth of technical and design knowledge of the highest level, thanks to the numerous interiors designed and furnished throughout the world. In addition, Il Piccolo represents the most prestigious brands of furniture worldwide. Il Piccolo designs, produces and sells the best of the interior design made in Italy, following the customer from the design to the realization, delivery and installation of the work, integrating the process with a precise and professional assistance service. CONTACT US!