Il Piccolo Blog
Luxury wardrobes: timeless prestige and beauty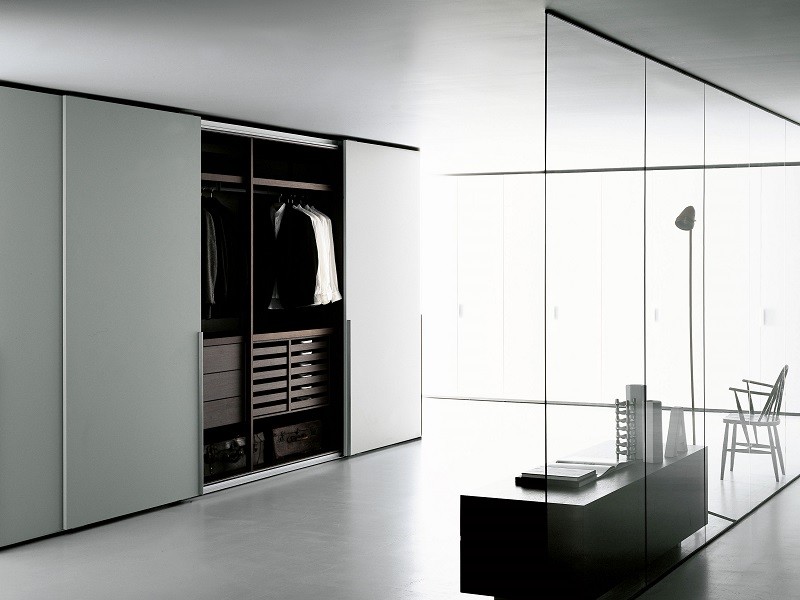 Practical, beautiful and with a great decorative capacity: luxury wardrobes are central elements in bedroom furniture. Depending on your style, you can choose a traditional wardrobe for your home, with wood as the protagonist, or a piece of furniture that is more modern in its aesthetics and internal organisation of space. Not forgetting walk-in wardrobes, which represent the new frontier of luxury wardrobes.
Luxury wardrobes combine aesthetics and functionality
The wardrobe is, together with the bed, the central element of the bedroom furniture. The choice of wardrobe model is therefore crucial to the success of the furnishing project. The wardrobe model not only defines the style and aesthetics of the room, but also determines how the wardrobe will be organised.
A luxury wardrobe is a piece of furniture designed to last. The solid structure resists fashions and, day after day, helps the family to store clothes and choose what to wear.
The size, internal organisation and external finish of the wardrobes can be customised in every detail. You can choose a standard size wardrobe for your project or a wardrobe that takes up the entire surface of one of the bedroom walls. Mirrors can be fitted inside or outside the structure, and hinged or sliding doors can be fitted.
Inside, the organisation of the space should be as functional as possible and include enough space to hang clothes and coats, as well as shelves for storing sweaters and trousers. Drawers, slide-out trays and compartments of different sizes are essential, to neatly store accessories such as scarves, hats and belts. However, they are also essential for keeping bags and shoes within easy reach to complete your daily outfit.
Luxury wardrobe or walk-in wardrobe? What to choose?
Those who love the classic furnishing style are really spoilt for choice. For their bedroom, they can opt for a vintage-style wardrobe model, an authentic antique or a current model inspired by past trends. Classic luxury wardrobes are characterised by the use of solid wood and refined decorations that catch the eye.
Modern wardrobes, on the other hand, focus more on functionality. The distribution of space is designed to allow easy organisation of the wardrobe. These luxury wardrobes are often designed with modular and customisable solutions, combining the strength of wood with the practicality and lightness of metal.
In addition to classic wall-mounted wardrobes, there are other solutions that can be considered. Luxury walk-in wardrobes or bridge wardrobes are options to consider when you need to furnish a small space or when you are looking for an intelligent alternative to make use of the space.
Folding wardrobes have the advantage of being able to extend along the entire wall, in length and width. The exterior of the wardrobe is designed to blend in with the furnishings of the room in which it is installed. Depending on the result you want to achieve, you can choose a walk-in wardrobe with smooth sliding doors, a walk-in wardrobe covered with mirrors or a piece of furniture that recalls the aesthetics of decorative wooden panels.
Among the latest trends in luxury wardrobes are walk-in wardrobes. Clothing and accessories move out of the cabinet and into an entire room dedicated to them. The walk-in wardrobe becomes a space in which to organise your wardrobe and store shoes, bags, accessories and clothing in full view. These items can be divided according to season or occasion of use.
The walk-in wardrobe is the new frontier of luxury wardrobes and has several advantages. Having a special room for your wardrobe means that you always have everything at hand, without having to change seasons and without having to spend too much time choosing what to wear.
Larger walk-in wardrobes can become a space to relax, where you can spend time composing your look and experimenting with new combinations. In addition to shelves, hanging space and drawers, modern walk-in wardrobes can include sofas and armchairs to sit and relax on, or soft carpets to walk on barefoot when dressing or changing.
Do you have to carry out an Interior Design project?
Choose a high-level carpentry.

We have over 50 years of experience!
Contact Us
"Italian Interior Design sincew 1968".

Il Piccolo is a luxury joinery, specialised in interior design. We are a recognized brand, spokesman of the made in Italyall over the world.
For over 50 years, wehavebeenserving the mostdemanding clients and the most innovative designers. We are reliableinterpreters of the projects of architecturestudios, whichwe work alongsideasconsultants on the latest in industrial design and asscouts for uniquepieces to be included in furnishings, from modernantiques to contemporary art.
Our clients have a personal and directrelationship with us: thisgivesthem the certainty of achievingtheirobjectives, meeting tight deadlines and solving last-minute problems. The project leader, whoisalwaysone of the owners, alsotakes care of the logistics.
Each stage follows a precise path and isdocumented. From the plans to the prototyping, so that the best choices can be made from the outset: materials, colours, woodfinishes and polishes, stucco effects. By contactingus, you can be sure of excellentcustomer care. CONTACT US!