Il Piccolo Blog
Marble and wood kitchen, combining refinement and home warmth is possible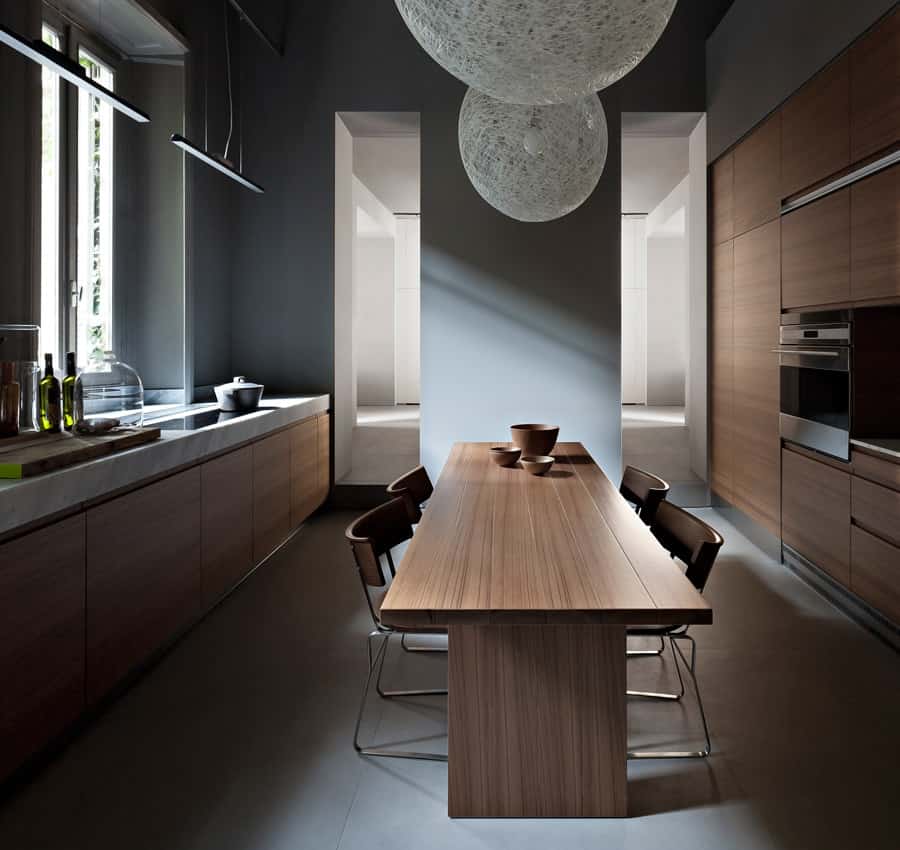 An original and brilliant idea: combining marble and wood in your kitchen
With the infinite number of solutions available in the world of furnishing, often the real added touch to a house or a room comes from the originality of the combinations, which obviously cannot ignore good taste and balance. A marble and wood kitchen is an example of this. A particular choice capable of combining refinement and domestic warmth. Two of the most widely used natural materials, albeit in different contexts, are used throughout history. The real secret is to do it with attention to detail for a priceless result.
A marble and wood kitchen certainly has its place. Marble is one of the materials that brings refinement and elegance par excellence and it is just a commonplace that it is cold. If combined and used in the right way, it can be imposing and delicate, and it is also very resistant. Wood par excellence recalls the hearth and the warmth of the home. It is an evergreen material, used in every era in kitchens, bedrooms, for wardrobes, for furniture. They can also be combined. An unusual but original and brilliant idea!
It can be done in any room, and the kitchen is no exception. There are a few rules to follow. First of all, of course, it is a question of thinking about combinations that respect the style of the house: from rustic to modern. Then choose a few dominant colours, usually two or three. If the floor is made of marble, wood can be used as a wall covering, for example. A dark marble floor requires furniture, whether in wood or not, white to create contrasts or dark to create harmony. In the case of a light-coloured floor, light-coloured furnishings should also be used. What about pink, beige or light green marble? Colours such as white, neuro or something neutral such as dove grey, ivory or brown are ideal,
How to create a balanced marble and wood kitchen
But how can you create your own marble and wood kitchen, balancing the two materials in the best possible way? A harmonious fusion is definitely the best solution. And it gives you great freedom of choice. The most obvious decision could be to use marble to cover the worktop, even when dealing with a kitchen island (and if it is visible, all the better, the particularities of marble will be highlighted). And wood? In the floor. Or the other way around, if you wish.
Of course, this is not the only idea that can be applied to a marble and wood kitchen. You can create more original combinations, which make the materials coexist more closely. You could opt for a wooden kitchen top on marble: with a homey and refined warmth!
Or you could insert marble inlays into the wood, or vice versa. Think of the class of wood panelling.
The floor can mix wood and marble, especially if the kitchen faces the living room, which may in turn have a combination of marble and wood, in an imposing and warm room.
About tables and types of wood, what to pay attention to
Don't forget that both materials are perfect for a table. In a marble and wood kitchen, the table can be made of marble or wood. In the first case, you will have something imposing, which can be the star of the room, placed if possible in the middle so as to be highlighted. Many types of wood are possible, so pay attention to which one you choose when you want to create a combination of marble and wood in your kitchen. The veins present in the two materials are certainly a valuable feature that can be highlighted in the workmanship. By choosing a marble and wood kitchen it is possible and extremely tasteful to give continuity to the veining of both, in a refined game that will seem to have been created on purpose. The balance between the colours, whether they create harmony or contrast, is fundamental.
Devi realizzare un progetto di Interior Design?
Devi arredare casa o un singolo ambiente?

Scegli una falegnameria di alto livello.
Contattaci
Il Piccolo, a second-generation family-run joinery, opens its own showroom in Lugano. With over 50 years of experience, Il Piccolo brings with it a wealth of technical and design knowledge of the highest level, thanks to the numerous interiors designed and furnished throughout the world. In addition, Il Piccolo represents the most prestigious brands of furniture worldwide. Il Piccolo designs, produces and sells the best of the interior design made in Italy, following the customer from the design to the realization, delivery and installation of the work, integrating the process with a precise and professional assistance service. CONTACT US!