Il Piccolo Blog
Metal pendant light: how to make the right choice?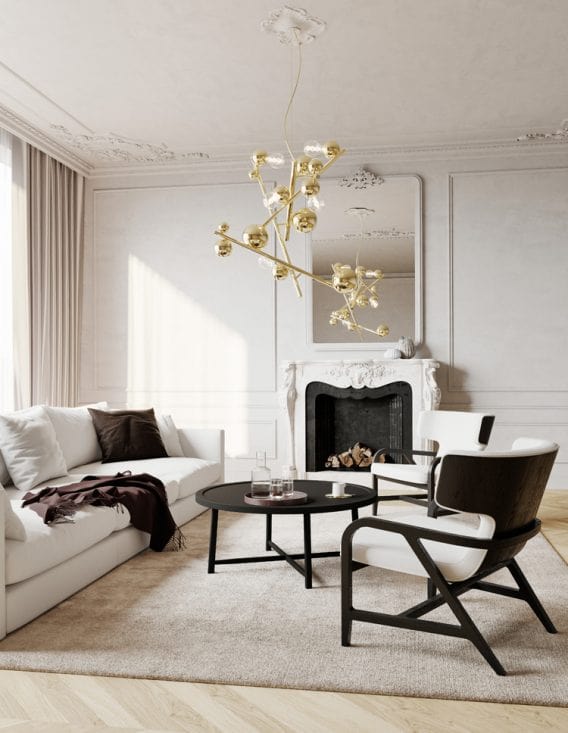 Furnishing with a metal pendant light is a trendy choice, especially in furnishing projects that focus on contemporary and design-oriented creations.
Specifically, these chandelier models are particularly appreciated for their versatility and great decorative capacity, which makes them perfect for embellishing various spaces in the home, starting from the entrance and the living area up to the bedrooms. Let us therefore understand why they are so successful.
What are the advantages of a metal pendant lamp?
Metal pendant lights are among the most popular lighting solutions of the moment, especially for those who have focused on industrial and design style furnishings. Thanks to the versatility of these proposals and the availability of many different models, it is possible to find the right level of lighting for each room, thus creating a customised atmosphere.
Depending on one's objectives, one can choose a metal pendant light with a punctual lighting system, which enhances and emphasises a precise corner of the room, or a suspended model that is able to illuminate the entire room in a uniform and regular manner.
When they are switched off, then, the models with a more creative and sophisticated look turn into furnishing objects that enhance the room and work in synergy with the furniture and other accessories present. Within the range of modern metal chandeliers, there are also real sculptures, obtained by shaping metal, so as to create unique objects of great visual impact.
Sculptured chandeliers are worth considering for daring interior design projects, but can also prove to be a trump card for simpler interior designs. In a house furnished in a Nordic style, for example, metal pendant lamps with a sophisticated design can balance the essential lines of the furniture and add personality to the space.
Which metal pendant light to choose?
Metal pendant lamps are suitable for all contemporary furniture. Thanks to versatile structures, these metal chandeliers adapt to various stylistic nuances and can be placed in all interior spaces of the home, giving each room a distinct personality, so as to illuminate it at its best.
Models with an arm structure are among the most suitable for completing an industrial style furnishing project. In many cases these are modular structures, which can be customised to increase or reduce the number of light points, depending on the size and brightness of the space.
Those who want a more original solution can consider metal chandeliers with lampshades: there are solutions in glass, fabric or wood. The combination of metal and glass is the most classic and is easy to customise, choosing coloured or opaque glass.
The combination of metal and wood, on the other hand, is perfect for those who have chosen a natural and sustainable style of furnishing for their home. The metal structure of the chandelier can be combined with simple raw wooden boards, on which the light bulbs are installed, or with wooden parts that are worked in a more complex manner. Carved wooden pendant chandeliers are the most scenic and, when lit, project patterns on the walls that can give a very special touch to the room.
Furnishing at its best with metal pendant lamps
The chandelier (metal pendant or in the most common designs) is a central element in furnishing a room. The right model can enhance the appearance of the room and completely change the perception of space. For these reasons, it is a good idea to take time to evaluate the different options available and to choose the perfect pendant chandelier for every space in the house.
If there are other lighting points in the room, such as floor lamps or wall lamps, it is important that there is consistency in the style and appearance of the different models chosen. An easy way to create a common thread between the different lamps in the room is to aim for models of the same colour.
Among the most popular metal-framed pendant lamps are the chrome and silver ones, which are appreciated for their brightness and elegant appearance. More sophisticated, on the other hand, are the copper and brass chandeliers with a matt finish, perfect for industrial-inspired furnishings. Gold chandeliers are a nod to more traditional furnishings and are ideal for livening up a decor where white furniture and neutral tones dominate.
Whether you choose a modular, minimalist or richly detailed model, the metal pendant light is able to give a unique character to any room in the home and is easy to combine with design furniture and custom-made furnishings in a variety of styles.
Need to furnish your home or a single room?
Choose a top-notch woodworking shop.

We have over 50 years of experience!
Contact Us
Il Piccolo, a second-generation family-run joinery, opens its own showroom in Lugano. With over 50 years of experience, Il Piccolo brings with it a wealth of technical and design knowledge of the highest level, thanks to the numerous interiors designed and furnished throughout the world. In addition, Il Piccolo represents the most prestigious brands of furniture worldwide. Il Piccolo designs, produces and sells the best of the interior design made in Italy, following the customer from the design to the realization, delivery and installation of the work, integrating the process with a precise and professional assistance service. CONTACT US!