Il Piccolo Blog
Milan Design Week 2022: all the best trends from the Milanese kermesse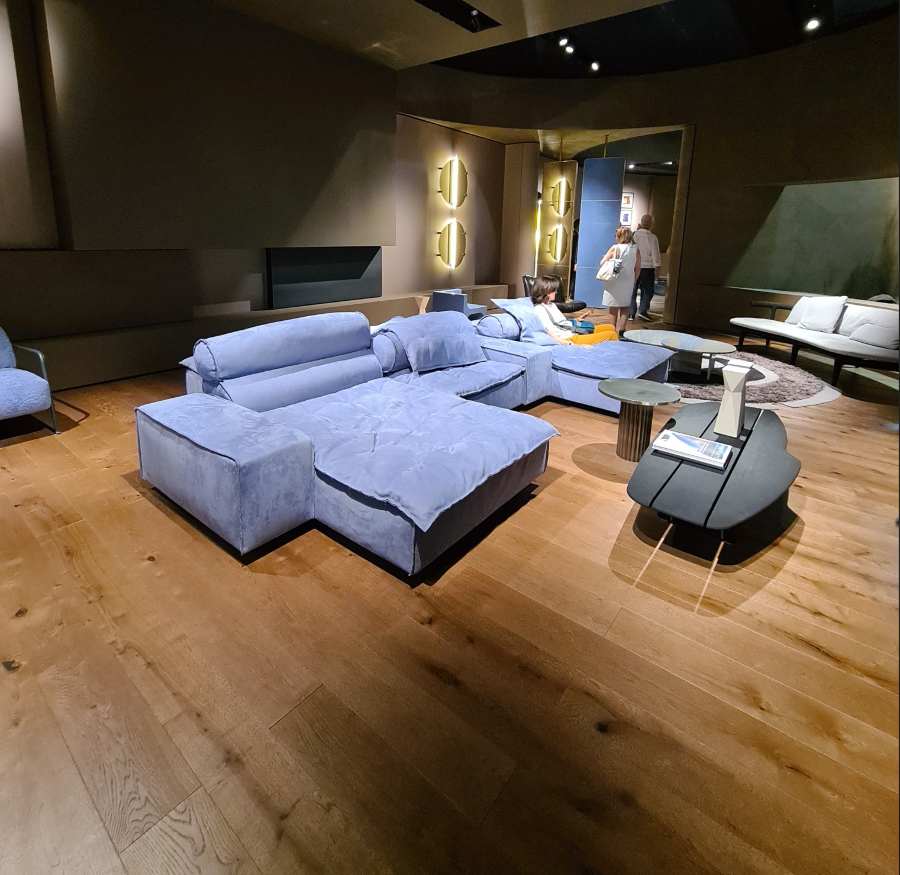 Milan Design Week 2022 has just ended, the first edition of the event after the long, forced hiatus due to the pandemic.
Let's say one important thing right away: both the Salone del Mobile and the Fuorisalone have returned to their former glory, registering a huge success in terms of attendance and consensus. The Milanese event confirmed itself as one of the pinnacles of world design, once again dictating what will be the future trends on an international level.
As in the best years of the fair, both designers and participating companies presented many novelties for home furnishing. It is therefore worth outlining which were the most important trends that Design Week highlighted.
A convinced return to colour and increasingly technological luxury
A first and clear trend is the return to strong colours, at the expense of pastel or soft shades. Despite the fact that some companies continue to offer black in their collections – which is understandable, given the elegance that this colour is capable of lending to furnishings -, most companies now focus on sharp colours such as mustard, blue, red, orange ranges, purple, burgundy and olive green.
Milan Design Week 2022 also highlighted a trend that hardly any of the participants wanted to give up: the bouclet. Small or large, soft: practically everyone planned to make extensive use of it, making it an authentic protagonist of various projects.
The event also said that, in furniture, luxury is increasingly technological. Specifically, when we speak of 'technological luxury' we mean the use of increasingly smaller or even invisible fittings, made with patents that, for each brand, are absolutely exclusive. Designers are in fact ready to bet on mechanisms that allow a reading of pure forms and that, at the same time, guarantee perfect functionality of the furniture. For example, the fashion that will become fashionable after Design Week includes increasingly sophisticated mechanisms, capable of gently accompanying furniture doors so that they can close in an increasingly light and controlled manner.
Woods, marbles and a focus on the outdoors
As far as woods are concerned, canaletto abdicates the absolute dominance of the past years and makes way for lighter woods. Following this trend, oak is on the rise in the preferences of designers and companies. Oak, as always, is being bleached, coloured and greyed.
Another trend that emerged unequivocally from Milan Design Week 2022? The enhancement of the outdoors. During Covid-19, all companies focused on outdoor spaces, to make them more beautiful and elegant. This effort has seen the birth of collections that are as articulate in their proposals as they are refined in taste.
A few words must also be said about marble. More than one company is starting to use travertine, a neutral marble that lends a stately elegance. It is both a plunge into history and – consequently – an important, elegant and timeless material. The most popular marbles today are the sophisticated Alpi green, Lepanto red and the timeless Carrara. Less popular at this edition of the Salone and Fuorisalone was the gold Calacatta marble.
All the trends for kitchens
Of course, kitchens could not be missing from Milan Design Week 2022. In these cabinets, one notices important doors, i.e. of a certain thickness – even 4 or 5 centimetres – and well worked. Glossy lacquer and anti-fingerprint vintage steel find new space.
Almost all manufacturers have also considered making the entire kitchen in stone, marble or gress, materials that the market is crying out for. This is a choice that turns kitchen islands into real monoliths.
On the rise is the pocket door, retractable or concealed, behind which the operative part of the kitchen is concealed. Here, too, mechanisms play a starring role, because they make all the difference in the smooth running of the furniture.
Design Week 2022 also showed what are the most interesting trends for cooker hoods. The novelty is that these elements tend to disappear or become shelves serving the worktop.
Fenix remains one of the most widely used materials in kitchen construction. In fact, it has been proposed in many collections. The new colours presented by Arclinea are also really beautiful. We refer in particular to Stromboli, a sugar-paper-blue of sublime elegance.
Great news also for shapes, sizes and light
As far as beds are concerned, the orientation that has emerged unequivocally is that of side wings. And then big headboards, like screens, which furnish and give a strong personality to the whole room. All companies have planned one or more bed models with these features.
Milan Design Week 2022 also brought a breath of fresh air in the field of lighting. Practically all brands produce battery-operated lamps, to be placed on tables or in the garden and – more generally – outdoors. Their use is likened to that of lanterns. The trend we have just reported on will be a real must for the near future.
Many brands have also proposed straw, in various weave sizes. For example, the element has been used as a back panel in walk-in wardrobes or as a lining for the doors of designer cupboards. On the other hand, this is a trend that can be well understood, since straw is ecological, textured, warm, refined and able to hark back to the Far East.
The Salone and Fuorisalone then said that organic bean or leaf shapes continue to be winners, as long as they are decidedly rounded, i.e. without edges or straight lines, a good example is Baxter Italia.This is especially true for upholstered furniture collections, which are increasingly designed to welcome and embrace.
At this edition of the Milan Design Week 2022, special attention was also given to furniture and rooms with smaller dimensions. Small sofas, space-saving wardrobes as well as smaller kitchens are designed around the needs of a metropolitan consumer, i.e. those who live in the city on a daily basis and see their home space reduced. Which, of course, does not imply less attention to detail on the part of manufacturers, quite the contrary.
The trends that emerged from the Milan event also concern carpets. In many cases they become patchworks of different heights and materials, representing real floor pictures. The artefacts are also designed to embellish the outdoors. In the outdoor contexts of homes, they are almost all proposed in pet and, more generally, in recyclable materials.
The watchword for Milan Design Week 2022? Sustainability!
Last but not least – but the topic still has a decisive weight in the interior design of the near future – all brands, without exception, are looking at sustainability and are committed to offering truly sustainable materials, of controlled origin and, if possible, recycled.
In the wake of this trend, all companies have in fact shown a firm desire to contribute to the reduction of polluting emissions. In short: reducing environmental impact was undoubtedly one of the leitmotifs of the Milanese event that has just ended. And all participants made an original contribution to solving the problem.
Appointment in Milan for Design Week 2023!
So these were the most important trends that emerged from Milan Design Week 2022. We at Il Piccolo, who experienced the entire week from the inside, were able to record them directly on site.
If you, too, are an interior designer, you cannot ignore these trends, because they are indications that the entire industry will certainly follow. See you again in Milanoo for Design Week 2023!
Devi realizzare un progetto di Interior Design?
Devi arredare casa o un singolo ambiente?

Scegli una falegnameria di alto livello.
Contattaci
Il Piccolo, a second-generation family-run joinery, opens its own showroom in Lugano. With over 50 years of experience, Il Piccolo brings with it a wealth of technical and design knowledge of the highest level, thanks to the numerous interiors designed and furnished throughout the world. In addition, Il Piccolo represents the most prestigious brands of furniture worldwide. Il Piccolo designs, produces and sells the best of the interior design made in Italy, following the customer from the design to the realization, delivery and installation of the work, integrating the process with a precise and professional assistance service. CONTACT US!