Il Piccolo Blog
Essentialism, rational spaces and peace: minimal interior design has precise rules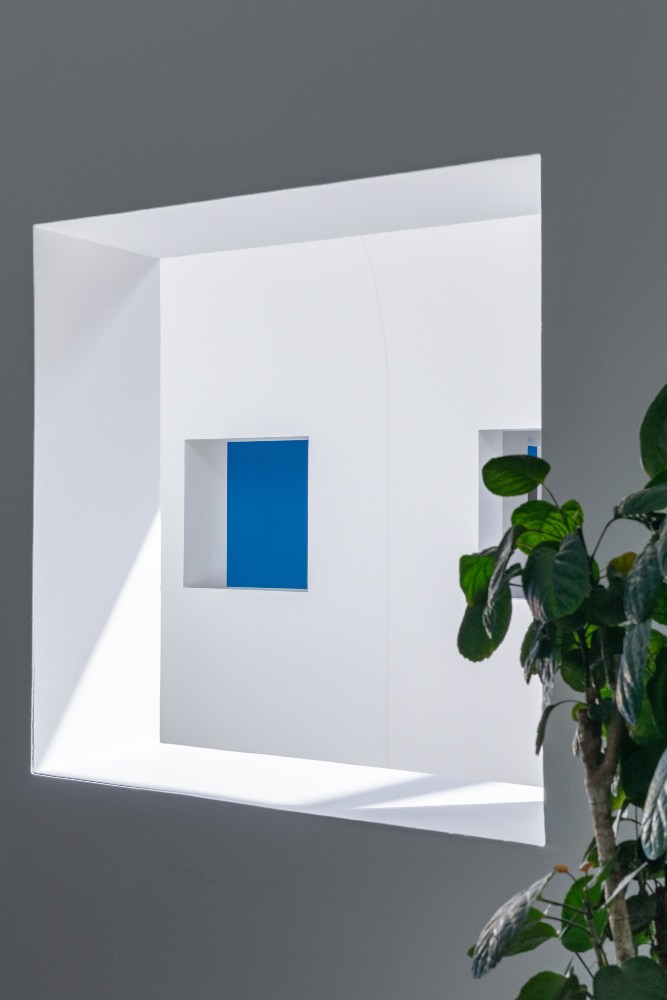 Less s more, in the home and in life
Minimal interior design has a long history behind it. It began in the early 1900s with Adolf Loos and developed with an architectural genius such as Mies Van der Rohe.
What does it mean to focus on interior design that is minimal? It, like minimalism understood as a philosophy of life that opposes consumerism, makes the motto less is more its cornerstone. That is, renouncing the superfluous. It means quality and not quantity, few objects and little furniture, each in its right place. Furnishing with only what is needed, without anything extra. And there are precise guidelines.
In minimal interior design, the various rooms will be furnished with the bare minimum and have a strong coherence between them. You will therefore have furnishings that are reduced to the bone and homogenous. As the focus is on having what is needed and nothing more, the furnishings are oriented towards functionality. Practical detail: the house will be easy to clean.
For colours, choose neutral and bright shades
Space, in minimal interior design, is studied very carefully. Forms are essential, but this does not mean sacrificing aesthetics. Those who choose minimalism make the best possible use of the space they have available, with rationality. Furniture will have little clutter and clean, geometric shapes. You can have less, but with style and class. One must be careful to enhance what one has: each element has a reason.
The walls should be a soft colour, pastel or even white. Hues reminiscent of the earth, such as green, some browns and greys, perhaps taupe, are very popular.
The neutral colours mentioned should be used for all furniture. They contribute to creating a bright environment, which is essential in this type of home. In particular, natural light is enhanced. It is important to illuminate every corner, with the help of artificial lighting if necessary.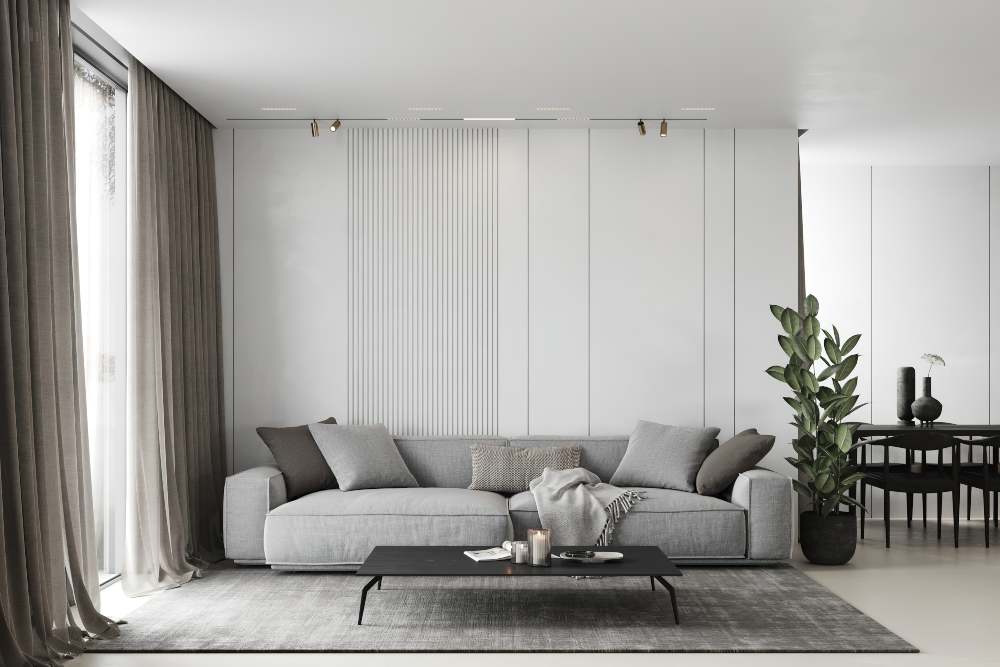 The materials of minimal interior design: no waste!
In minimal-inspired interior design, attention must be paid to the materials used. Again, it is correct to make choices that go against waste: therefore, go for choices that are also capable of lasting. Wood, an expression of nature, is often used, particularly maple, fir and bamboo. These are light woods, which bring airiness, brightness and can be used not only for furniture but also for floors and wall coverings.
Glass, concrete and steel can be used in every room, from the kitchen to the bathroom. As far as fabrics are concerned, cotton and linen and rougher materials such as jute are perfectly suited to the minimal style. Different materials are often used to create a clever contrast with a refined effect, playing with a consistent colour palette.
The various rooms in a minimal interior design
In the kitchen, linear shapes are favoured, with compartments, drawers and wall units in which to store pots and utensils, so that nothing is left lying around. And beware, although glass is widely used, glass cabinets are not liked. Objects should be hidden and not displayed as in other styles. The overall view is homogeneous. The bedroom of a house that makes minimal interior design its credo must be very relaxing, also thanks to soft colours. Obviously, there will only be essential objects: the bed, perhaps low, the wardrobe (preferably a walk-in wardrobe) and little else. As for the bathroom, minimal does not mean without comfort. Large mirrors, wall-hung sanitary ware and very simple, linear shower cubicles, perhaps created in a niche, are favoured. Yes also to walk-in showers.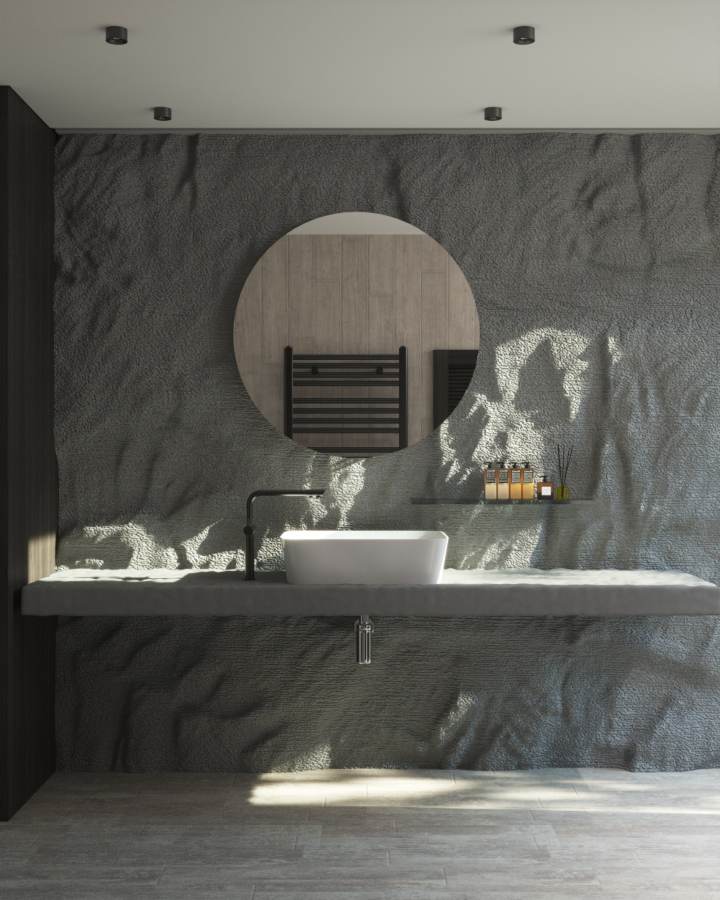 Peace and serenity. Yes to plants, but only green ones
A minimal interior design should lead to a feeling of peace and serenity, allowing the inhabitant to reconnect with himself. For this reason, the use of plants, especially evergreens or cacti.
Need to furnish your home or a single room?
Choose a top-notch woodworking shop.

We have over 50 years of experience!
Contact Us
Il Piccolo, a second generation family-run joinery, opens its own showroom in Lugano. With over 50 years of experience, Il Piccolo brings with it a wealth of technical and design knowledge of the highest level, thanks to the numerous interiors designed and furnished all over the world. In particular, Il Piccolo has a wealth of experience in the design and production of several corner wardrobe models. Finally, Il Piccolo represents the world's most prestigious furniture brands.
Our company designs, manufactures and sells the best of made-in-Italy interior design, following the customer from the design to the realisation, delivery and installation of the work, supplementing the process with a precise and professional assistance service. Looking for the ideal corner wardrobe for your room? CONTACT US!