Il Piccolo Blog
Modern and contemporary furniture: what's the difference?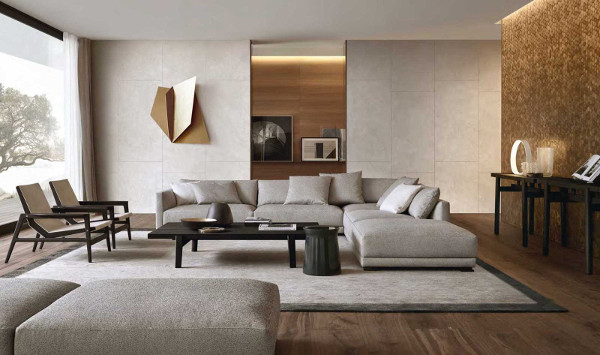 Modern and contemporary are terms often used synonymously. But in the field of home furnishing, the two styles are only partly overlapping. A house furnished in a modern style can look very different from one furnished in a contemporary style. What are the main differences and similarities between these two approaches to interior design?
Modern versus contemporary style furniture
The differences between modern and contemporary furnishing styles are mainly due to historical reasons. When we talk about modern furniture we refer to furnishing styles born during the 20th century, roughly in the period between the 1920s and the 1970s. Modern styles include, for example, Art Deco and Mid-century style.
Contemporary style furniture, on the other hand, has a narrower time frame of reference. Contemporary style refers to trends and styles of recent years with an eye to the future. A house furnished according to this style incorporates the most avant-garde solutions and materials and departs more from tradition than a house furnished in a modern style.
There are also other important differences between the two approaches to furnishing spaces, which are worth knowing and recognising. First of all, the two styles differ in the materials used. In modern furniture, wood is the absolute protagonist, proposed in natural tones or neutral colours. Contemporary furniture is characterised by experimentation and originality. The result is furniture made from a variety of materials, including innovative ones. Wood, metal, glass, stone and new materials are selected and combined from time to time to create unique models that guarantee aesthetics and functionality.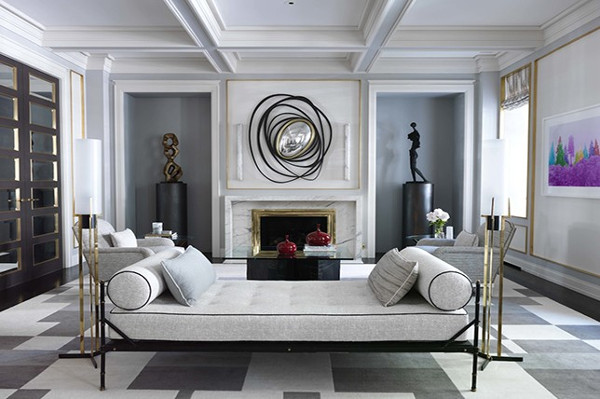 Which style should you choose for your home?
Although they are often confused, modern and contemporary styles allow you to make diametrically opposed furniture choices. Modern style is great for creating a warm, homely and rustic environment, while contemporary style is better suited to rooms where a cooler, more elegant and sophisticated atmosphere is desired.
Modern furniture is often made of wood and is characterised by dark colours and soft lines. In contemporary furniture, the natural tones of wood are replaced by white, pastel colours or brighter, more pop colours. There are also solutions that play with the contrasts between black and white or that use the range of greys to create an elegant and sober environment. The lines of the furniture and decorations are simple and clean, with a square design that aims at the essential.
Sofas, furniture, tables and chairs generally have thin, visible support legs. Again, you can opt for wood if you want a home with a natural atmosphere, or metal if you prefer furniture with more sophisticated details.
The choice between one or the other style depends primarily on the objectives of the project and the preferences of the person living in the house. The structure of the house can also influence the choice: in an open space you can easily mix furniture of the two styles, to make the different environments more harmonious and to characterise the various areas of the house in a unique way. In order to choose the right modern and contemporary furniture to put together, it is important to think about the common points between these two styles.
What do modern and contemporary styles have in common?
Although there are many differences between the two styles of furniture, the environments created in modern or contemporary style have some points in common, starting from the approach tending towards minimalism. In both approaches the furniture remains clean and essential, with functional furniture and decoration without excess.
The lines of the furniture are simple and give the whole a fluid appearance. At a glance, these rooms appear harmonious and in perfect balance.
In some ways, the contemporary style can be seen as an evolution of the modern furniture style. Both tend to enhance rooms by making them appear large and spacious. This is easy to achieve in an open-plan structure, but even in differently structured houses it is possible to convey airiness, acting on the arrangement of furniture and choosing bright materials and light colours.
Do you have to carry out an Interior Design project?
Choose a high-level carpentry.

We have over 50 years of experience!
Contact Us
"Italian Interior Design since 1968".

Il Piccolo is a luxury joinery, specialised in interior design. We are a recognized brand, spokesman of the made in Italy all over the world.
For over 50 years, we have been serving the most demanding clients and the most innovative designers. We are reliable interpreters of the projects of architecture studios, which we work alongside as consultants on the latest in industrial design and as scouts for unique pieces to be included in furnishings, from modern antiques to contemporary art.
Our clients have a personal and direct relationship with us: this gives them the certainty of achieving their objectives, meeting tight deadlines and solving last-minute problems. The project leader, who is always one of the owners, also takes care of the logistics.
Each stage follows a precise path and is documented. From the plans to the prototyping, so that the best choices can be made from the outset: materials, colours, wood finishes and polishes, stucco effects. By contacting us, you can be sure of excellent customer care. CONTACT US!