Il Piccolo Blog
Modern bathrooms: what are they? How to design and realise a super modern bathroom in your home?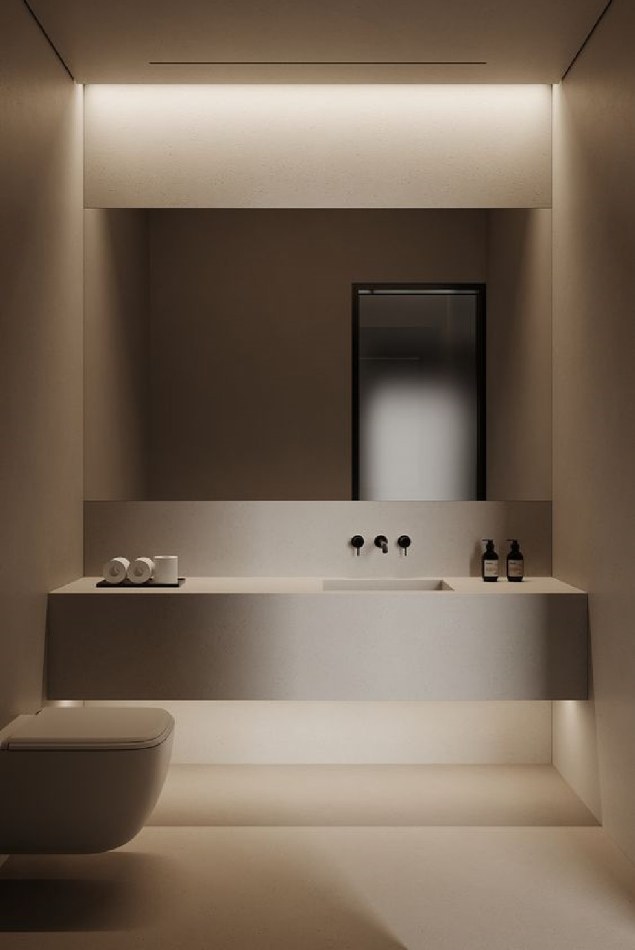 What are modern bathrooms? What differentiates them from other bathroom types and styles? What furnishings are most suitable for a contemporary style bathroom that will be in a flat, loft or villa? When can you design an extremely modern bathroom for your home? And again: what furniture and accessories are indispensable in the latest bathrooms?
It is well known: the bathroom is one of the most difficult rooms to furnish in any home. Indeed, our experience as interior designers tells us that, all too often, design errors are the order of the day. And mistakes, for customers, mean a bathroom that goes badly with the decorating style of the house. Not only that: getting the design wrong means creating a room that does not meet the customer's expectations, both aesthetically and functionally. In short: a real disaster.
What we have listed are the main reasons why, in designing modern bathrooms, it is absolutely necessary to contact an expert interior design company. Specifically, you need to contact a company that specialises in the design and creation of bathrooms of high and very high quality. But more on this later.
We opened this article with a series of questions. In the following paragraphs, we will give all the answers in detail. We will even go one step further: we will share with you all the best advice on what kind of contemporary bathroom you should envisage in your home. In short, we will give you the best tips for furnishing your bathroom so that, after installation, you can enjoy the comfort and beauty of a modern, functional, relaxing location. In other words, we will tell you how to turn your bathroom into a real spa, a place in your home where you can relax and take care of your body as it deserves.
For these reasons, today's post is a real step-by-step guide on how to design and furnish modern bathrooms. From this perspective, we will follow you in the study and realisation of every piece of furniture and every detail, because this is exactly what we have been doing with our customers since way back in 1968.
One last remark before we begin. Our recommendations apply whether you are renovating your house – and therefore also have to redesign your bathroom – or if you are buying a new house – and therefore have to create your bathroom from scratch. But let's not waste time now, let's start with our tips!
Do you want a modern bathroom?
We have 50 years of experience.
CONTACT US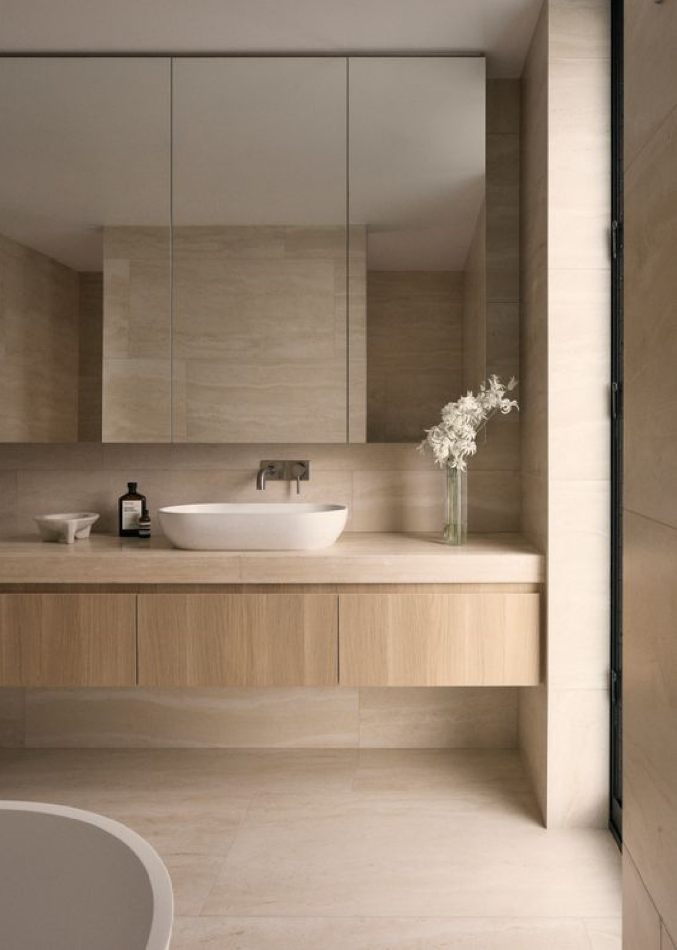 What is a modern bathroom?
Modern bathrooms are rooms that are designed and built following the latest stylistic trends in interior design worldwide . Not only that: in this type of setting, technology is used in abundance. Consequently, such rooms are furnished with modern furniture, which is characterised by the presence of clean lines, neutral colours and quality and, indeed, high-tech materials.
Other furnishings and accessories that give a very modern bathroom its character? We can certainly mention a bathtub with additional functions, such as hydromassage, porcelain stoneware or synthetic or resin flooring, ceramic tiles, chrome taps, a shower head with an ultra-modern design, storage cabinets with sliding doors, a toilet and bidet with a flushing function designed to save water, and a shower cubicle with a programme to transform it into a sauna.
Modern bathrooms can also accommodate a mirror with LED lights, one or more designer washbasins, a shower tray with more generous proportions than usual, a washing machine with extensive use of electronics – and even an Internet connection -, a heated towel rail, an air extraction system, and a system to control the temperature in the room.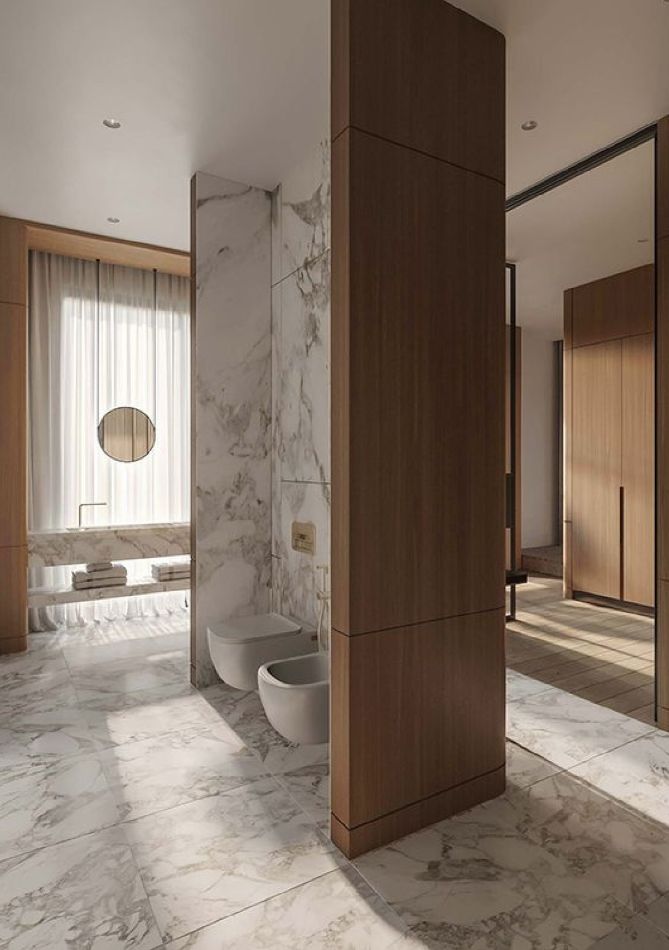 How to furnish modern bathrooms?
We have therefore defined what a super modern bathroom is. Now, we will analyse in detail what type of furniture should be placed in such specific types of rooms. We could write at great length on the subject, given our experience in the field, which has seen us work for decades as expert interior decorators in made-to-measure. However, in order not to be too long-winded, we will limit ourselves to a snapshot of what are the most basic tips for creating a bathroom that possesses a super modern look and functionality.
Specifically, here is a cross-section of our most useful tips on furnishing modern bathrooms:
Prefer flooring made of large tiles in neutral colours such as beige, light grey and white.
Choose a combination of various materials – such as glass, metals, and wood – to give the bathroom a distinctly modern look.
Opt for wall-hung furniture, from sanitary ware to shelves. These are often essential elements in modern bathrooms.
Plan a curtain with a geometric or design motif.
Insert accessories with a distinctly modern shape (towel rails, soap dishes, mirrors, hairdryer holder, paper niche, etc.).
Choose a bathtub with a modern design and ensure that there is a clear contrast between the colour of the bathtub and its fittings.
Install a shower with components made of modern materials and a shower head with a trendy design.
Illuminate the bathroom with spotlights and soft lighting.
Choose wall tiles in neutral colours such as white, grey, beige or even black.
Favour furniture that has clean lines, especially when it comes to wall-hung furniture and open cupboards.
Insert a mirror in minimalist taste.
Add design details such as transparent curtains or small mirrors with a metal frame.
Ask the designer for large tiles to give the space a more spacious feel.
Opt for a rainfall shower, as it is often the design choice that most contributes to identifying the character of modern bathrooms.
Favour LED lights to illuminate the room, either because they have a distinctly modern look or because they go in the direction of greater sustainability.
Install a wall mirror, as it gives the bathroom a contemporary look and also helps to make the room look bigger.
Add some colourful details, such as a carpet, a wall cloth or a set of matching towels. These details will also give your room a thoroughly modern touch.
More generally, your design effort should go in the direction of merging modern furniture and accessory design with technology. In turn, this must merge with the idea of creating an authentic relaxation area, i.e. a small home spa. It is true: it is not easy to take such a large number of requirements into account. And it is precisely for this reason that you should entrust your furnishing project to an experienced interior designer, so that you get the ideal advice for your specific case.
Modern bathrooms?
We have 50 years of experience.
CONTACT US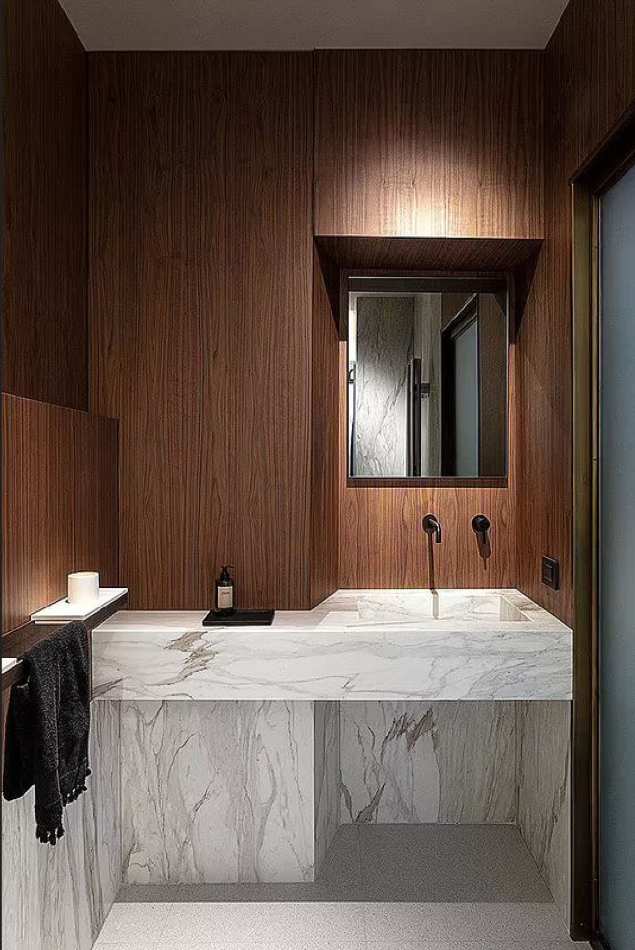 Any other tips on how to furnish Modern Bathrooms?
Our guide on how to furnish a super modern bathroom comes into its own. What other tips can we give you on how to design and care for a super modern bathroom?
Basically, keep in mind that there are furniture and accessories that are absolutely mandatory in modern bathrooms. Among them, we can include a washbasin, a mirror, a shower or bathtub, the sanitary fixtures – toilet and bidet – , a cupboard or at least a pair of cabinets suspended or resting on a console, a cabinet for storing linen and various objects, and a set of shelves.
In addition to this, as in practically all interior design projects, it is the details that make the difference. It is in fact the small design touches or additions that give your bathroom a unique and modern touch. In this sense, you can add accessories to the room, such as a combination of lights, a stool, a chair, a rug or even carpeting. Anything can be useful, as long as it is consistent with the functional and aesthetic aspects of the location.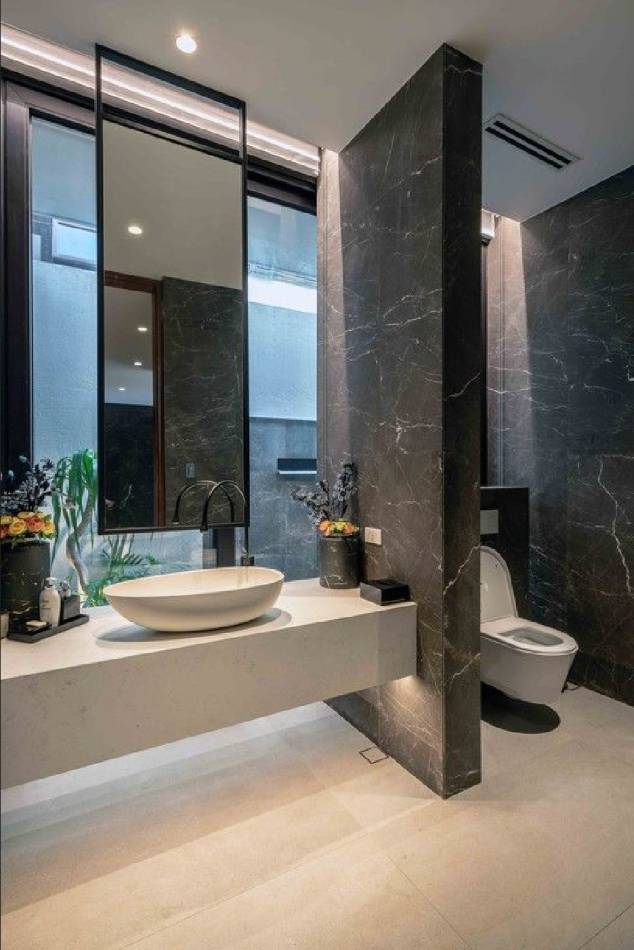 What touch of class for your modern bathroom?
We continue to share our experience as interior designers who have been designing, building and installing modern bathrooms for over 50 years. Having reached this point in the guide, let us deal with the details that give a unique touch to the design of a super modern bathroom. Here too, we would like to point out that what you will read is advice that is generally valid. It goes without saying that perfect advice can only be given if you know the specific project and the stylistic and functional requirements of the client.
In a purely contemporary style bathroom, numerous furnishing accessories can be included. A few examples? Details that can lend character to modern bathrooms can be a wall shelf with contrasting accessories, a wall-mounted coat rack with concealed hooks, a floor-standing toilet roll holder or towel rail, a tall cabinet with an integrated washbasin, a mirror with a decorated frame, a futuristic-looking storage tray, a lighting system with LED spotlights, a designer chair, non-slip carpets made of high-tech materials, a frosted glass door.
A super modern bathroom?
We have been designing them since 1968.
CONTACT US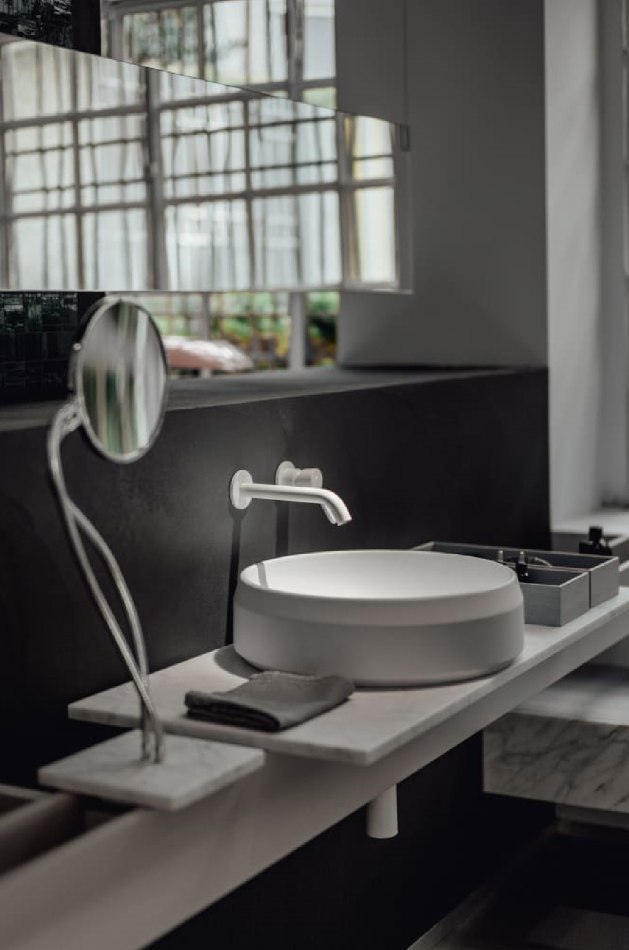 Bottom line.
Our step-by-step guide to furnishing modern bathrooms has come to its conclusion. As we said at the beginning, we could have told you a lot more about this topic and, therefore, could have provided you with a much larger amount of useful information. In any case, you don't have to worry: whatever your needs on the subject, especially if you are looking for a company that specialises in designing and supplying furniture and furnishings for super modern bathrooms, we would like to remind you that our company has over 50 years of experience in the field.
In fact, we have furnished some of the most beautiful houses in the world, including bathrooms. So don't hesitate to contact us! Our team will help you faithfully realise all your ideas, so you can create the super modern bathroom you have been dreaming of!
Need to furnish your home or a single room?
Choose a top-notch woodworking shop.

We have over 50 years of experience!
Contact us!
Il Piccolo, a second generation family business, opens its showroom in Lugano. With more than 50 years of experience, Il Piccolo brings with it a wealth of technical and design knowledge, thanks to the many interiors designed and furnished all over the world. Moreover, Il Piccolo represents many of the best international luxury furniture brands. We design, manufacture and sell the best in design. Even when it comes to a modern living room, we follow the customer from the planning to the realisation of the project, integrating the whole process with a precise and professional service.