Il Piccolo Blog
Modern contemporary kitchens, where essentiality meets cosiness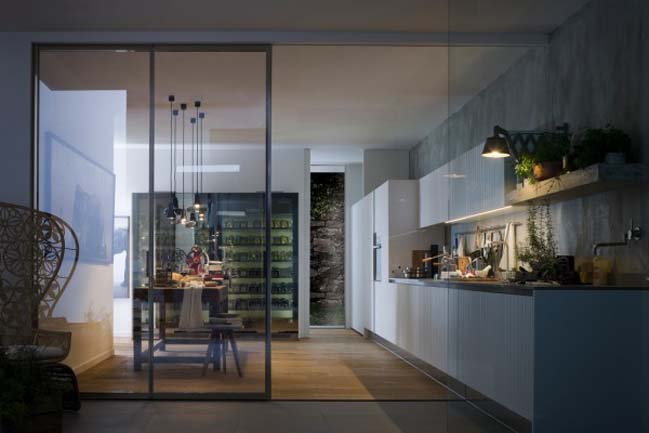 When design meets functionality
No longer just, trivially (which is not so trivial, come to think of it) the place where one cooks, where perhaps the person who prepares meals spends time: the kitchen has changed function and importance in the perception of many over the years. Thanks to the new conformation of flats, where there are often open spaces or open kitchens, people also live there. There is not always a clear division and sometimes people eat in the kitchen. This has led to a special focus on furnishing this central room. Contemporary modern kitchens combine design, functionality and modernity with an eye for aesthetics and conviviality. They leave plenty of choice but at the same time have their own basic rules.
From classic to modern contemporary kitchens
(there are also possible choices that marry rustic and antique), there are the classic ones, with a particular attention to the symmetry of the elements, with a lot of order, the hob usually in the centre, wood as a possible dominant material, visible ceramic or silver-plated knobs, glass cabinets. The definition of modern contemporary kitchens is more complex. It means kitchens that integrate the latest generation of appliances, without hiding them as is the case in classic kitchens, but showing them as accessories.
Modern kitchens proper have a strong stylistic personality, capable of making rooms that were once only used to prepare meals unique and original, without highlighting them. Green light, therefore, to original choices, with simple and clean lines, in the sign of minimalism, or others that embody particular designs and shapes. On the other hand, the purely contemporary ones have a sober and refined design, without superfluous elements, therefore extremely essential. Often wood is used, which is an evergreen material and, as in classic kitchens, brings an effect of domestic warmth.
The materials of modern contemporary kitchens: original and easy to clean
So how do you furnish modern contemporary kitchens? By combining the best of both styles. The possibilities, as mentioned, are many. We tend to use the less is more approach, i.e. fewer elements that serve (and at the same time are beautiful to look at), rather than cabinets and decorations. Materials tend to be easy to clean. Wood, which as mentioned brings home warmth, is combined with steel. Or you can opt for Fenix, the contemporary material by definition. Floors will be resin or stoneware, capable of adding a touch of originality. The space in modern contemporary kitchens is designed to be optimised and filled not for aesthetics but for functionality: it is therefore a style capable of adapting to different contexts, from large open spaces to smaller rooms, where you need something compact and space-saving.
What colours for modern contemporary kitchens? Better monochrome or tone-on-tone
Contemporary modern kitchens are bright, recalling a trait of classic kitchens. But after all, all rooms need adequate, designer lighting. Colours also certainly contribute to the feeling of light. This type of kitchen favours lacquered, bright by definition. As for colours, the choice is wide, although light shades are very popular, from the ever-popular white, which takes the lead, to cream, brown and beige. For a more original and design-oriented choice, black is not disdained. Usually, one does not overdo the colours but opts for a monochrome or tone-on-tone kitchen.
The cupboards and spaces in contemporary kitchens are designed to be functional and contain everything, without necessarily becoming protagonists. Green light, therefore, to handles that cannot be seen and smooth, hygienic and essential surfaces. If you like, you can insert patterns or paneling: in moderation, however, in a delicate balance.
Need to furnish your home or a single room?
Choose a top-notch woodworking shop.

We have over 50 years of experience!
Contact Us
Il Piccolo, a second-generation family-run joinery, opens its own showroom in Lugano. With over 50 years of experience, Il Piccolo brings with it a wealth of technical and design knowledge of the highest level, thanks to the numerous interiors designed and furnished throughout the world. In addition, Il Piccolo represents the most prestigious brands of furniture worldwide. Il Piccolo designs, produces and sells the best of the interior design made in Italy, following the customer from the design to the realization, delivery and installation of the work, integrating the process with a precise and professional assistance service. CONTACT US!