Il Piccolo Blog
Essential, minimalist and technological: this is modern interior design living room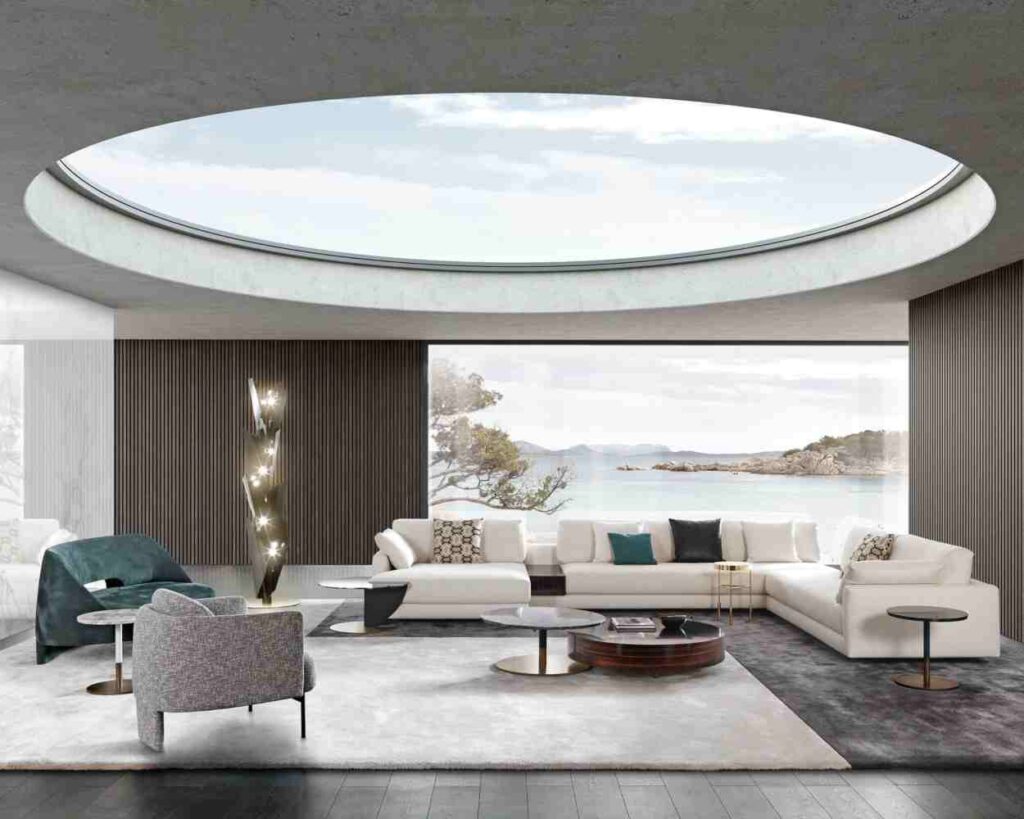 A modern living room is rational and avoids clutter
In the living room people dine, play games, spend hours, share TV series and books, and welcome guests. It must therefore be a cosy and warm room, but when it comes to modern homes, there is a precise vademecum for modern interior design living room to follow: nothing should be left to chance.
A modern living room meets needs such as practicality, functionality, aesthetic beauty and ease of cleaning. This is achieved by choosing furniture with rational lines, avoiding clutter and studying space well.
Furniture that is a must in a modern living room
In perfect continuity with the modern style, linear and simple shapes are preferred for a living room, unlike classicism where almost everything was bulky and opulent. The rule applies to all living room furniture, including the sofa, one of the highlights of course. It, in a modern living room interior design, has square and defined shapes rather than rounded ones. Depending on the space available, one can opt for more or fewer seats, for a corner sofa or add armchairs in the same style.
Next to the sofa, a piece of furniture that is a must in modern living rooms is a low coffee table. If placed next to where one sits, it is desirable that it maintains the same style and is not higher than the armrests, so that it is comfortable to rest something on it.
modern interior design living room loves wall units
Another unmissable element when it comes to modern living rooms is the wall unit. It is something absolutely multi-purpose, made up of combinations of different elements (columns, shelves, doors, flats, open areas), capable of furnishing and containing objects: it is easy to understand how the possibility of customisation is absolute. In modern interior design living room, in line with what has been said so far, linear models with clean shapes and little bulk are preferred. Therefore, no to excessively high options, rather focus on width. Add shelves which, if wisely arranged, are themselves a design element, as are the objects placed on them: vases, family and non-family photos, plants, works of art.
Fireplace and TV, modern and technological
Very suitable for the modern living room concept is a fireplace, which can be part of the wall unit. The fireplace can be a classic one, even a wood-burning one, but it can also be electric or bioethanol, capable of providing a warm atmosphere.
In modern interior design living room, do not skimp on technology, not only for the fireplace. Green light to domotics that manages lighting and shutters, but also to the latest generation of televisions, which will keep the whole family company, ultra-flat and of important dimensions, perfect to be inserted in their turn in the equipped wall.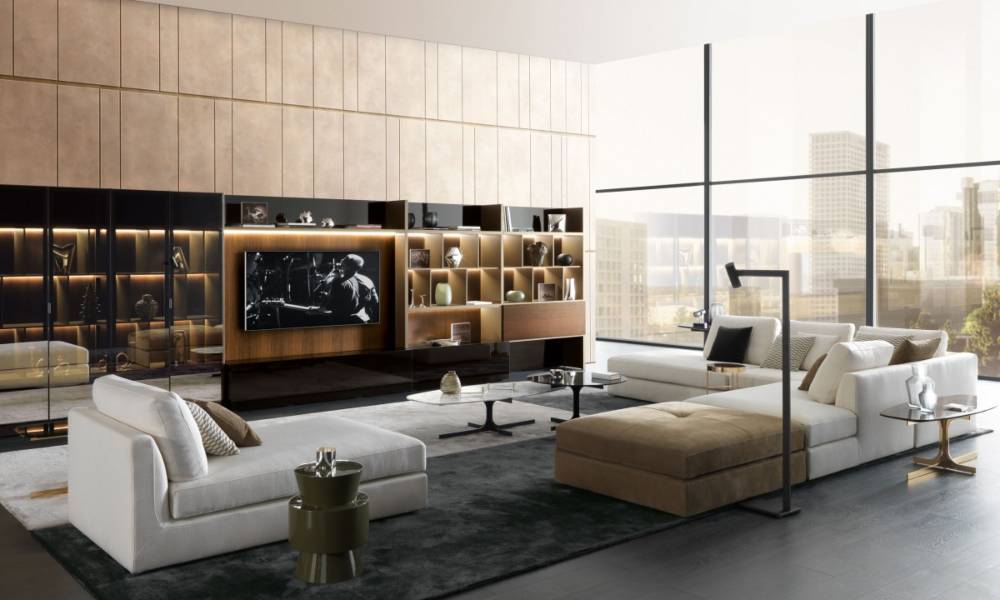 Colours and materials for a modern interior design living room
And what about colours and materials? When dealing with modern contexts the choices are many. For furniture, there is metal, steel, aluminium and wood. One material that should be used and that goes well with a modern, functional and minimalist living room is glass, which is able like no other to reflect light. Where to put it? The low coffee table already mentioned can be made of glass, as can the doors of the wall unit. The sofa can be in leather or fabric.
Colours can be played with, but the modern conception speaks of soft shades. For example, dove grey is perfect for the sofa. In the rest, having some contrast is important, and aim for a carpet that gives a touch of colour.
Take care of the lighting
In a modern interior design living room the lighting should be taken care of very carefully, giving more light points, perhaps with LED lamps, wall spotlights, or chandeliers with a modern shape. A floor lamp becomes a design object in itself.
Need to furnish your home or a single room?
Choose a top-notch woodworking shop.

We have over 50 years of experience!
Contact Us
Il Piccolo, a second generation family-run joinery, opens its own showroom in Lugano. With over 50 years of experience, Il Piccolo brings with it a wealth of technical and design knowledge of the highest level, thanks to the numerous interiors designed and furnished all over the world. In particular, Il Piccolo has a wealth of experience in the design and production of several corner wardrobe models. Finally, Il Piccolo represents the world's most prestigious furniture brands.
Our company designs, manufactures and sells the best of made-in-Italy interior design, following the customer from the design to the realisation, delivery and installation of the work, supplementing the process with a precise and professional assistance service. Looking for the ideal corner wardrobe for your room? CONTACT US!