Il Piccolo Blog
Modern kitchens cabinets no handles: how to choose the right one for your home?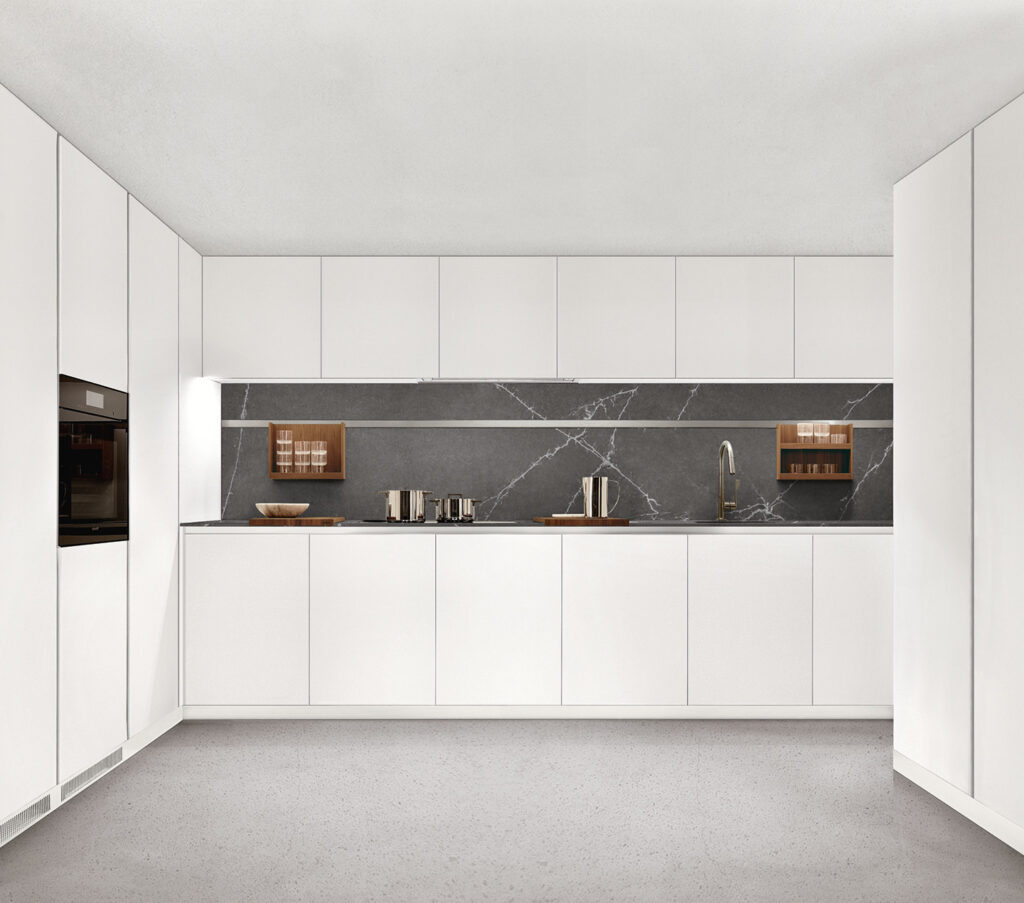 Modern kitchen cabinets no handles are one of the most obvious trends that you notice when you look at how the furnishing of the room in the house where you prepare food has changed in recent years.
The most up-to-date handle-free kitchens are particularly appreciated for their clean design and contemporary lines. Another point in their favour is their versatility: they are perfect for furnishing large open-plan kitchens, but they also help to make optimal use of space in smaller kitchens.
Characteristics of Modern kitchen cabinets no handles
In contrast to traditional kitchens, where handles are more or less pronounced, Modern kitchen cabinets no handles open either with a push system or through grooves hidden by the cabinet design.
The push system allows the doors to be opened and closed by means of a small push that activates the mechanism, which can use magnets or a spring system. Grooves, on the other hand, are slots usually on one side of the door, into which the hand must be inserted to push the door in one direction or the other.
The absence of handles gives the modern kitchen a clean, linear look. A solution of this type is able to enhance the characteristics and particularities of the materials chosen for the kitchen. The fact that there are no visual interruptions makes it possible to appreciate the uniformity of the furniture at a glance. In kitchens made with a special finish, such as cement effect models or those with material materials, this linearity amplifies the final effect and gives uniformity to the entire room.
Handle-less opening systems used for modern kitchens are a contemporary solution that is faithful to minimalism, but on closer inspection they can be adapted to almost any style of interior design.
What are the main advantages of handleless modern kitchens?
Linearity and clean design are the main and most obvious advantages of Modern kitchen cabinets no handles. Depending on the choices made at the design stage, the opening system can be completely invisible or visible, if the grooves are located at a visible end of the doors or run horizontally or vertically along the entire length of the door or drawers.
Opting for a modern kitchen model of this type is an excellent solution when furnishing an open-plan kitchen. Whether it is a kitchen with a linear wall layout or a model with an island or peninsula, the fact that there are no handles to break up the visual harmony of the kitchen gives the room a nice look.
Modern kitchen cabinets no handles are also simpler in terms of design, as they can be made with fewer materials and more quickly. In small spaces, handleless models reduce the size of the kitchen and give the impression of moving around in a space that is larger.
But the benefits don't end there. In fact, there are also practical benefits that are important to highlight. First of all, Modern kitchen cabinets no handles are easier to clean. Having straight, uninterrupted lines allows the doors to be cleaned more quickly and efficiently, and prevents dirt and grease from accumulating right around the handles.
When to furnish your home with modern kitchens without handles?
Large kitchens that open onto the living area are the best place to install a modern Modern kitchen cabinets no handles. Kitchens of this type can be found in large villas, but also in lofts and flats where you have decided to make the spaces airy and essential.
Companies specialising in the production of modern kitchens offer dozens of models of handleless kitchens. Thanks to this variety, it is easy to find the solution that best suits your home. As a general guideline, it should be noted that Modern kitchen cabinets no handles fit perfectly into contemporary interior design projects, but their linearity also makes them perfect for other types of environment.
The simple and rigorous lines are reminiscent of minimalist spaces, while the possibility of using unusual materials makes it possible to create original designs. Cement-effect models, for example, are perfect for spaces furnished in an industrial style, while a kitchen without steel handles is an excellent solution for homes furnished in an ultra-modern style.
Other examples? A model with matte-effect coloured doors is a suitable solution for those with an eclectic and irreverent style, while natural wood kitchens are a modern proposal for those who wish to furnish their kitchens in a rustic and traditional way.
Need to furnish your home or a single room?
Choose a top-notch woodworking shop.

We have over 50 years of experience!
Contact Us
Il Piccolo, a second-generation family-run joinery, opens its own showroom in Lugano. With over 50 years of experience, Il Piccolo brings with it a wealth of technical and design knowledge of the highest level, thanks to the numerous interiors designed and furnished throughout the world. In addition, Il Piccolo represents the most prestigious brands of furniture worldwide. Il Piccolo designs, produces and sells the best of the interior design made in Italy, following the customer from the design to the realization, delivery and installation of the work, integrating the process with a precise and professional assistance service. CONTACT US!