Il Piccolo Blog
For fun and originality, modern kitchens become colourful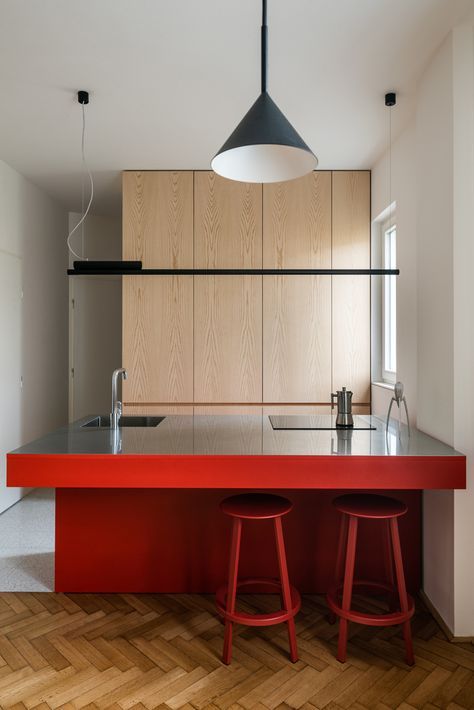 Coloured modern kitchens – an original choice!
Coloured modern kitchens are still a choice you only make when you are really convinced, as they are synonymous with refinement but also with style and originality. Sparkling, full of character and with an eclectic charm, modern coloured kitchens can belong to different styles. A definitely winning option for those who want to live in a unique room, where functionality and modernity go hand in hand, with a touch of cheerfulness.
Colourful modern kitchens
The contemporary and modern design is well suited to modern coloured kitchens where the essential lines and furnishings, elements that give elegance to the environment, are mixed with bright colours to highlight the spaces. A combination that happens very naturally and is a pleasure for the eyes of both visitors and those who spend a lot of time in the kitchen every day. It is less common to see bright and distinctive colours in more classical kitchens, but as always, nothing prohibits this.
Often we start with a monochrome base, for example white, to which we add coloured wall units as a contrast, or the opposite. Another idea is to create colour combinations on both the walls and the furniture
Ideas for personalising modern coloured kitchens
To start with, everyone can opt for the colour range they prefer or that best suits their existing kitchen. Teal is one of the most popular colours, but others that are frequently chosen are yellow, red and pink. Of course, it is possible to opt for more than one colour to create a real explosion of colour in a modern coloured kitchen, but be careful not to combine too many colours as this can lead to an unattractive jumble. Different styles are well suited to this type of kitchen, from the one with an island to the open one. Yes to the essential design but also to a linear and compact one. Those who prefer soft colours can opt for a coloured kitchen in pastel shades. Another option is the modern coloured modular kitchen. We also say yes to bright colours; bright yellows and other colour shades that are impossible not to notice to create an environment where modernity and style blend naturally.
Why choose modern coloured kitchens
This type of kitchen is synonymous with youth, cheerfulness and light-heartedness. The kitchen of a young couple, for example, could be designed in this style, but many people also choose modern coloured kitchens for a second home or for a rented flat.  Besides, we know very well that colours influence how we feel. Spending time every day in a kitchen that is a veritable explosion of colour will also benefit your mood. When choosing a colour, or colours, it is therefore necessary to pay a certain amount of attention to the shades of colour you wish to include in your kitchen, because each has a function. Red, for example, is a symbol of passion, while purple conveys dignity, yellow warmth and happiness, pink femininity but also romance, and neutral colours, i.e. black, grey and brown, refer to neutrality and attachment to one's roots.
Pay attention to size and brightness!
In addition to taste, it would be wise to consider the size of the room and brightness when choosing a colour. If the kitchen is small, you need colours that give an airy feeling. Light colours are also ideal when there is not a lot of light. To give more brightness, it is advisable to opt for lacquered furniture: more difficult to keep in good condition but certainly fascinating.
Finishing coloured modern kitchens
In modern kitchens, nothing is left to chance. The latest trends for this style of kitchen call for special attention to be paid to finishes such as handles, knobs and various other types of accessories. Coloured modern kitchens are also rarely monochrome by definition. The balance between the range of colours chosen is fundamental and is itself a finishing touch in the environment.
Devi realizzare un progetto di Interior Design?
Devi arredare casa o un singolo ambiente?

Scegli una falegnameria di alto livello.
Contattaci
Il Piccolo, a second-generation family-run joinery, opens its own showroom in Lugano. With over 50 years of experience, Il Piccolo brings with it a wealth of technical and design knowledge of the highest level, thanks to the numerous interiors designed and furnished throughout the world. In addition, Il Piccolo represents the most prestigious brands of furniture worldwide. Il Piccolo designs, produces and sells the best of the interior design made in Italy, following the customer from the design to the realization, delivery and installation of the work, integrating the process with a precise and professional assistance service. CONTACT US!