Il Piccolo Blog
Modern kitchens in black: a touch of real class to your home décor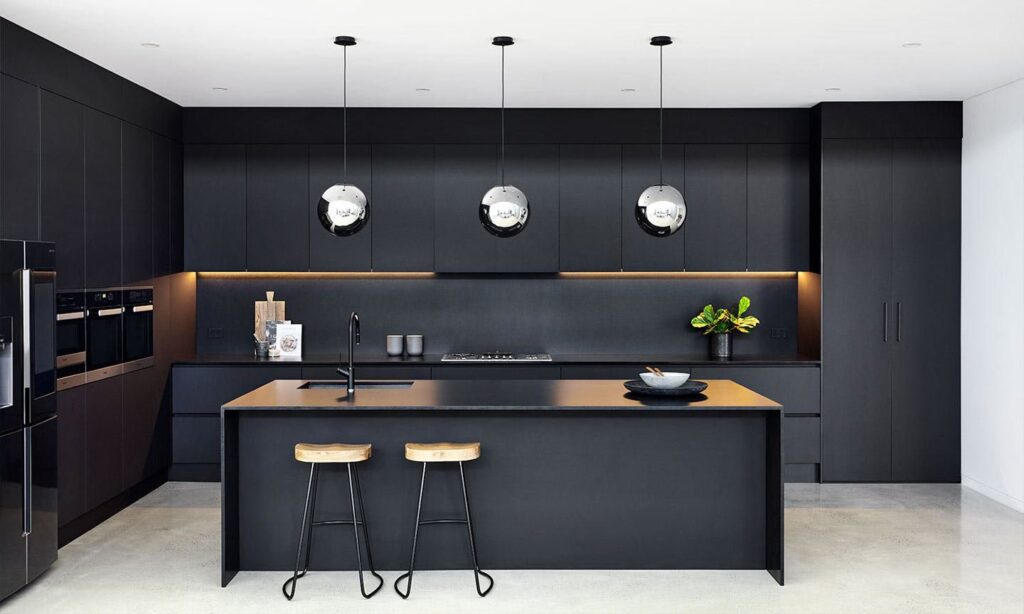 Black modern kitchens are a beautiful and trendy solution for furnishing the space in your home where food is prepared. Black is a colour that conveys refinement and shows a particular aesthetic taste. Opting for this colour for the kitchen is a courageous choice and, in order to make the most of the characteristics of the furniture and the room, it must be carefully considered.
The ideal solution for those looking for an elegant and original kitchen
A modern kitchen furnished with black furniture certainly does not go unnoticed. Black is a colour that immediately catches the eye and is rather unusual in this room of the house. When planning a modern black kitchen, you must therefore pay particular attention and make sure that all the furniture components work perfectly.
A total black kitchen with a dark floor, black furniture, matching taps and concealed appliances is the most extreme solution. This configuration is excellent in ultra-modern homes but can also be suitable for rooms furnished in an industrial style.
More often in modern black kitchens we find elements made of particular materials or in different colours. A common solution is the combination of black and white furniture. This idea is excellent when the kitchen has different volumes: choosing contrasting black and white components creates a sort of three-dimensional effect which is pleasant and very classy.
The use of wooden elements also enhances the natural elegance of black. Wood can be used for countertops or for certain details such as background walls and handles.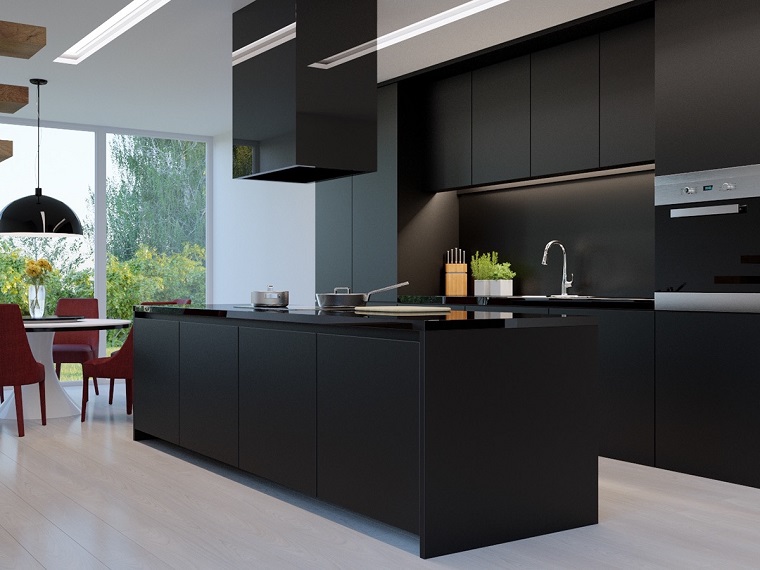 Which configuration to choose for black modern kitchens
The decision on which configuration to give to the kitchen goes through a careful study of the characteristics of the space to be furnished. If you are thinking of black furniture, it is essential to evaluate the size and brightness of the space in which the kitchen will be placed.
Black tends to absorb a lot of light and, if the room is not very bright, it is necessary to find a solution that prevents the room from looking dark or gloomy. In cases like these we can intervene by inserting light elements or act on the lighting, preferably using cold and bright lights.
Those who prefer an essential kitchen, concentrated in a small space, can opt for a linear configuration with wall-mounted units. Depending on the furnishing style chosen for the home, you can complete the furnishing of the room with a dining table and wooden chairs with a minimalist design or opt for colourful and pop models.
If you feel that a black kitchen risks overloading the space, you can also opt for a kitchen reduced to a minimum, in which the wall units are replaced by simple shelves. In this case, to further lighten the decor, you can insert light strips to balance the dark tones of the furniture and brighten the atmosphere.
If the size of the room allows it, it is a good idea to design a kitchen with a central island. As well as offering more space for conveniently organising the preparation of meals, kitchens with an island offer a greater degree of customisation. The central island can be used for food preparation, with a sink and countertops, or for cooking, with a gas or induction hob and a designer hood.
When designing a kitchen with an island it is important to define the appearance of the elements that will be integrated with the furniture. With black taps and sinks, induction hobs integrated into the worktop and ultra-modern metal hoods, it is easy to find a solution that guarantees a good aesthetic balance.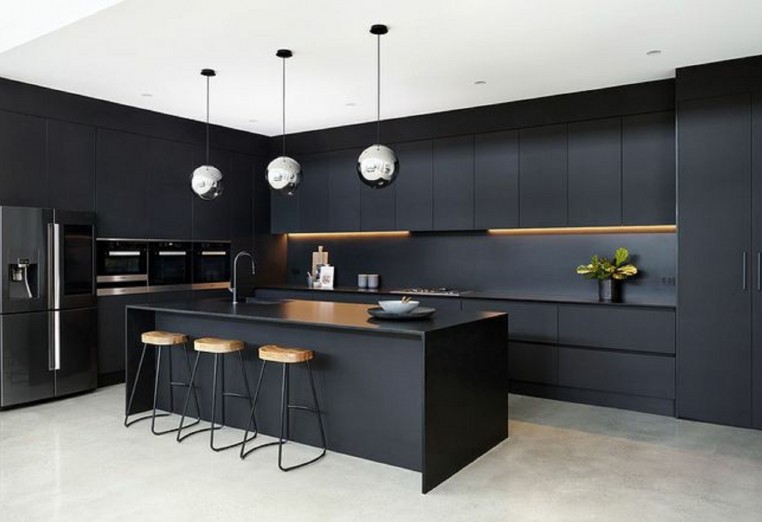 Why choose a modern black kitchen for your home?
For those who love design and for those who want to move into a contemporary and trendy space, black modern kitchens are an option to be strongly considered.
A black kitchen is quite easy to customise and always guarantees an excellent visual impact, both when choosing furniture with a glossy finish and when opting for furniture with a matt or material finish. Black furniture is also low-maintenance and goes with almost any other material or colour. If you want a luxurious kitchen try the total black configuration with textured panels and marble worktops, while if you like sleek lines and functionality combine glossy cabinets with stainless steel elements.
Need to furnish your home or a single room?
Choose a top-notch woodworking shop.

We have over 50 years of experience!
Contact Us
Il Piccolo, second generation family-run carpentry shop, opens its showroom in Lugano. With over 50 years of experience, Il Piccolo brings with it a wealth of technical and design knowledge of the highest level, thanks to the many interiors designed and furnished all over the world. In addition, Il Piccolo represents the most prestigious brands of furniture worldwide. Il Piccolo designs, manufactures and sells the best of interior design made in Italy, following the customer from design to implementation, delivery and installation of the work, integrating the process with a precise and professional service. CONTACT US!