Il Piccolo Blog
Modern kitchens without wall cabinets are modern and linear. But pay attention to space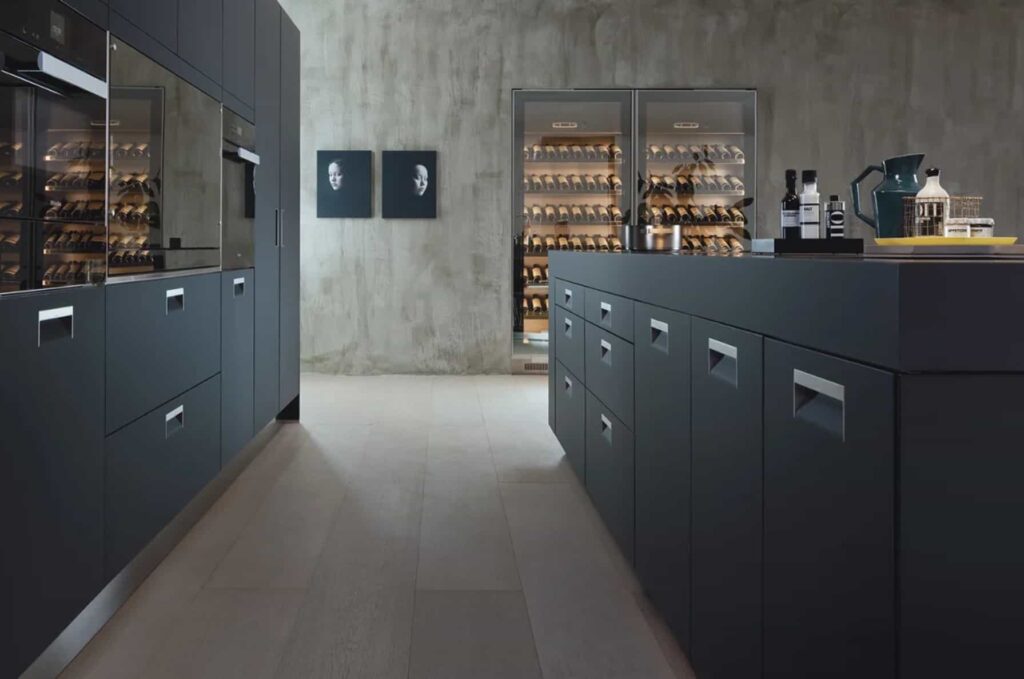 Why choose modern kitchens without wall cabinets?
Wall units have always been used, in kitchens and not only, for storing objects. An essentially practical function, hence the question: is it possible to conceive modern kitchens without wall units? The answer is yes, as long as you organize the space very carefully, aware that at that point you will need more bases where to store dishes and plates.
This type of kitchen furniture is becoming more and more popular. It is a choice that gives priority to aesthetics over practicality and the need for space, which does not make it still so in vogue, especially where the dimensions are not immense and the objects to be stored many. But it is certainly possible to study solutions that allow you to optimize the space (for example, in this are perfect wall-mounted, full-height or compact ones). The reasons for choosing modern kitchens without wall units are of a practical nature: sometimes the walls are made of plasterboard and putting wall units there could be a problem, or there is a window on one side that takes up space. In most cases, however, they are aesthetic.
Pay attention to the space!
The ideal location for kitchens designed without the presence of wall units is in open spaces, apartments where there is no real boundary between rooms. In this case, kitchens are often exposed, so even the purely visual aspect must be taken care of in a special way.
Before deciding on a kitchen that has no wall units, the advice is to examine whether the space is really sufficient, taking into account the appliances that will have to be present. When you have realized that it is possible, or you really want such a solution, you have to think about where to store dishes and tools.
The advantages of modern kitchens without wall cabinets
But once you find the winning formula, you will undoubtedly get a great aesthetic effect. In fact, modern kitchens without wall cabinets accentuate the linearity and essentiality that usually characterizes the kitchen in environments furnished in a very modern way, although a solution without wall cabinets is suitable for any style.
The main advantage is that of giving the room more light. Moreover, without wall cabinets that will create shadows, you can play much more freely with designer lamps or modern solutions that will illuminate defined corners.
One consequence is also on the color. Wall units often weigh down, making the effect created by particular colours unattractive. In modern kitchens without wall units, you can dare to be more free.
Where to store tools? Don't worry, there are many alternatives
But how to find enough space to store dishes, pans and even containers, if there are no wall units?
The solutions abound. You can resort to shelves, integrate a modern cabinet, or trolleys). If you have a kitchen with an island or a peninsula, there may be containers under it. They can be placed under the worktops, which, if necessary, will have the possibility to be designed with greater depth. Very useful to gain space are undoubtedly bases equipped with equipment such as pull-out tops, lemans baskets and revolving trays. In these cases, drawers are more convenient than doors.
Columns are also very practical: if you have corner kitchens, for example, organizing everything on three columns can be a solution. The shelves, in addition to providing support points, are an attractive element. And if there are really no other possibilities and you want modern kitchens without wall units, there are shelves with equipped channels, rails with hooks, shelves and baskets, to be placed on the backs. Again, if there are no alternative methods of organization, opt for glass wall units. They will be inconspicuous and, when someone notices them, they will see them as design and elegant elements.
Devi realizzare un progetto di Interior Design?
Devi arredare casa o un singolo ambiente?

Scegli una falegnameria di alto livello.
Contattaci
Il Piccolo, a second-generation family-run joinery, opens its own showroom in Lugano. With over 50 years of experience, Il Piccolo brings with it a wealth of technical and design knowledge of the highest level, thanks to the numerous interiors designed and furnished throughout the world. In addition, Il Piccolo represents the most prestigious brands of furniture worldwide. Il Piccolo designs, produces and sells the best of the interior design made in Italy, following the customer from the design to the realization, delivery and installation of the work, integrating the process with a precise and professional assistance service. CONTACT US!