Il Piccolo Blog
A modern leather bed gives your room character!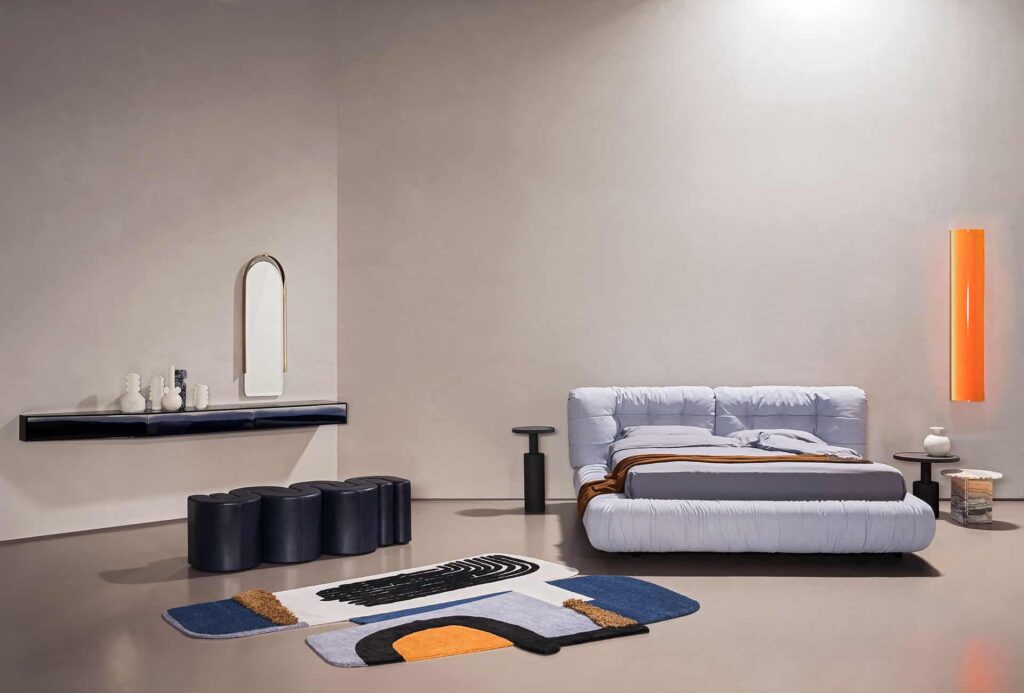 The modern leather bed, an original choice
A modern leather bed has the merit of being an absolutely original piece of furniture, capable of making your bedroom fascinating and of design. It is an unconventional choice that immediately gives that extra touch you are often looking for and don't know how to achieve. A modern leather bed is certainly an important trump card, obviously to be placed in the right environment.
Whoever decides to have their own modern leather bed is making an unconventional decision, which is completely different from the style of furniture usually used in the bedroom, but at the same time fits perfectly into the room.
A modern leather bed detaches itself from the wooden furniture in the bedroom
Bedrooms, especially those in classical settings, often play with wood. It is a timeless material, loved by all, which brings with it a feeling of warmth and home, so it is perfect for the room where you rest. A modern leather bed is something completely different, completely detached, yet fits in well with the room. On its own it makes the room unique and original, and can also be used as an element to be placed during a renovation.
The modern leather bed is characterised by attention to detail and shapes that make it truly the ace in the hole. You can choose from many styles and shapes. There are also many colours available, for those who want something classic, for those who opt for contrasting colours, for those who want black or white or contrasts with the rest of the room. In short, a modern leather bed gives great freedom of choice, everyone can decide how far they want to go in terms of daring and design. A modern brown bed? Purple, orange, green, blue? All possibilities to explore, starting with your own bedroom and the effect you want to achieve. Coverings in soft colours, white or black, are more suitable for rooms that are characterised by a classic style, while for modern and minimalist bedrooms, with furniture with essential shapes and modern materials such as steel, bold and particular colours are also perfect. There are also modern leather bed models with a vintage look, which can be used in romantic rooms (e.g. shabby) and with a nod to tradition.
A modern leather bed makes an elegant room
In short, the modern leather bed is an extra element for every room, and is characterised by a high quality of materials. Most models are made of leather or leatherette, and the surface can be quilted or smooth. The first solution is usually more elegant and gives character to the room, but it is not necessarily so, the choices are always individual and with a modern leather bed it is difficult to go wrong.
A modern leather bed has the characteristic of making the room where it is located elegant and refined with its mere presence.
Of course, there are modern leather beds of all sizes, from single to double, from French to king-size, with or without headboard. Some have a more important and imposing structure, others instead are characterised by limited overall dimensions, adaptable therefore to the size of the bedroom and to the comfort and space requirements of everyone.
Careful maintenance of a modern leather bed
Leather is an easy material to clean and a modern leather bed is obviously no exception, provided it is treated carefully and using the specific products indicated when you buy it. Leather is designed to last a long time, so a modern bed in wood is a long-term purchase. It also gives, in contact with human skin, a feeling of comfort.
Need to furnish your home or a single room?
Choose a top-notch woodworking shop.

We have over 50 years of experience!
Contact Us
Il Piccolo, a second-generation family-run joinery, opens its own showroom in Lugano. With over 50 years of experience, Il Piccolo brings with it a wealth of technical and design knowledge of the highest level, thanks to the numerous interiors designed and furnished throughout the world. In addition, Il Piccolo represents the most prestigious brands of furniture worldwide. Il Piccolo designs, produces and sells the best of the interior design made in Italy, following the customer from the design to the realization, delivery and installation of the work, integrating the process with a precise and professional assistance service. CONTACT US!