Il Piccolo Blog
Modern living room: what is it? How to furnish a modern living room?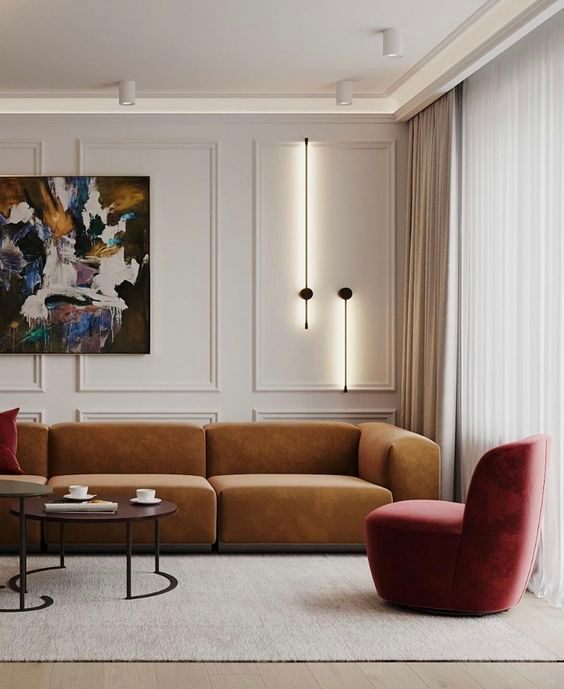 What is a modern living room? What differentiates it from a classic living room? How can it transform the living area of a flat, loft or villa? When should you furnish your home by designing a contemporary living room? And again: what furniture and accessories are indispensable in modern living rooms?
In this article, we will give the answers to all the above questions. What's more: we will give you the best advice for deciding whether your home needs this type of room. If the answer is yes, you can also read the best tips for furnishing your living room to make it a perfect modern living room.
Basically, this post is a step-by-step guide on how to furnish a contemporary living room. We will follow you through everything: from the choice of the table to that of the chairs, from the preference for armchairs to that of the wall unit , from the choice of the TV cabinet to the selection of the side furnishings, the flooring, the colour of the walls and all the accessories. Let's not waste time, let's start right away with our advice!
What is a modern living room?
What is the definition of a modern furnished living room? In other words, what characterises this particular type of living room?
A modern living room is a space in the living area of a home that is typically designed to accommodate most of a family's daytime activities. In short, it is a location in which to be with loved ones, friends and guests. It must therefore be comfortable, functional, cosy.
For all these living conditions to be fulfilled, the living room in question must have a contemporary design , for example with bright colours, innovative materials and minimal, functional furniture. As a rule, this room also houses a TV, a stereo system, a sofa, one or more tables or coffee tables, several chairs and armchairs, a bookcase, some lamps, one or more pieces of artwork and a number of accessories.
We will see in the remainder of this guide what features each piece of furniture – and accessory – must have in order to create a contemporary living room.
Want a modern living room?
We have 50 years of experience.
CONTACT US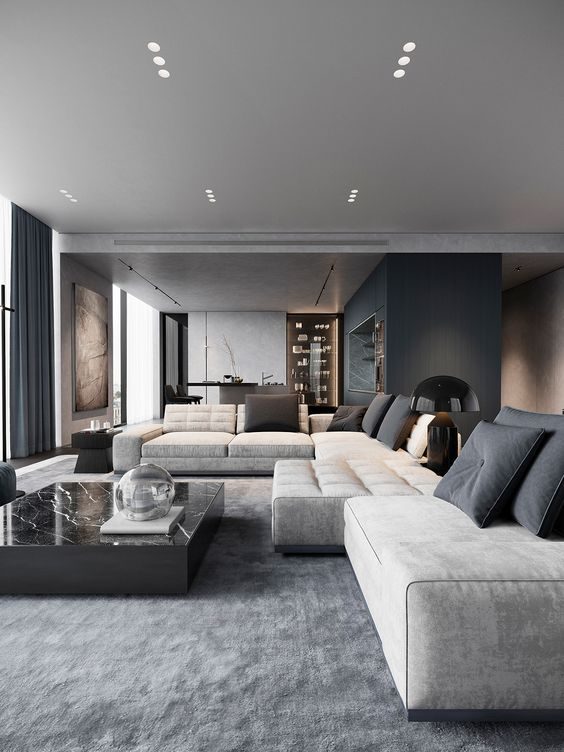 How to furnish a modern living room?
How do you create a modern living room? What furniture should be part of it? In short, what are the rules you have to follow so that your living room can truly be called a living room created in a contemporary style? Here are the main stylistic rules you must respect:
Choose a neutral colour palette, for example white, grey, beige or brown. These are colours that go well with furniture in a modern living room.
In contrast to the previous point, you can opt for bright shades. In fact, if you fear that a neutral palette will shape a dull room, you can add bright or otherwise charged colour tones such as yellow, orange, red or blue. Such hues are also good for creating a contemporary-style room, as well as giving it a lively feel.
Choose a modern sofa. A contemporary sofa gives a modern touch to your living room, especially if it has clean lines and you match it with cushions that match the finish of the furniture.
Colour the walls to add a modern touch to your living room. So what? Choose bold colour combinations or even metallic colours. Alternatively, you can have glossy or even matt surfaces made.
Plan to include some designer furniture or accessories. Design elements such as lamps, tables, chairs and carpets can give your modern living room a strong and even unique character. In particular, choose furniture and objects that have been made from contemporary materials such as metal, processed glass or lacquered wood.
Select a coffee table that has clean lines and a distinctly geometric shape.
Add a wall unit that has – also in this case – a geometric design.
Plan to include a modern bookcase – which can be an alternative to the wall unit or fit in with it – that has glass shelves, so that you can display your books and the objects you love most, such as works of art, photographs, family mementos, etc.
Also go for some modern-style decorative elements, such as a sculpture, a painting or a print.
Consider adding a large mirror to liven up the room or to give it a touch of sophisticated uniqueness.
In your modern living room, you can also consider adding a floor lamp, which will be the main lighting element in the room.
Do not forget that the TV and stereo system must also find a place in the living room. As is obvious, your choice will fall on high-tech audio-visual systems.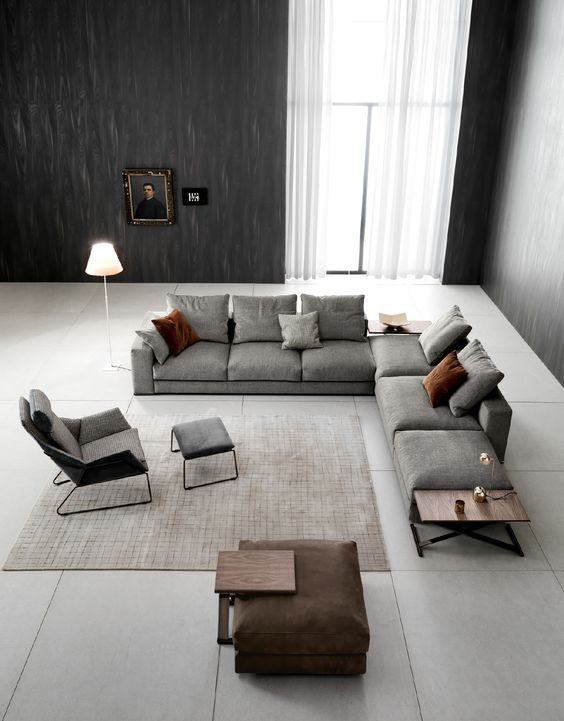 What are the differences between a modern and a classic living room?
In short, what is the difference between a modern and a traditional living room? As we have seen, a modern living room tends – in general – to be more minimalist and favour clean lines and design elements. The colours of the walls, furniture and complementary furnishings tend to be neutral, with the bolder details mostly reserved for the choice of the shape of the furniture and the shape of the other elements that complete the room's décor.
A classic-style living room, on the other hand, tends to favour a greater variety of textures, shades and, above all, details. Dark wood, shades of natural materials and metal surfaces are all common elements in a classic or even antique-style living room. The furniture has a richer and more refined look, often opulent, with the presence of finishes and ornaments with such meticulous workmanship that they are considered to be on a par with artistic works.
Want a modern living room?
We have been creating them since 1968.
CONTACT US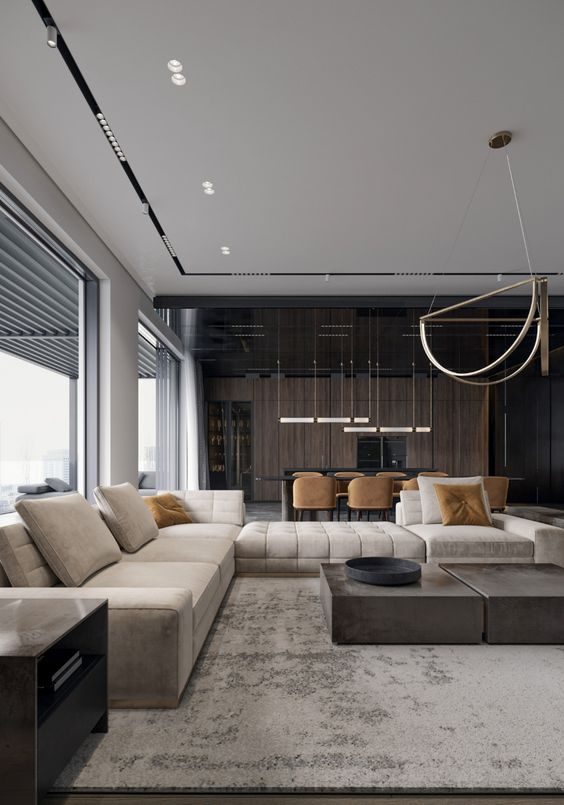 What furniture is essential in a modern living room?
We have seen the stylistic and design imprint that identifies a contemporary living room. We can therefore say that, in such a room, there are certain pieces of furniture and furnishings that absolutely cannot be missing. What are they? Here, specifically, is a list that gives a rather precise idea:
– The sofa
This is a component that is absolutely essential for any modern living room. This is true whether the furniture is made of leather, velvet or fabric.
– The armchair
An armchair – or, alternatively, a chaise longue – is a piece of furniture that contributes to an ideal space for relaxation and conversation among family and friends.
– The coffee or tea table
This piece of furniture is a choice that helps give importance and character to a modern living room. Among other things, it can also serve as a support for beverages, books, furnishings and, more generally, can serve as a spot around which family and friends sit.
– The dining table
For a contemporary living room, the presence of a dining table also plays a central role in the furniture design. It does not matter what shape the furniture has, as it can be round, rectangular or square. It matters that it is there, even if the idea is to use it more for conviviality than for dining.
– The TV cabinet
This is a piece of furniture that is both practical and functional, serving to house the television and give the room a more attractive appearance. Or, more simply, it can be understood as the object that helps shape the interior design idea you want to realise.
A contemporary living room?
We are experts since 1968.
CONTACT US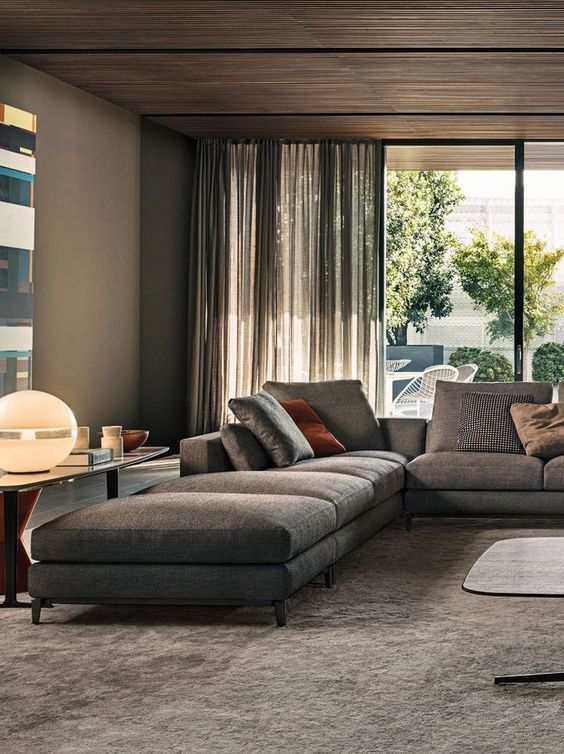 What furnishing accessories should be included in a contemporary salon?
We are almost at the end of our guide to the modern living room. What is missing? Well, we can certainly spend some advice on accessories and complements, which are of no small importance.
Indeed, in our long experience as designers and interior decorators, clients have often called on us to resolve situations in which a living room furnished with excellent furniture had been ruined by the wrong accessories. In this respect, here are the details you might consider for your hall designed in a modern style:
Some chrome for the sofa feet
A glass shelf for the coffee table
A floor lamp with a metal stem
A minimalist style display cabinet
A glass shelf for the dining table
A shelf or shelves with a wooden shelf
A metal frame for the mirror
A pouf with a fabric cover
An artistic sculpture
Wall decorations
One or more pendant lamps
Large potted plants
A designer carpet
A wooden console table
A living room sideboard
A modern bookcase
Cushions for the sofa
Abstract paintings
Contemporary prints
Our step-by-step guide to furnishing a modern living room ends here. We could have written a lot more on this topic and, therefore, could have given you a higher number of useful tips. In any case, if you have specific needs and are looking for a company that is an expert in designing and supplying furniture and furnishings for contemporary living rooms, we have over 50 years of experience in the field. Do not hesitate to contact us! Our team will help you realise all your ideas faithfully, so you can have the living room of your dreams!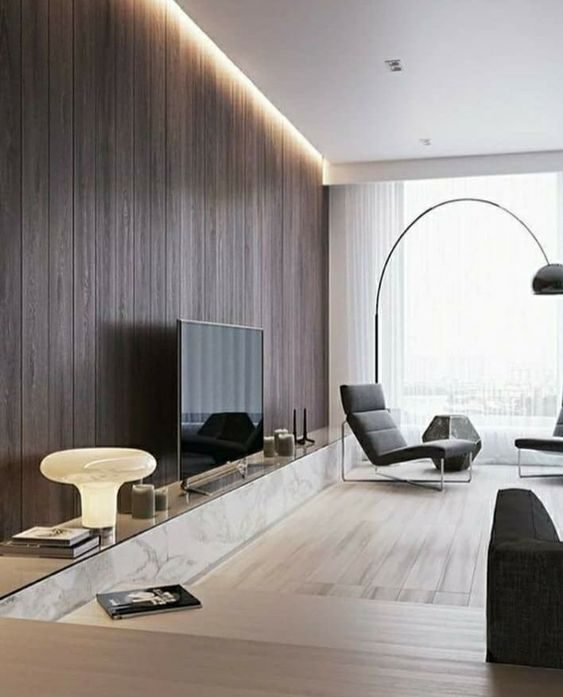 Need to furnish your home or a single room?
Choose a top-notch woodworking shop.

We have over 50 years of experience!
Contact us!
Il Piccolo, a second generation family business, opens its showroom in Lugano. With more than 50 years of experience, Il Piccolo brings with it a wealth of technical and design knowledge, thanks to the many interiors designed and furnished all over the world. Moreover, Il Piccolo represents many of the best international luxury furniture brands. We design, manufacture and sell the best in design. Even when it comes to a modern living room, we follow the customer from the planning to the realisation of the project, integrating the whole process with a precise and professional service.