Il Piccolo Blog
Add a touch of home and warmth to your living room with modern wall units with a fireplace!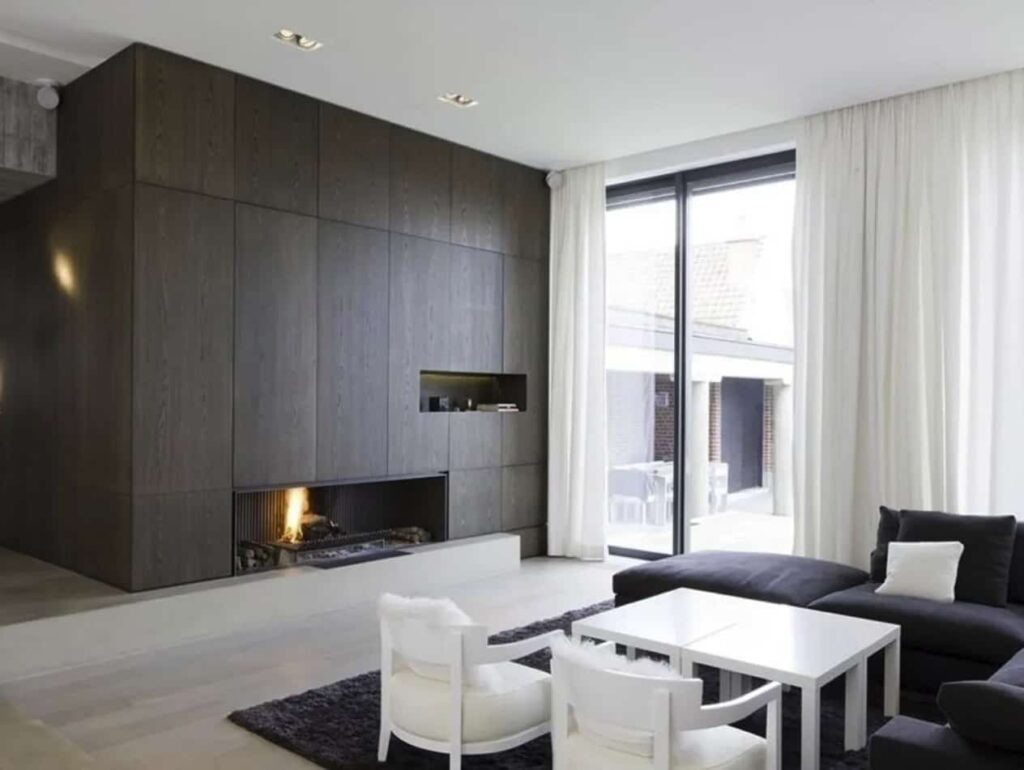 What are wall systems and what is the point of having a fireplace?
Modern wall systems with a fireplace are a solution for those who want to give their living room an elegant and sophisticated air, while at the same time using space in a functional manner. They are combinations of different elements (columns, shelves, doors, flats, open areas), capable of furnishing and containing objects, to which a fireplace can only add a fascinating "family effect", as well as decoration and refinement.
This is a concept of use of the living room space, for example, different from double-sided bookcases or partition walls: it does not divide but furnishes and completes an existing wall.
Modern wall units allow both vertical and horizontal, intelligent and productive use of space, ensuring that surfaces remain clear, with versatile and customisable furnishings. You can have complete freedom, therefore, in terms of colours, alternation between full and empty, style and lines. Inserting a fireplace also allows you to warm the room and give an intimate and cosy touch.
How to choose the fireplace in your modern equipped walls
Once you have assessed the space of the room, and how much of it to devote to furnishings, you can proceed to choose the elements and objects that will be part of the combination. In the case of modern fitted walls with a fireplace, it is possible to opt for a traditional fireplace, which evokes an image of family unity and comfort, but also to insert a traditional fireplace, perhaps a wood-burning one, in a contemporary setting. The fireplace is perfect for every style, so much so that it can be included in various types of furniture.
At the same time, in fact, modern wall units with a fireplace are solutions that also wink at modernity. Not only classic style, therefore, but the choice of fireplace can fall on a modern model, inspired by a more avant-garde design. Another option to consider is a fireplace with stone cladding. Another option to consider is an electric fireplace, which is a pure furnishing effect (but beware of high consumption), especially if it is set in a very modern wall, perhaps with a mirror. 
Television in modern wall units with fireplace: an interesting combination
Those who add a fireplace to modern wall units in their living rooms often find themselves wondering whether or not to include a television. When deciding, the available space must also be taken into account. In any case, a television set is a perfect match for any type of fireplace and the two form an interesting and elegant combination, which can be inserted well into both a classic and a more modern living environment.
Once it has been decided whether or not to include a television, to make modern wall units with fireplace unique it is necessary to decide which and how many objects to place in them: the choice is almost infinite. It is possible, in fact, to insert souvenirs, books, photographs, vases of flowers and much more in the wall system. As far as their placement is concerned, it is necessary to decide between hinged, sliding or folding doors. It is also important to ask yourself what functionality you want from your wall units, whether they are decorative or not: for example, you may want to include a corner dedicated to study or work, which will require space.
Modern wall units with fireplace, so many choices of materials and colours
In style, the key word is: harmony. Modern equipped walls with a fireplace must fit perfectly into the context of the entire home and, given their versatility, they will also be an expression of the personality of the person who has furnished it. The choice of materials is very varied since it is possible to combine various types of materials such as metal, steel, aluminium and wood. As far as colours are concerned, when it comes to a rustic solution, it is best to leave the wood natural, while in modern environments contrasting blacks, whites and greys look very good. But you can opt for any colour.
Devi realizzare un progetto di Interior Design?
Devi arredare casa o un singolo ambiente?

Scegli una falegnameria di alto livello.
Contattaci
Il Piccolo, a second-generation family-run joinery, opens its own showroom in Lugano. With over 50 years of experience, Il Piccolo brings with it a wealth of technical and design knowledge of the highest level, thanks to the numerous interiors designed and furnished throughout the world. In addition, Il Piccolo represents the most prestigious brands of furniture worldwide. Il Piccolo designs, produces and sells the best of the interior design made in Italy, following the customer from the design to the realization, delivery and installation of the work, integrating the process with a precise and professional assistance service. CONTACT US!