Il Piccolo Blog
Modern white kitchens, an evergreen that never goes out of fashion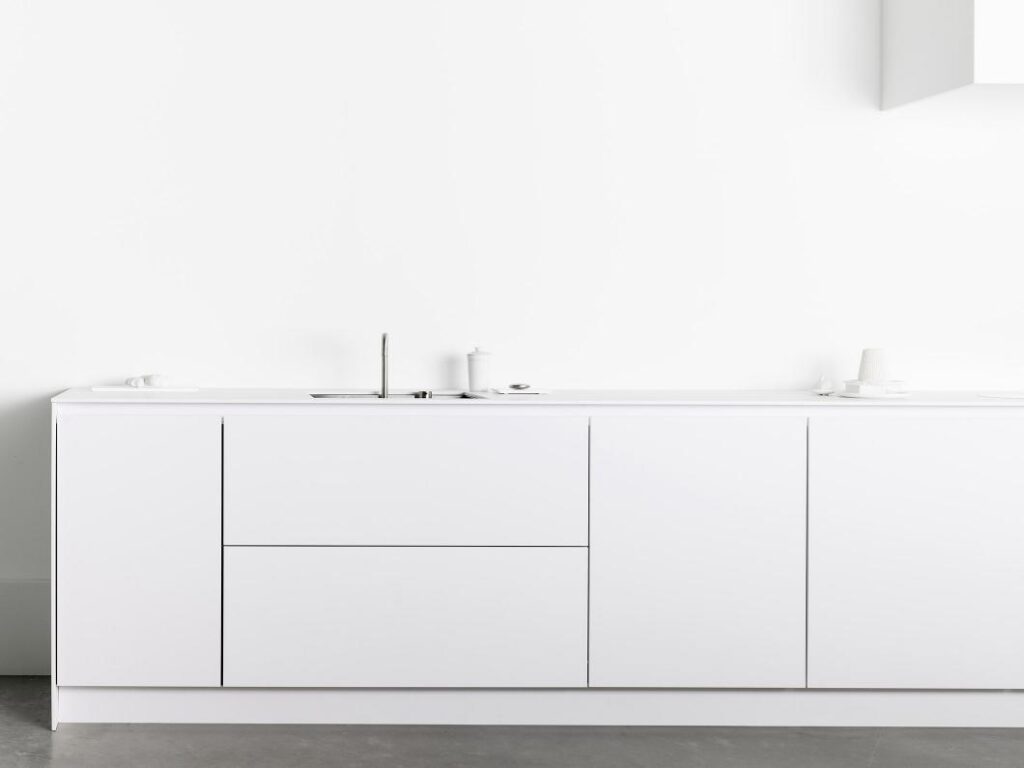 White modern kitchens, a winning option for many reasons
Modern white kitchens undoubtedly give the idea of linearity and cleanliness. White is, in fact, a colour that is well suited to an environment such as the kitchen, which traditionally has to be kept clean. Choosing modern white kitchens follows in the footsteps of tradition and also leaves many avenues open for combinations and furnishing accessories.
What are the characteristics that make modern white kitchens always a winning option? They are numerous! White makes the modern kitchen capable of adapting to any environment and to different styles of architecture (although obviously it cannot be abstracted from the furnishings and colours of the rest of the house). It is capable of being unobtrusive. If it is closed properly with a door, the modern white kitchen might not even be seen, but if you choose a concealed door, it becomes almost invisible.
Easy to clean and airy, modern white kitchens never go out of fashion
It's easy to clean a white modern kitchen! White in kitchens will never go out of fashion. A lot can change, but it will hardly get old. Moreover, white makes the modern kitchen essential and elegant, capable of adapting to any style, from classic to modern, from industrial to more particular styles such as shabby or country. If you consider that practically every material can be available in a glossy or matt finish, the possibilities are endless.
A modern white kitchen is ideal in rooms that are not huge, because white in itself enlarges the room and makes it seem larger. If, on the other hand, we are already talking about a large kitchen, white can only accentuate the effect, making it airy.
Wood is perfect for modern white kitchens, but not only
Modern white kitchens can be made from a variety of materials. The perfect material is wood, which can be decorated and finished in different ways with white. Among the various types of wood, oak is particularly suitable for a modern kitchen, as it is resistant and long-lasting. If you want design to prevail, you can choose glossy lacquer, which is, however, rather uncomfortable even though it is of high quality. A simpler version is matt lacquered wood in white, which makes your modern kitchen bright and airy. For those who want to see the grain of the wood, and therefore do not have a completely uniform white, there is the possibility of opting for an open port matt lacquer. Or again, for a white modern kitchen in wood, use laminate and polymer or melamine finishes.
But not only wood. You can create modern white kitchens in Corian, even in marble or quartz, playing with white glass for the cabinet doors. In fact, a single expanse of white could make modern kitchens monotonous: what is needed is a touch of diversity, which may well be a table in the same material as the kitchen, but in a different colour. White wooden modern kitchens go well with this philosophy: a wooden table in its natural colour can also be combined.
How not to fall into monotony: combinations for a modern white kitchen, from the walls to the table
For those who want to liven up their kitchens a bit after choosing a modern white kitchen, there are several possibilities. One is to paint the kitchen walls in contrasting colours: white, being a non-colour, goes well with everything. If we are talking about a modern open kitchen, perhaps in an open space, white can match the tones of the living room. Shades of grey, for example, would work well. Or you could dare to go with black, creating a very modern and contemporary, essential and functional environment.
The rest of the modern kitchen furniture does not have to be white. On the contrary, a table and chairs in different colours, perhaps bright ones if we are talking about a modern environment, are an attractive solution capable of giving movement and variety to the whole room.
Need to furnish your home or a single room?
Choose a top-notch woodworking shop.

We have over 50 years of experience!
Contact Us
Il Piccolo, second generation family-run carpentry shop, opens its showroom in Lugano. With over 50 years of experience, Il Piccolo brings with it a wealth of technical and design knowledge of the highest level, thanks to the many interiors designed and furnished all over the world. In addition, Il Piccolo represents the most prestigious brands of furniture worldwide. Il Piccolo designs, manufactures and sells the best of interior design made in Italy, following the customer from design to implementation, delivery and installation of the work, integrating the process with a precise and professional service. CONTACT US!