Il Piccolo Blog
Natural light in interior design: how can it be used to create a truly unique scenic effect?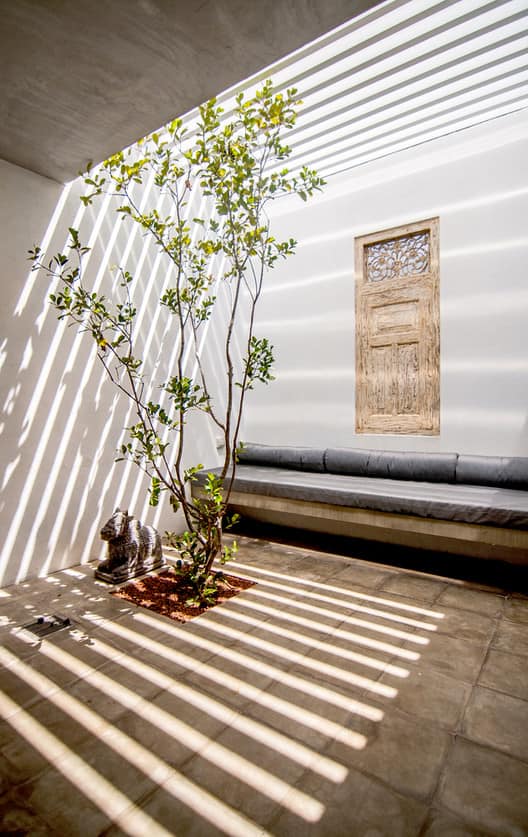 Natural light plays a major role in interior design projects, whether for furnishing a home or a commercial space.
Sunlight has numerous beneficial effects on people's mood and well-being and becomes an arrow to the bow of architects and interior designers. Between structural solutions and tricks for brightening up spaces, here are some tips for harnessing the power of natural light in interior design.
The benefits of natural light in interior design
Living or spending time in a bright environment stimulates positive emotions and a state of physical and mental well-being. Science also recognises the fundamental role of natural light in the production of serotonin, the so-called feel-good hormone, and in regulating circadian rhythms, which govern our body's energy levels.
Other research has shown that natural light promotes interaction with others and sociability, as well as making it easier to sell to corporate salespeople. When furnishing an office, a showroom or a home, one should therefore design rooms in such a way that they enhance the natural light that is present and favour its entry.
Rooms that are well lit by the sun, when also supported by adequate artificial lighting, appear more spacious and airy and have a fresh, vital appearance. In contrast to what one feels when moving around in a dark space, when one is in a bright environment one feels a positive energy, inviting one to stay and discover the room.
The Nordic countries are masters in the use of natural light in interior design. In areas where, during the winter months, sunlight only lasts a few hours a day, rooms are furnished precisely with the aim of amplifying the light present as much as possible, through the use of large windows, spacious rooms and light furniture and colours.
How to integrate natural light in interior design, enhancing projects
When you want to make strategic use of natural light, various solutions can be adopted. In addition to taking a cue from Nordic and Scandinavian furniture, one can, for example, decide to shape the interior design around the concept of naturalness.
To favour the presence of natural light in the room, one can therefore act both on the structure of the spaces and on their furnishings. Providing windows or large windows is certainly the first step to take to ensure that the space is bright. Providing skylights also helps to increase the amount of light in the room. It also helps to make the room appear more spacious.
When it is not possible to change the structure of the space by opening new windows or expanding existing ones, it is still possible to intervene in other ways. One solution is to install adjustable artificial lights, which replicate natural light in intensity and colour. Thanks to the use of sensors and smart systems, it is possible to automatically integrate the amount of natural and artificial light required to achieve an optimal result. Using diffuse lighting points in various corners of the room is also a good idea to better illuminate the space and to balance natural and artificial light. Finally, using illuminated shelves is also a good solution, because it allows the space to be furnished without stealing light and, on the contrary, increasing its brightness.
These are all intelligent solutions that make truly effective use of natural light in interior design.
Three environments to take inspiration from for your interior design projects
Houses in the mountains are an excellent example of how natural light can be used in interior design to create impressive designs. The structure of living rooms with a large picture window can also be replicated in town or seaside homes. The light flooding the room will emphasise the line of the furniture and the colours chosen for the furnishings, thus becoming the element that can make the difference.
For furnishing projects that aim to put natural light centre stage, inspiration can also be taken from the way living areas in city penthouses overlooking terraces and balconies are furnished. Here too, the light coming in through the window makes the atmosphere in the house bright and fresh. This contributes decisively to improving the appearance of the room.
Even houses in the country can become a valuable reference point for defining one's furnishing plan. Large open spaces that overlook the garden are flooded with warm sunlight and, especially in multi-sided houses, you can count on many hours of natural light per day, all year round.
It is quite clear that natural light in interior design plays a central role. The important thing, for an excellent project success, is to rely as always on an experienced and absolutely reliable interior designer.
Devi realizzare un progetto di Interior Design?
Devi arredare casa o un singolo ambiente?

Scegli una falegnameria di alto livello.
Contattaci
Il Piccolo, a second-generation family-run joinery, opens its own showroom in Lugano. With over 50 years of experience, Il Piccolo brings with it a wealth of technical and design knowledge of the highest level, thanks to the numerous interiors designed and furnished throughout the world. In addition, Il Piccolo represents the most prestigious brands of furniture worldwide. Il Piccolo designs, produces and sells the best of the interior design made in Italy, following the customer from the design to the realization, delivery and installation of the work, integrating the process with a precise and professional assistance service. CONTACT US!