Il Piccolo Blog
Comfort is the key word in a office swivel armchair, without neglecting design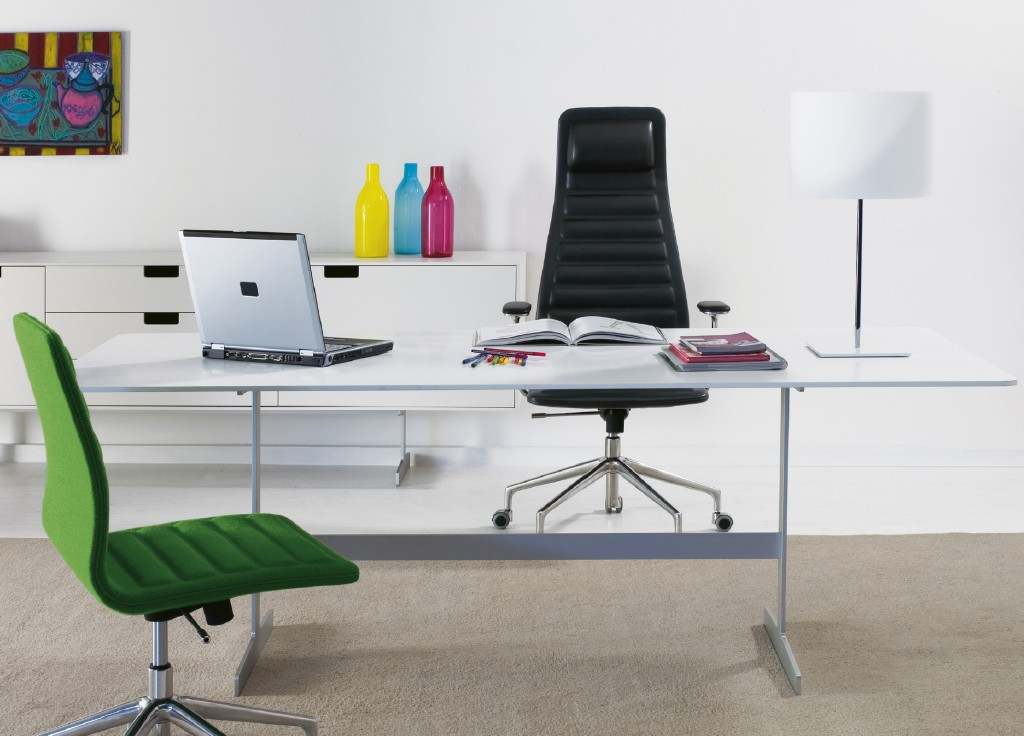 Office furniture is the key to better work
Correctly and functionally furnishing one's work space, whether it is an office or a corner in the home, perhaps with a foldaway desk for home working, is essential to increase one's productivity while also adding pleasure.
New work-related interior design theories, for example, call for employers to provide relaxation areas or to include plants to promote a better atmosphere.
As far as individual furniture and accessories are concerned, one of the most important for practicality and personal well-being is undoubtedly the office swivel armchair.
A swivel chair against back and neck pain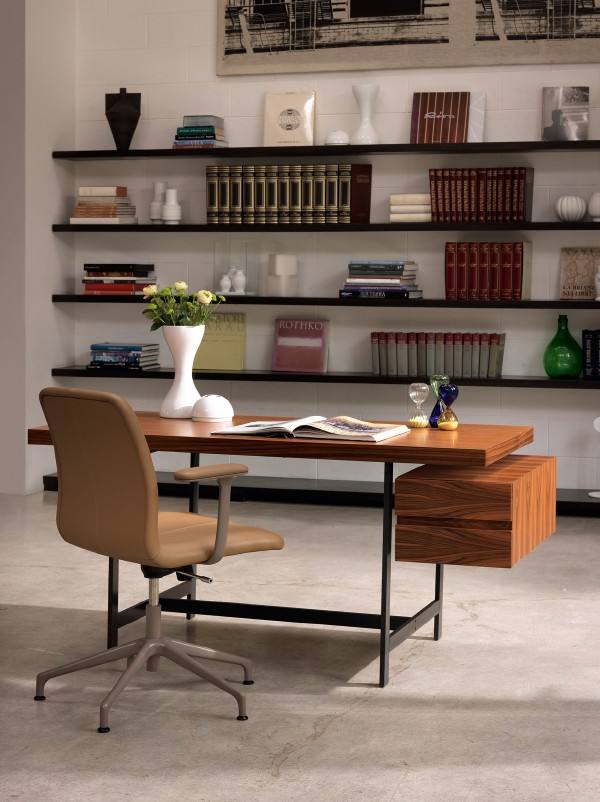 It is easy to understand, with sedentary lives and long hours at the PC, how crucial it becomes to choose the right chair, to try to avoid back, neck or headaches at the end of the day.
From this point of view, the office swivel armchair is designed precisely to be comfortable and ergonomic and to safeguard the back, allowing various positions and adjustments.
And it is also design-oriented, with a wide range of choice to best suit all types of offices and rooms.
The various types of office swivel armchair, from the simplest to the presidential one
A chair of this type, designed for offices but also used at home, for example by people studying at their desks, is pivoted on an axis that allows it to rotate on itself 360 degrees and is on wheels. The modern ones give the possibility to adjust the height and also the recline of the backrest with respect to the seat, guaranteeing maximum comfort in the immediate future, allowing one to work in a comfortable position, and in the long run an important prevention against the typical pains of those who sit a lot.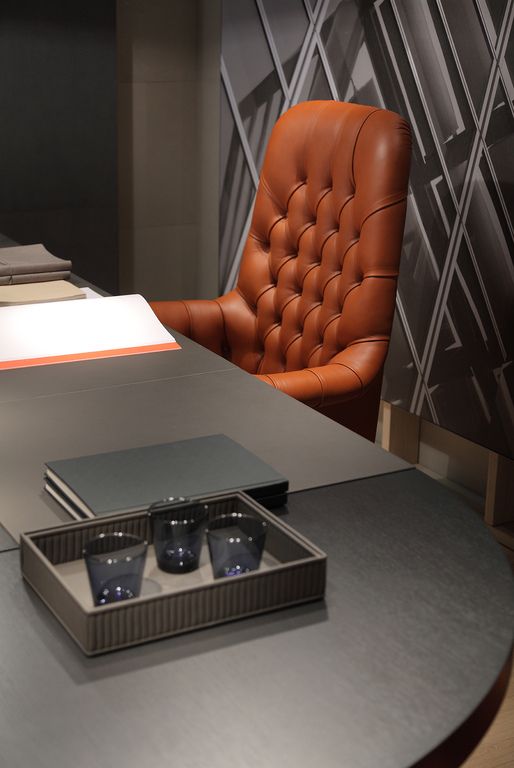 The most common office swivel armchairhas a gas lift system, ergonomic design and basic adjustment. It often does not have armrests and thanks to the variety of models on the market, it can be adapted to any type of environment, from a classic to a contemporary one, even to small ones since it does not take up much space.
For even greater comfort and a decidedly more representative effect there are those that are defined as operative or presidential, characterised by a larger, padded seat, adjustable in every aspect and finished in detail. This is the perfect office chair for those who want to make their office a jewel of design, conveying the authority of those who sit there. It often has armrests.
Whether you want something simple or more elaborate, whether you prefer to have armrests or not, before the design the advice when choosing an office swivel armchairis to consider the adjustment mechanisms and the ergonomic impact. Pay attention to seat depth, height and the possibility of tilting the backrest.
The office swivel armchair mechanism. Find the one best suited to your comfort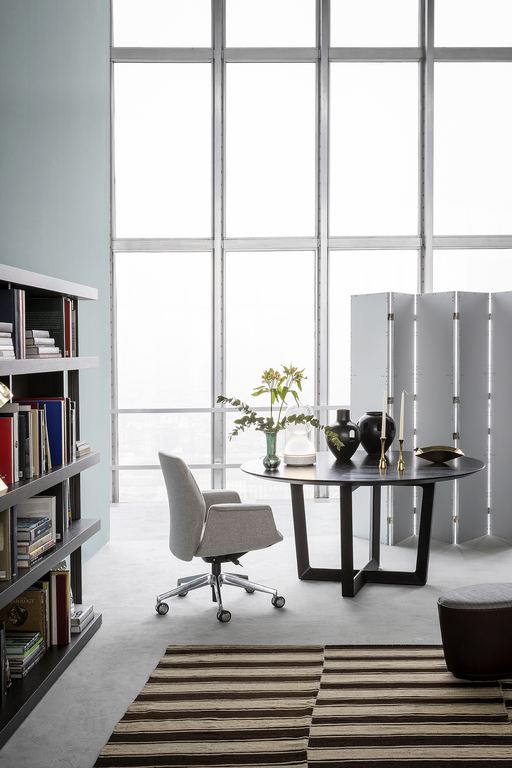 Basically, there are two mechanisms that regulate swivel chairs: the synchronised one where the backrest and seat oscillate at the same time, and the permanent contact one where only the backrest can oscillate. There is no one best solution, it depends on how comfortable you are.
What about design? Materials and colours in swivel chairs
As far as design and materials are concerned, you can have a very simple and straightforward office swivel armchair for a modern office or an imposing one for an important room.
The support can be wood, metal, even plastic or polyurethane, the upholstery (if provided, they increase comfort and are beautiful to look at) of breathable technical materials that prevent perspiration, in fabrics such as linen or cotton or, for the most refined, elegant and timeless solutions, leather.
For colours, go for a single colour, often black or grey, or contrasts between structure and upholstery. For modern and jaunty places, you can opt for a bright and unusual colour: the range is wide!
Need to furnish your home or a single room?
Choose a top-notch woodworking shop.

We have over 50 years of experience!
Contact us!
Il Piccolo, a second generation family business, opens its showroom in Lugano. With over 50 years of experience, Il Piccolo brings with it a wealth of technical and design knowledge of the highest level, thanks to the many interiors designed and furnished around the world. In addition, Il Piccolo represents many of the best international luxury furniture brands. We design, manufacture and sell the best in design. Also with regard to La Cornue kitchens, we follow the customer from the design to the realisation of the project, integrating the whole process with a precise and professional service.CONTACT US