Il Piccolo Blog
Open wardrobe: guide to choosing the ideal open cabinet for your room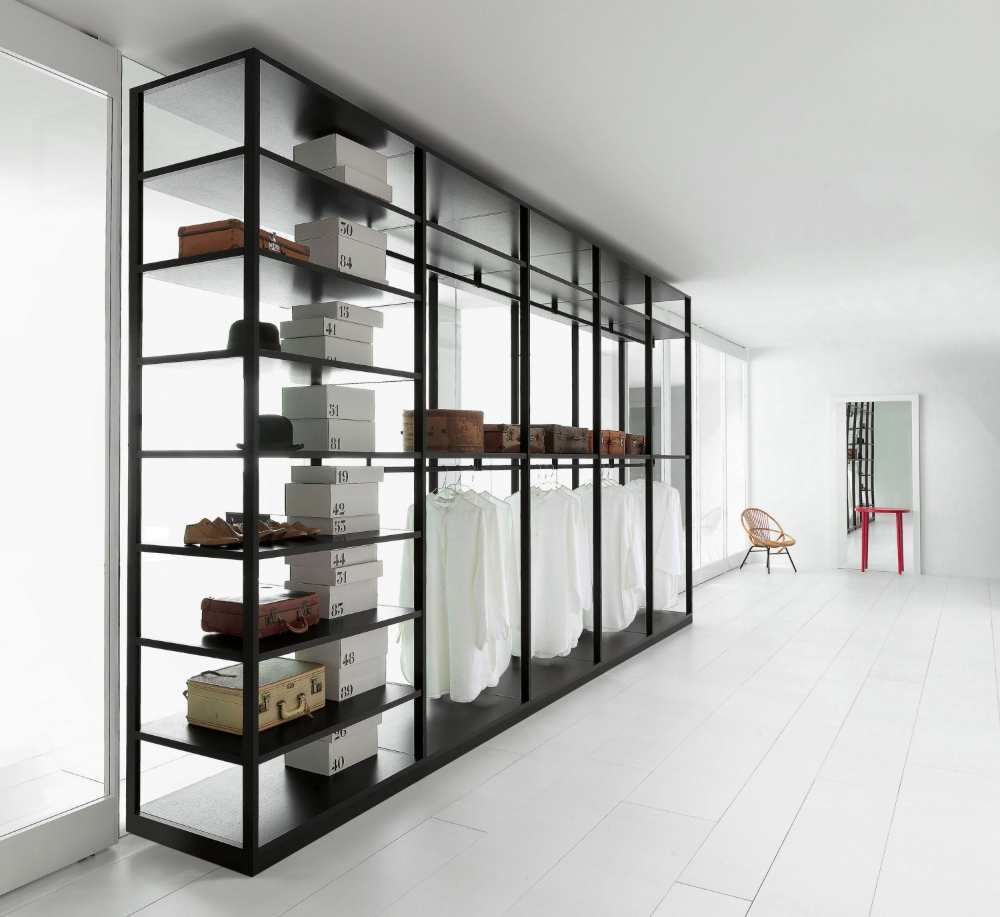 Installing an open wardrobe in the home is a trend that is becoming increasingly popular. Specifically, it is a perfect solution for spaces furnished with contemporary furniture and has numerous advantages.
The flexibility of modular solutions is undeniable, but there are many other valid reasons why choosing a doorless wardrobe can be a winning choice. Let's see what these reasons are.
Open wardrobes are perfect for spaces of all kinds
Open wardrobes are a valid alternative to classic wardrobes with hinged or sliding doors. In particular, thanks to their more essential and contemporary structure, they are an excellent idea for furnishing a bedroom or a walk-in wardrobe.
For example, inserting an open cabinet in a bedroom is a good compromise for those who are looking for a solution that is both capacious and comfortable to use, and that takes up little space.
Open cabinets are of course perfect for those who have a walk-in wardrobe in their home. This can be a walk-in wardrobe in a dedicated room or created by dividing the bedroom into two areas. The transition between the room and the walk-in wardrobe, in the latter case, can be via a door or a curtain.
Almost all open cabinets are modular furniture, which anyone can structure by assembling the modules they need. In this way, it is easy to find the ideal size and structure for the family's storage needs.
One can choose an open cabinet with a simple linear structure consisting of shelves and a hanging module, or a larger corner structure. Those who want to exploit the decorative power of an open wardrobe to furnish their bedroom can also enhance the wardrobe with modules that have drawers or shelves. The latter could be used for example as a bookcase.
The flexibility of this furniture solution is also expressed in terms of the materials that can be used in its construction. Wood is undoubtedly the first choice, but there are also excellent metal solutions. When selecting the best wood to use for an open cabinet, it is important to consider both the appearance of the wood and its physical characteristics.
To give a few examples, an oak or bamboo wardrobe is perfect for those who have chosen a Nordic or contemporary style for their home and wish to include light coloured furniture. On the other hand, an open closet made of cherry wood is excellent for those looking for a compromise between tradition and modernity. Those who have opted for industrial-style furniture, on the other hand, will find modular solutions that integrate a metal structure with wooden elements perfect.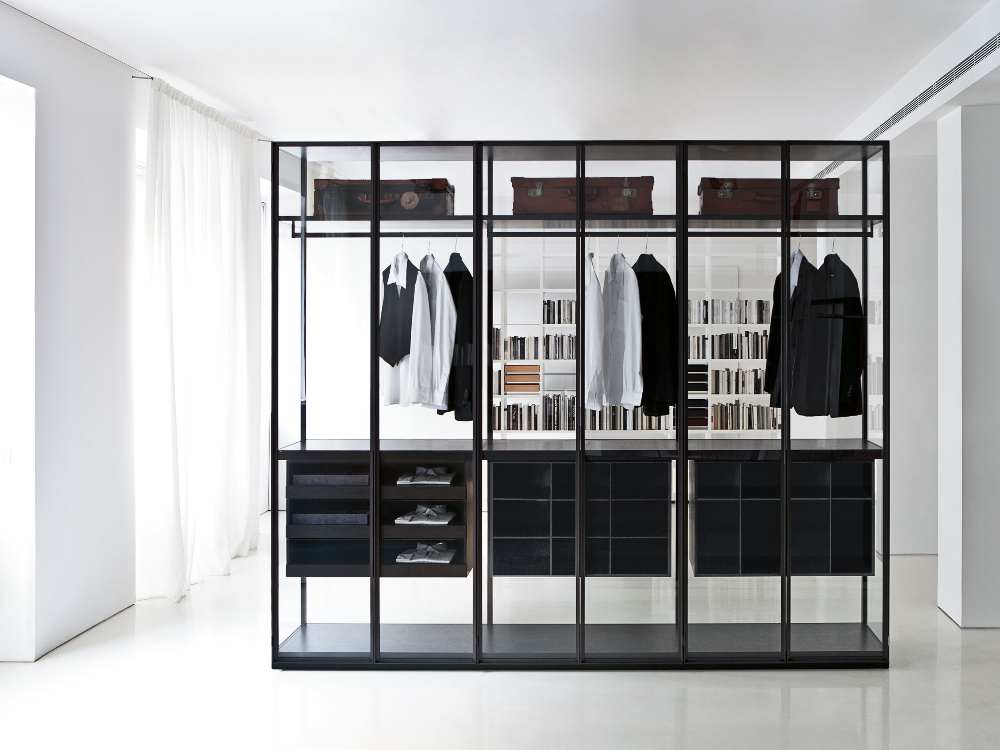 All the advantages of furnishing with an open wardrobe
The absence of doors offers two important immediate benefits. Which are? It's easy to say: an open wardrobe requires less space and provides more light in the room than a wardrobe with doors.
The fact that no space is needed to open hinged doors or that there is no need for greater cabinet depth to accommodate sliding doors means that open cabinets are easy to install. And this is true even for smaller rooms.
In addition, by having a minimal structure composed of few elements, the open cabinet favours the circulation of light within the room. This feature is also decisive when furnishing rooms in the home that are only reached by the sun for a few hours of the day.
Having an open and modular wardrobe also provides great freedom of organisation. In fact, being able to move the shelves around and be able to freely define the heights of the different modules helps to distribute the space, ensuring that these spaces are fully adapted to one's needs.
The benefits do not end there. Those who choose to install an open closet may in fact notice that the cabinet immediately gives a sense of order and cleanliness to the room. Specifically, having one's entire wardrobe in view not only has practical benefits, but can even revolutionise the way one perceives one's clothing style. Because a simple glance is enough to make overall assessments that are otherwise difficult to process.
At the very least, having clothes, shoes and accessories all at hand simplifies choice and reduces the time needed to get ready to leave the house. However, it is not uncommon when having your entire wardrobe in front of you triggers a process of decluttering and downshifting, leading you to eliminate the superfluous and reduce what you own to the essentials. And this power is all thanks to the open wardrobe.
How can open wardrobes be used in home furnishing?
The open wardrobe not only allows for simple and rational organisation of one's wardrobe, but also becomes an important furnishing element in the room.
The choice of structure and colour of the wardrobe are priorities. When defining the ideal structure, one must take into account the size of the room and one's storage needs. Those with an essential wardrobe can get by with just a few modules, distributed linearly along one wall. Those, on the other hand, who have a more substantial wardrobe can think of a piece of furniture that has an angular structure, with a dramatic alternation of shelves, drawers, open volumes and spaces in which to hang clothes.
In addition to considering open closets resting on the floor, it is also possible to request the installation of a suspended wardrobe, i.e. one fixed to the wall. This second solution is perfect in more contemporary and industrial-inspired contexts. Before proceeding with wall-mounted installation, however, it is a good idea to check whether or not the wall on which you are acting is load-bearing. In the first case, the open cabinet can be fixed without fear of sagging, while in the second case it is necessary to consider providing supports that can discharge part of the weight of the cabinet and its contents to the ground.
We have already said that the open cabinet can be interpreted as the top furnishing element in a room. From this point of view, its colour also plays a fundamental role. For example, choosing an open wardrobe in the natural colours of wood or a white version is an excellent idea for homes furnished in Scandinavian or eco-friendly style. Models in dark colours, on the other hand, are a good option for those who want to add a touch of sophistication to the room. Finally, you can also consider open cabinets painted in pastel or more intense colours. This is if you want to give your furniture an accent of colour.
Need to furnish your home or a single room?
Choose a top-notch woodworking shop.

We have over 50 years of experience!
Contact Us
Il Piccolo, a second generation family-run joinery, opens its own showroom in Lugano. With over 50 years of experience, Il Piccolo brings with it a wealth of technical and design knowledge of the highest level, thanks to the numerous interiors designed and furnished all over the world. In particular, Il Piccolo has a wealth of experience in the design and production of several corner wardrobe models. Finally, Il Piccolo represents the world's most prestigious furniture brands.
Our company designs, manufactures and sells the best of made-in-Italy interior design, following the customer from the design to the realisation, delivery and installation of the work, supplementing the process with a precise and professional assistance service. Looking for the ideal corner wardrobe for your room? CONTACT US!