Il Piccolo Blog
Paola Lenti, everything started with carpets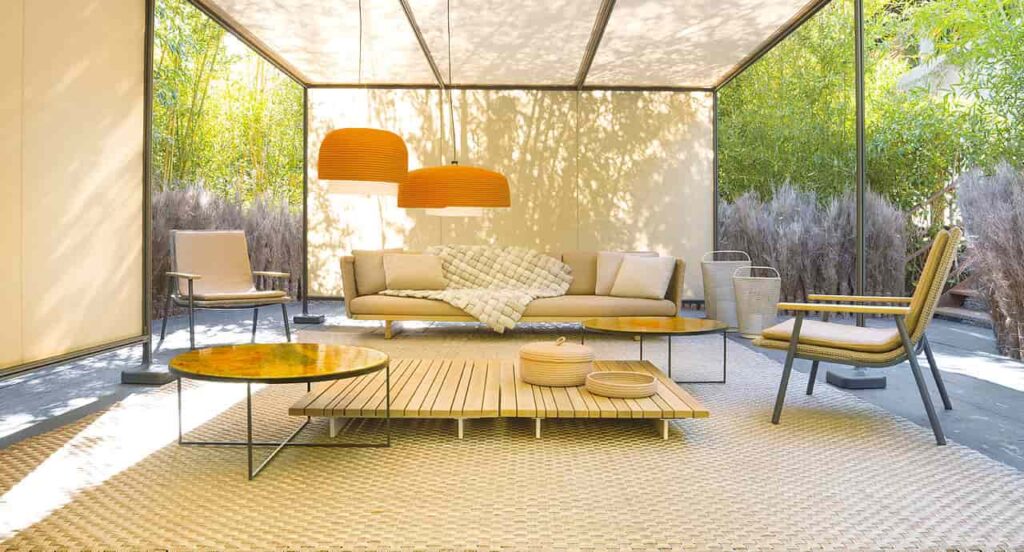 Paola Lenti is one of the many Italian designers who bring honour to the Belpaese in the field of furnishing. Just think of Antonio Citterio, Paola Navone, Piero Lissoni, and companies like Glaso Baxter or SovetItalia. Paola Lenti's company is about thirty years old, having been founded in 1984, and boasts outdoor and indoor collections, with furniture of many types, and carpets, which is where it all started.
Paola Lenti in fact started from there, from carpets. She says from a thread. And from the carpet the whole Paola Lenti production started, ranging in different fields but always characterized by the same unmistakable philosophy. The fabric, the yarn, even the colour which has become one of her main distinguishing features, are the basis of every creation and every collection of Paola Lenti.
The numerous awards won by Paola Lenti
These are appreciated works, as they have won numerous prestigious awards: Linea and Island, di were selected for the Compasso d'Oro award in 2001 and 2004, while Loom was selected in 2011 and the Rope fabric won the Wallpaper Award in 2015 as best fabric of the year.
Starting with fabrics and yarns, Paola Lenti has always sought points of contact and harmony capable of harmonising colours, lines and shapes, between tradition and innovation. Her collections use very modern fabrics, such as technical yarns, but do not forget the more ancient ones such as linen and hemp. One of Paola Lenti's objectives is to keep alive crops that would otherwise risk disappearing and also to use materials that are reusable and therefore sustainable for the planet. 
Paola Lenti and outdoor furniture: original and simple at the same time
As mentioned above, Paola Lenti's journey into the world of design starts with carpets, but her company first became known for its outdoor furniture. Paola Lenti's own philosophy can be clearly seen. Her outdoor collections are characterised by experimentation with materials, which has always been a focal point, colours and shapes. The result is original furniture, even the more traditional outdoor sofas. Each one has its own soul, something special despite its simplicity. Linear shapes, but often shapes that give an idea of sinuosity, for outdoor furniture that is pleasing to the eye and highly comfortable, designed to be timeless and to have a durability that is not only functional (over time) but also stylistic.
Paola Lenti's philosophy also applied to indoor use
After outdoor sofas, suspended chairs, outdoor armchairs, poufs, all pieces of furniture leading to comfort and sharing of outdoor spaces, Paola Lenti has established itself also in the indoor field. They range from kitchens to bedroom and living room furniture, all born from the search for an originality capable of combining tradition and innovation in materials, shapes and colours. Each Paola Lenti creation is original and unique in its simplicity.
Traditional fabrics and others patented ad hoc, Paola Lenti's research never stops.
For Paola Lenti and her staff, the research on fabrics continues, and will probably never end, starting from the one dedicated to choosing the best fabrics for outdoor use and then carried on in each creation. Designer Paola Lenti works with products that are free of toxic and chemical substances, she prefers local production and brings nature into each of her ideas. Lenti has patented mono-material and fully recyclable materials, such as Twiggy and Diade. In general, given their resistance to atmospheric events, the materials designed are also suitable for the nautical world, for which in fact Paola Lenti has worked and works.
Carpets continue to be an important part of the production and fully integrated in Paola Lenti's modus operandi. There are different fabrics, environmentally friendly and resistant, with traditional and more innovative manufacturing processes, for rugs that adapt to different styles and homes.
Need to furnish your home or a single room?
Choose a top-notch woodworking shop.

We have over 50 years of experience!
Contact Us
Il Piccolo, a second-generation family-run joinery, opens its own showroom in Lugano. With over 50 years of experience, Il Piccolo brings with it a wealth of technical and design knowledge of the highest level, thanks to the numerous interiors designed and furnished throughout the world. In addition, Il Piccolo represents the most prestigious brands of furniture worldwide. Il Piccolo designs, produces and sells the best of the interior design made in Italy, following the customer from the design to the realization, delivery and installation of the work, integrating the process with a precise and professional assistance service. CONTACT US!