Il Piccolo Blog
Rational, modern and ergonomic – how professional kitchens in hotels and restaurants look like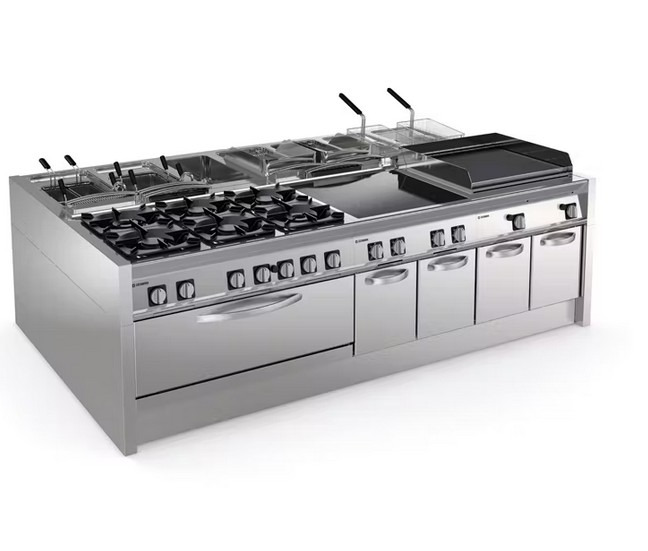 The chef at the centre
Equipped with every comfort, because cooking when it comes to hotels and restaurants, especially luxury ones, becomes an art for which it is necessary to have all possible tools at one's disposal. Like a painter who wants brushes and canvases of the highest quality, a chef too cannot ignore the choice of the best materials and the latest technology, in order to be able to concentrate solely on the preparation of his most popular dishes. Professional kitchens in hotels and public places are often even designed by the chef himself, according to his needs, if one is dealing with a real star of the kitchen. But even if this is not the case, there are indispensable features.
The features of a professional kitchen
Furnishing a restaurant, and even more so a hotel, is by no means self-evident, since a certain style has to be imparted to the details of each room and each accessory: this is why we often rely on turnkey contract projects. In professional kitchens, not only design must be taken into account, but also tidiness and ergonomics. Sufficiently large spaces are needed and the requirements must not be forgotten: perhaps the restaurant offers different menus, specialising in different areas such as fish and meat or pasta, so different spaces are needed, or the hotel offers both main meals and buffets and breakfasts. There may be many people present at the same time, each concentrating on his or her work. Facilitating and rationalising everyone's task of finding the material and cooking it means a better working environment and faster time.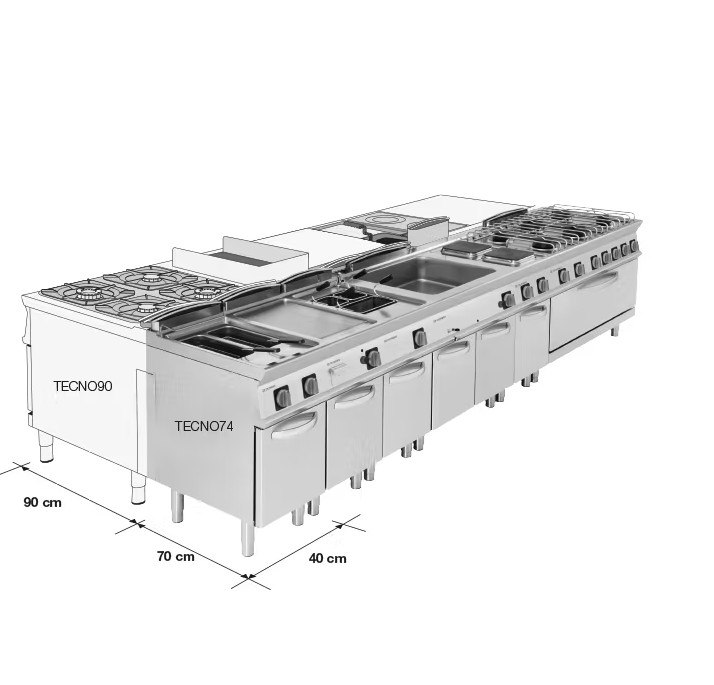 Professional kitchens have high technological standards
From a technical point of view, there are therefore certain standards that cannot be overlooked when designing the space of one's professional kitchen. It must guarantee flexibility and time optimisation, therefore high efficiency with consequent energy saving, a high heating speed, if possible automatic recognition of the pot on the plate (without a pot, the heating energy is not activated), great homogeneity in cooking food (the whole pot heats evenly and not only the bottom), high precision in the choice of power and temperature, the possibility of heating several pots and single-portion pans at the same time, with home automation connections and agile management are indispensable. Basic for storing a lot of food are cupboards and cold rooms, perhaps with the possibility of storing at different temperatures, organised rationally so that everything is easy to find. Given the odours, an excellent extraction system with ventilation hoods must be considered.
Why stainless steel is chosen
In terms of materials, modern materials such as stainless steel are preferred for professional kitchens. It is very hygienic and easy to clean, a detail that should not be overlooked since the emphasis is on hygiene. Furthermore, it is antibacterial and biologically neutral, i.e. it does not alter the taste of substances.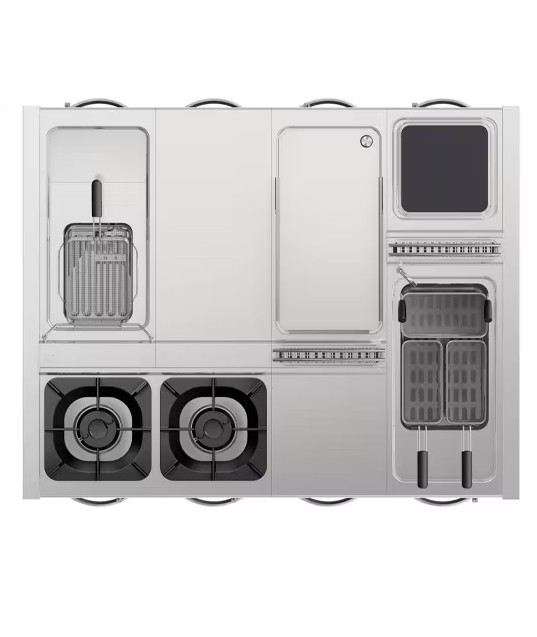 The importance of ergonomics in professional kitchens
Ergonomics, as mentioned, is very important. The kitchen of a hotel or restaurant is built around the movements of the chef, so that he or she makes as little effort as possible to perform his or her task.
Every space is designed to be exploited to the full, distributing the various appliances so that they are within easy reach of the staff, with as little movement as possible and without getting in each other's way. But while placing the emphasis on functionality, aesthetics and design are not neglected at all.
Choosing a professional kitchen at home? An excellent choice for those who love to cook
The features mentioned above make a kitchen designed along the lines of a professional kitchens an attractive choice for a home. Being able to cook efficiently, with great attention to ergonomics and thus back health, as well as fast and differentiated cooking techniques and food preservation, is undoubtedly the dream of many enthusiasts. A professionally derived kitchen is therefore ideal for those who want to be chefs for friends and family. The minimalist and neat design, aimed at rationalising space, makes it suitable for dynamic, modern and technologically advanced environments.
Need to furnish your home or a single room?
Choose a top-notch woodworking shop.

We have over 50 years of experience!
Contact us!
Il Piccolo, a second generation family-run joinery, opens its own showroom in Lugano. With over 50 years of experience, Il Piccolo brings with it a wealth of technical and design knowledge of the highest level, thanks to the numerous interiors designed and furnished all over the world. In particular, Il Piccolo has a wealth of experience in the design and production of several corner wardrobe models. Finally, Il Piccolo represents the world's most prestigious furniture brands.
Our company designs, manufactures and sells the best of made-in-Italy interior design, following the customer from the design to the realisation, delivery and installation of the work, supplementing the process with a precise and professional assistance service. Looking for the ideal corner wardrobe for your room? CONTACT