Il Piccolo Blog
If the screen is too much, there's the retractable tv cabinet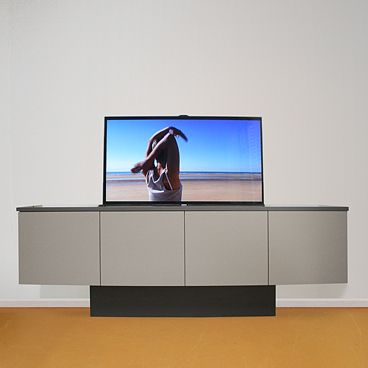 Why hide the TV?
The TV is an element that almost no one wants to do without in their living room, sometimes not even in the kitchen (although this is often discouraged…) or in bedrooms. In homes, however, that have been designed down to the last detail in terms of interior design, perhaps with a precise plan tailor-made by an interior designer, the screen could be a disturbing element. How, then? The solution, very design-oriented moreover in functional and versatile contexts such as those of modern flats, is the retractable TV cabinet.
As well as for contexts in which an element such as the TV might appear too much in the meticulous balance of design, a piece of furniture that can conceal the television is suitable for small rooms, where furniture that can conceal elements gives the impression that the room is larger. In this case, not only the screen is hidden, but also the technological elements that necessarily accompany the TV (and those remain hidden from view even when the screen is shown and used). Sometimes optimising space is the best choice, which in no way means giving up your own comforts, such as a nice screen where you can all enjoy a TV series together.
How a retractable tv cabinet works
A retractable tv cabinettherefore hides the television from view when it is not in use and would be an inconvenient accessory or take up too much space. However, it must be able to pull it out and make it easy and quick to use, combining design with practicality. It is usually equipped with a lifting mechanism. The screen is pulled out by means of a button or, for more technological solutions, with a remote control. It is essential that the mechanism that raises and lowers, i.e. makes the screen appear and reappear, is of high quality. It must be very quiet, for example, as well as reliable.
Style and colour for a piece of furniture that conceals the TV
As far as style and colour are concerned, as you can easily imagine, there are many solutions and everyone must choose the retractable tv cabinet that best suits their living room. How? Starting, as is always recommended in interior design, with the style of one's own home. Like every other piece of furniture and accessory, this element is in fact available in every possible conjugation. Is the decor classic, with warm wooden atmospheres? Or is it minimalist and uses only clean, geometric shapes? Is it very modern and played out in shades of black and white? Well, the piece of furniture that allows the TV to be hidden will follow the trend, integrating perfectly with the rest of the living room, from the sofas to the wall units.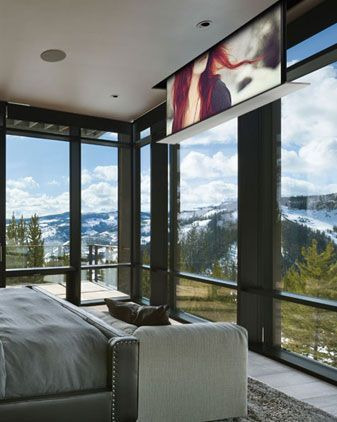 The most suitable material for a retractable tv cabinet? It depends
If your living room is classic, the retractable tv cabinet can certainly be in the most classic material, i.e. wood. It can have rounded, soft shapes. If, on the other hand, you have opted for metal or glass, which are modern and elegant, this cabinet can also be made of the same materials and perhaps have cleaner and more geometric shapes and lines. Also with regard to colours, it is necessary to follow the palette chosen for the rest of the living room. Do not forget that the purpose of the piece of furniture in question is to hide the TV, making it part of the living room, so it must integrate perfectly, unless you deliberately decide to make it the main element of the room, highlighting it.
Hiding the TV in a wall unit
In modern living rooms, fitted walls are all the rage, allowing enormous versatility in terms of shape, size and use. The TV in these cases is often placed inside this wall, which can become at the same time a space for the fireplace, a bookcase and a place to place objects and family photos. To recreate the effect of a retractable TV cabinet in a wall unit, simply provide a space with a retractable door: when the screen is in use, it is opened, otherwise it is kept closed.
Need to furnish your home or a single room?
Choose a top-notch woodworking shop.

We have over 50 years of experience!
Contact Us
Il Piccolo, a second generation family-run joinery, opens its own showroom in Lugano. With over 50 years of experience, Il Piccolo brings with it a wealth of technical and design knowledge of the highest level, thanks to the numerous interiors designed and furnished all over the world. In particular, Il Piccolo has a wealth of experience in the design and production of several corner wardrobe models. Finally, Il Piccolo represents the world's most prestigious furniture brands.
Our company designs, manufactures and sells the best of made-in-Italy interior design, following the customer from the design to the realisation, delivery and installation of the work, supplementing the process with a precise and professional assistance service. Looking for the ideal corner wardrobe for your room? CONTACT