Il Piccolo Blog
For convivial outdoor dining, the round garden table is a perfect choice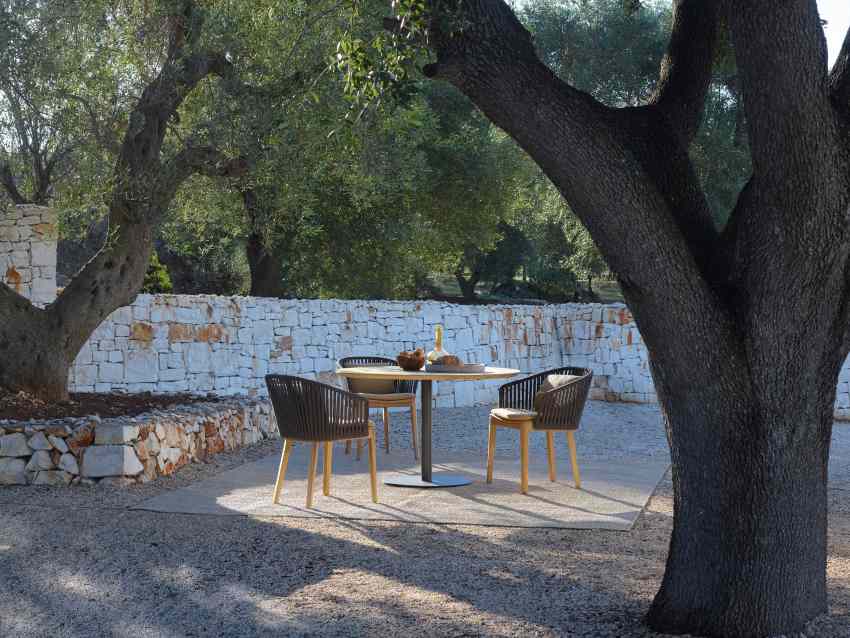 The importance of outdoor space in modern-day life
Over the years, people have become accustomed, particularly after Covid confronted them with a reality where they could not leave the house, let alone meet with friends, to a different and more intense use of their outdoor space, be it a balcony, a huge terrace or a garden. You want to create a space where you can share convivial time. A round garden table is in most cases the right choice!
Cooking and eating in the garden
When deciding how to furnish your garden, you need to ask yourself what activities you want to carry out there. Often one favours those related to relaxation in company, with real sitting areas, perhaps under the shelter of a parasol, to which one can add equipped outdoor kitchens in order to be able to prepare barbecues, grills and even more elaborate meals. But where to seat guests and family members? The choice of table, one understands, is therefore basic.
Because the round garden table ensures a relaxed atmosphere
A space must be created where everyone can sit together comfortably. How many people will regularly use the table? This is an important starting point. Indeed, it is pointless to choose a solution for a large number of people if it is just the family or, on the contrary, to have something small that cannot accommodate friends. A round garden table fits into any shape and environment and brings with it a feeling of conviviality.
Whether indoor or outdoor, in fact, a round table does not assign main seats to any diners. There are no corners, so no one will be at the head of the table, the distance to the person at one's side will be the same for everyone. In short, it is an equal, informal and convivial way of sharing space, where there are no predefined roles of importance. One can therefore understand how a round garden table is perfect for giving one's space an aura of relaxation, what one seeks outside when eating on a fine summer's day. Around a round table everyone sees everyone, the pace is relaxed and, as they say in English, easy. Doesn't this image remind one of summer, of endless lunches in flip-flops and short sleeves?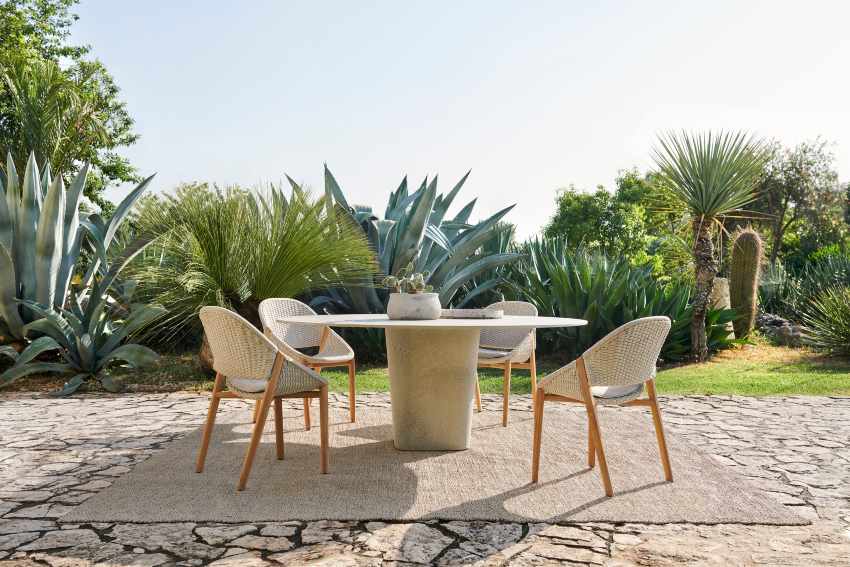 Materials and colours of the round garden table
With regard to the material of your round garden table, you must always bear in mind that it is a piece of furniture that remains outside, therefore, even if perhaps covered by a pergola or umbrella, exposed to the elements. Therefore, choose something resistant. Wood is always a correct option, pleasing to the eye and capable of integrating into any environment, whether European types such as pine, oak and acacia, or exotic ones such as teak, cumaru, itauba, which are so popular in outdoor furniture. Other suitable materials are metal and stainless steel or aluminium, which are resistant by nature and more suitable for more modern furnishing contexts.
As far as colours are concerned, wood is liked in its natural state, or lacquered in black or white, although grey, brown or dove grey are also very fashionable. The same goes for steel, aluminium and metal. Generally, chairs should be chosen in the same material and colour, brightened up with coloured cushions, which add an extra touch to the ambience. Bear in mind, however, that they can easily get dirty standing outdoors.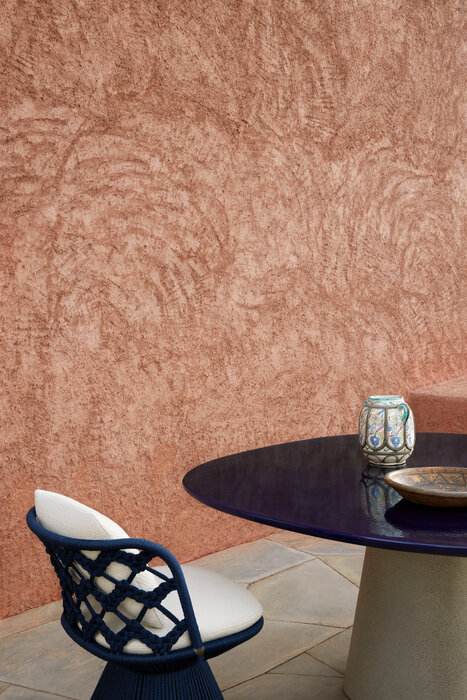 The round table is good for any garden
What kind of garden is a round table suitable for? For everyone! It takes up less space, with the same number of people sitting around it, than a square or rectangular one, so it is perfect for spaces that are not huge. The round shape gives a sense of airiness, and can also fit perfectly into quite large contexts, whether square or rectangular and even irregular as gardens often are.
Need to furnish your home or a single room?
Choose a top-notch woodworking shop.

We have over 50 years of experience!
Contact us!
Il Piccolo, a second generation family-run joinery, opens its own showroom in Lugano. With over 50 years of experience, Il Piccolo brings with it a wealth of technical and design knowledge of the highest level, thanks to the numerous interiors designed and furnished all over the world. In particular, Il Piccolo has a wealth of experience in the design and production of several corner wardrobe models. Finally, Il Piccolo represents the world's most prestigious furniture brands.
Our company designs, manufactures and sells the best of made-in-Italy interior design, following the customer from the design to the realisation, delivery and installation of the work, supplementing the process with a precise and professional assistance service. Looking for the ideal corner wardrobe for your room? CONTACT