Il Piccolo Blog
Slanted ceiling furniture: how to make the right choice? [Complete guide].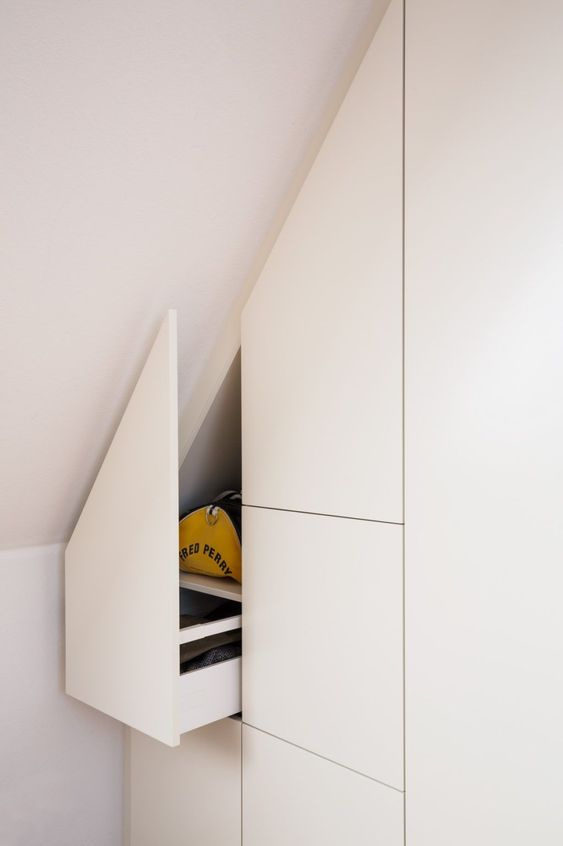 In attics and mountain huts it is common to find lower than normal ceilings or uneven walls. In cases such as these, finding furniture for slanted ceiling furniture can be complex and custom-made solutions are often necessary.
But what do you have to pay attention to when furnishing rooms of this type, and how can you correctly choose slanted ceiling furniture that will make the most of the space available?
What kind of furniture should be chosen for sloping ceilings?
When it comes to furnishing spaces with sloping ceilings, the main objective is to make the most of the available area.
One of the most versatile solutions for adapting to sloping walls are modular bookcases. This type of furniture allows you to customise the arrangement and height of the different modules to best suit the slope of the ceiling and the height of the wall.
Custom wall cabinets are another excellent option for maximising space in corners with sloping ceilings. Thanks to their design flexibility, they can be custom-made to perfectly match the shape and height of the ceiling. This means that even hard-to-reach corners can be exploited, turning them into valuable storage space.
If you need to store and tidy up objects, you can also consider having custom-built attic storage rooms. This type of solution is perfect for exploiting the available space to its full height and also for using the usually neglected part of the attic.
Another tip on how to choose slanted ceiling furniture? In addition to bookcases and cupboards, there are many other solutions that can be adopted to furnish sloping walls. Among the most flexible solutions are foldaway or fold-down desks, which are ideal especially in small spaces. This type of furniture can be fixed to the wall and folded away when not in use, freeing up valuable space for other activities.
In a room with sloping walls, you can also consider installing loft beds. The loft area can be used to create a study area, a relaxation corner or even a small additional wardrobe.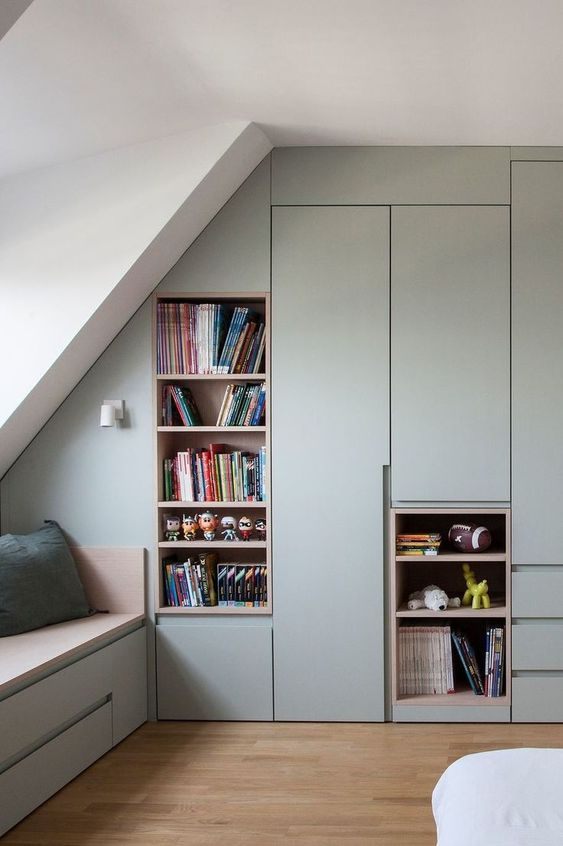 How to choose custom-made furniture for rooms with sloping ceilings?
Furniture that can be adapted to rooms with sloping ceilings has several advantages, but it is often necessary to resort to customised design, particularly if you have specific requirements or if you have to furnish a complex room such as a kitchen.
Spaces with sloping ceilings can also be exploited simply by inserting custom-made shelves or niches. Such a solution is perfect when you do not need a large storage space, but want to exploit and make every corner of the room productive.
And here is another tip on how to choose slanted ceiling furniture. Through the choice of dimensions, shapes and materials of the shelves and niches you can give an original and attractive look to this space, drawing the eye to the furniture and transforming a potentially forgotten corner into the focal point of the room.
If, on the other hand, you have to furnish a kitchen with a sloping ceiling, you can resort to custom-made wall cabinets or a kitchen model without wall cabinets. Lighting also plays a key role in this respect: by using direct lighting on worktops and hanging lamps, even the smallest kitchens can be given an elegant and well-kept atmosphere.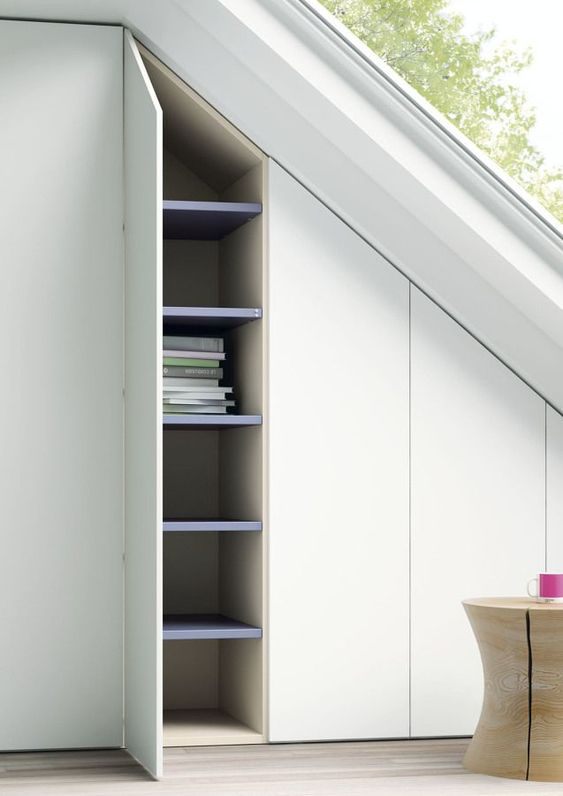 What to consider when choosing slanted ceiling furniture?
In addition to considering the type of room to be furnished and the functionality of the furniture, its appearance and qualities should also be considered.
The materials from which slanted ceiling furnitureis made are one of the most important parameters to consider. In this respect, the furnishing style you choose to be inspired by has a great deal to do with it. Solid wood furniture, with a solid and warm appearance, are excellent solutions for those who have chosen classic furniture, while furniture made of innovative materials or with a metal frame are perfect options for homes furnished in an industrial or contemporary style.
Often rooms with sloping ceilings also have smaller windows than standard-sized ones and, as a result, the rooms are not very bright. In cases like this, it can be helpful to choose light-coloured furniture or to add light elements such as mirrors or lamps.
When furnishing rooms with a sloping ceiling, most people fear that the room will be difficult to furnish due to the limited space. In reality, with a few tricks and by paying attention to enhancing the characteristics of the space, what at first glance may seem like a limitation becomes an opportunity to create a unique and functional room. Attention must therefore also be paid to this when choosing slanted ceiling furniture that must correctly complete a specific furnishing.
Need to furnish your home or a single room?
Choose a top-notch woodworking shop.

We have over 50 years of experience!
Contact us!
Il Piccolo, a second generation family business, opens its showroom in Lugano. With over 50 years of experience, Il Piccolo brings with it a wealth of technical and design knowledge of the highest level, thanks to the many interiors designed and furnished around the world. In addition, Il Piccolo represents many of the best international luxury furniture brands. We design, manufacture and sell the best in design. Also with regard to La Cornue kitchens, we follow the customer from the design to the realisation of the project, integrating the whole process with a precise and professional service.CONTACT US