Il Piccolo Blog
Sofas, comfortable and of exclusive design, the choices are endless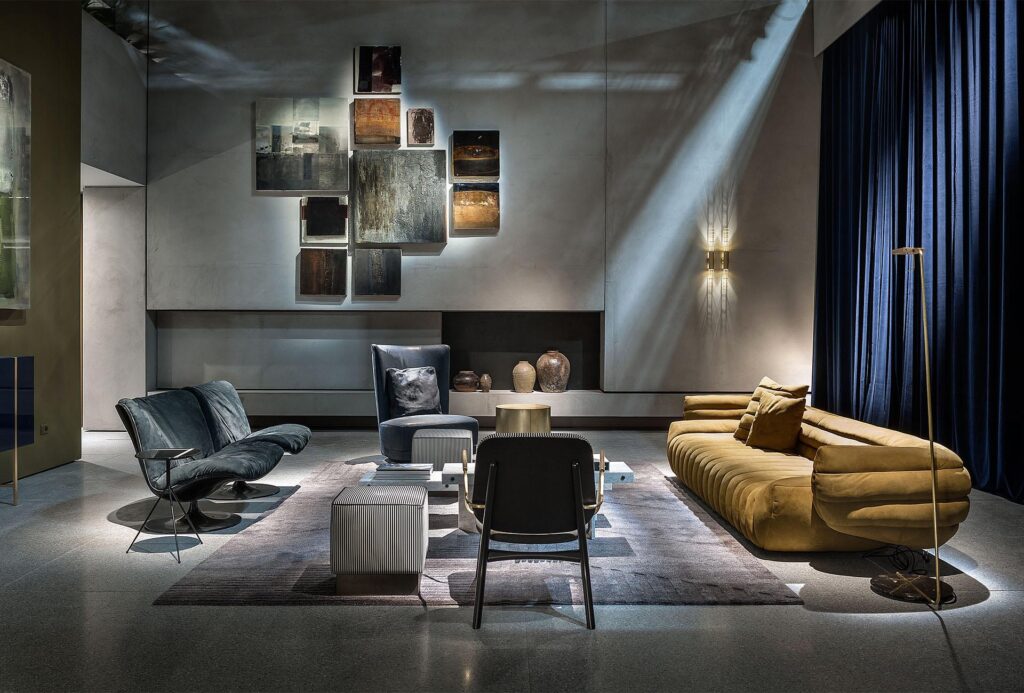 Exclusive designer sofas can be the centrepiece of your living room
Is it possible to have exclusive designer sofas that are also comfortable and cosy? Of course it is. Nowadays, sofas meet several needs. On the one hand, they can be used for relaxing or convivial moments; on the other hand, they are also the central element of exclusive living rooms, which means they are design objects. Choosing them with care is essential to give an exclusive and elegant look to your living room, to make it both a place to watch TV or relax and a representative space for guests.
If you want to make the sofa the central element, you have to pay attention to several details. It can certainly be large, but exclusive sofas that are also designer should not invade the living room, only dominate it in a discreet manner. Therefore, be careful not to overdo it. The size of exclusive designer sofas must be determined according to the size of the room and also in relation to the other furnishings.
Shapes, for an exclusive and designer sofa you can indulge yourself
Once the classic shape of a sofa was that with a backrest and armrests, now modularity has created many different possibilities for exclusive designer sofas with different functions. There are double-sided sofas, which allow people to sit looking in different directions. The cushions, which are often removable, give the possibility to change shape, adapting to the function one wishes to favour at that moment. A philosophy that is often used in modern homes, which are very versatile.
Consideration should also be given to where the sofa is placed. Do you really want it in the centre of the room, to dominate the scene? At that point, the classic shape with a backrest is perfect, or, for versatility, an exclusive double-sided designer sofa. But someone might decide to dedicate a corner to the sofa, making an L-shape perfect. This is also great if the purpose of your exclusive sofas is not only to be designer but also to accommodate people who can have a conversation while looking at each other. For modern environments, a sofa bed is also perfect.
The style? Continuity or bold break for exclusive designer sofas
Many exclusive designer sofas are available on the market in different styles. There are mammoth, retro-style sofas with heavy, sophisticated elements, minimal sofas that play with clean, essential lines, classic exclusive designer sofas with their elegant linearity, and contemporary sofas. Which to choose? There is no right answer, of course: or rather, you could say that the best choice is based on how the living room is furnished. Sofas should match the style, although if you're looking for exclusive design solutions, you could also try a different combination. You could, for example, opt for a sofa with a strong personality, in terms of style and shape, to become the focal point of your exclusive designer living room.
The same applies to the colours of your exclusive designer sofas. If the general rule is to remain in accordance with the colours of the rest of the living room, an exclusive and particular choice is that of a complete break, a bright colour that can truly be the central point of the room.
Many fabrics can be used for exclusive designer sofas, from leather to velvet.
There is no single material that makes a sofa more exclusive and designer. As we have seen, there are many elements that can be combined. Therefore, there is a very wide range of choices when it comes to material. The main distinction in this regard is between fabric and leather.
At first glance, leather seems to wink at exclusive sofas with a majestic and classical design. It is undoubtedly a valuable material, capable of being very resistant and destined, if well cared for, to become more beautiful over time. But make no mistake: fabric sofas are no less exclusive and designer. Very comfortable are those in cotton or linen, or you can opt for synthetic materials which are resistant to stains: the manufacturing processes and colours will in any case give a touch of elegance. Another excellent material for exclusive sofas, with an eye to design, is velvet, which is however very delicate.
And don't underestimate the comfort of the sofa!
Need to furnish your home or a single room?
Choose a top-notch woodworking shop.

We have over 50 years of experience!
Contact Us
Il Piccolo, second generation family-run carpentry shop, opens its showroom in Lugano. With over 50 years of experience, Il Piccolo brings with it a wealth of technical and design knowledge of the highest level, thanks to the many interiors designed and furnished all over the world. In addition, Il Piccolo represents the most prestigious brands of furniture worldwide. Il Piccolo designs, manufactures and sells the best of interior design made in Italy, following the customer from design to implementation, delivery and installation of the work, integrating the process with a precise and professional service. CONTACT US!