Il Piccolo Blog
Sofas with pull-out beds are comfortable and versatile. That's why they appeal in every style!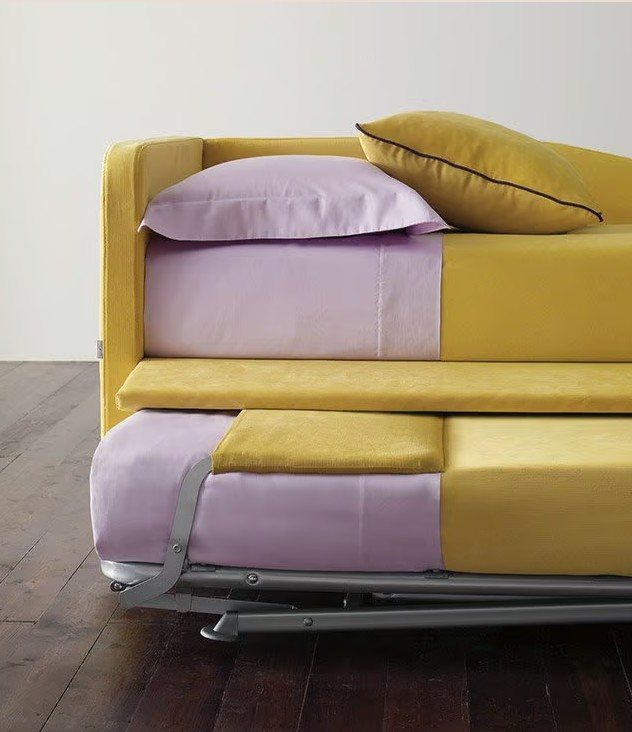 As beautiful as sofas, as comfortable as beds
As designer as the best sofas, with the finest materials and the most exclusive lines to suit every living room, as comfortable as the softest beds, perfect for transforming a living room into a place to take naps or for sleeping guests, or to add a different, multipurpose touch to a bedroom. An extremely functional and practical piece of furniture, sofas with pull-out beds are designed as a space-saving idea for small spaces and also fit well into large ones.
Accordion or foldaway, the types of sofas with pull-out beds
Sofas that turn into beds have always been used when it was necessary to have a place for guests to sleep. In the accordion types, the bed is created by lowering the backrest, while in the pull-out types, the bed is pulled out from under the seat.
They allow one not only to sleep, but also simply to extend one's legs to get into a semi-reclining position, without having to place one's head on the armrest and the body along the seat: the advantages are that several people can stay close together, and none of them will be turned in a non-ideal way towards the fireplace or the TV that are in front of the sofa. Moreover, one of the greatest conveniences of extendable sofas is that everyone can find the best position.
The role of the mattress in the comfort of sofas with pull-out beds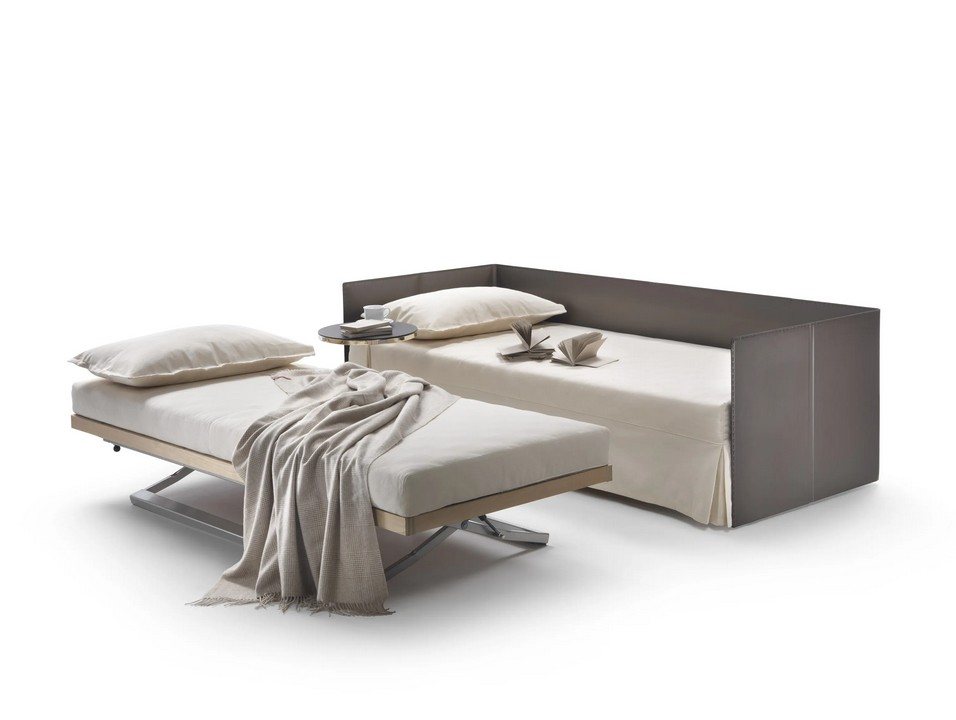 Many people think that it is not possible to have sofas with pull-out beds that turn into really comfortable beds. Especially if you choose products from the best brands, this is not the case. One thing not to be forgotten is to opt for a model with a high mattress.
In fact, it was often the case in this furniture that one was quite low, usually around 12 centimetres, and was uncomfortable. A mattress that is at least 16 centimetres high, even 18 centimetres, definitely increases comfort! It is therefore worth paying attention to this detail when purchasing, also assessing the quality of the bed base.
Colours, models and fabrics, there are sofas with pull-out beds for every taste
This is a piece of furniture that goes well with every style, thanks to the varieties on the market. They range from sofas with classic shapes to others that are more essential and modern. You can choose something very soft, going for padding made of materials that give the impression of sinking, or something a little harder.
The frames can be made of wood or metal, and as upholstery you can find a wide variety of fabrics on the market, from linen and cotton to elegant versions in leather and faux leather or silk. And the colours? From single-colour, in classic white, black or pastel, grey or brownish colours to personality choices such as red or black, not excluding two-tone or patterned versions, you can really range, perhaps even playing with the cushions.
How to save space with a pull-out sofa bed, in the living room and bedroom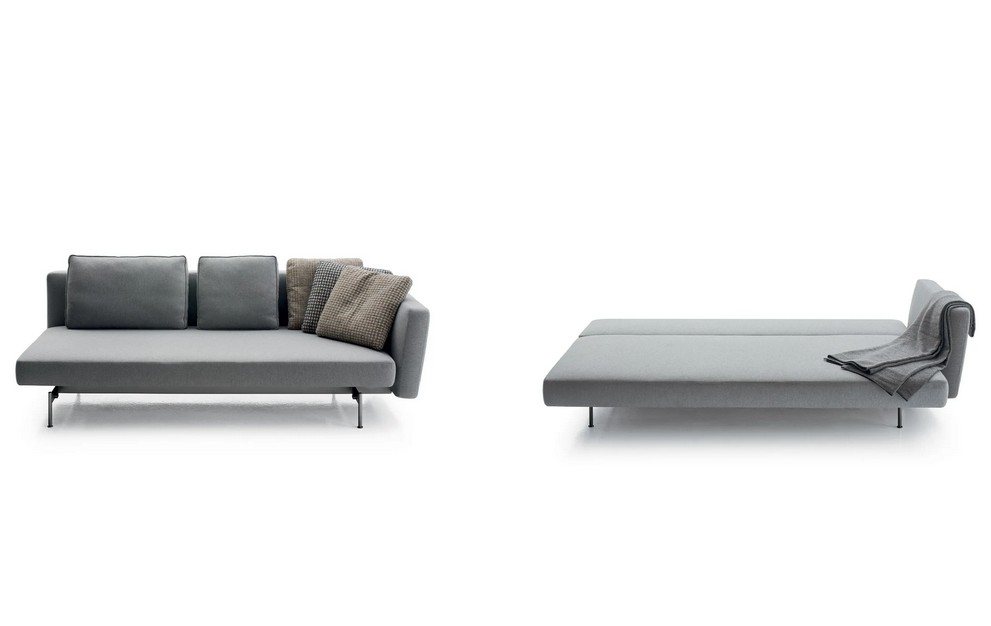 One of the reasons for choosing such an option is that it is an extremely space-saving piece of furniture. In fact, it allows you to have two functions in one, and have guests sleeping in the living room without giving up having a sofa.
Sofas with pull-out beds when not in bed version can remain closed, thus taking up less space. Be careful, however, to provide enough space to be able to open it up! They can also be provided in bedrooms, for versatile relaxation (sofa by day, bed by night), saving space when closed.
From single bed to double bed. And to save space, you can…
There are double, triple or even multi-seat models, perhaps in corner or extra-large versions. They make French beds, single beds or even double beds. It is certainly worthwhile to give a few centimetres to the bed, sacrificing, if anything, the armrests, if space is needed. A convenient option that makes sofas with pull-out beds even more versatile is to have large drawers for storing pillows or even linen.
Need to furnish your home or a single room?
Choose a top-notch woodworking shop.

We have over 50 years of experience!
Contact us!
Il Piccolo, a second generation family business, opens its showroom in Lugano. With over 50 years of experience, Il Piccolo brings with it a wealth of technical and design knowledge of the highest level, thanks to the many interiors designed and furnished around the world. In addition, Il Piccolo represents many of the best international luxury furniture brands. We design, manufacture and sell the best in design. Also with regard to La Cornue kitchens, we follow the customer from the design to the realisation of the project, integrating the whole process with a precise and professional service.CONTACT US