Il Piccolo Blog
From strength to aesthetics, stainless steel kitchens have only merits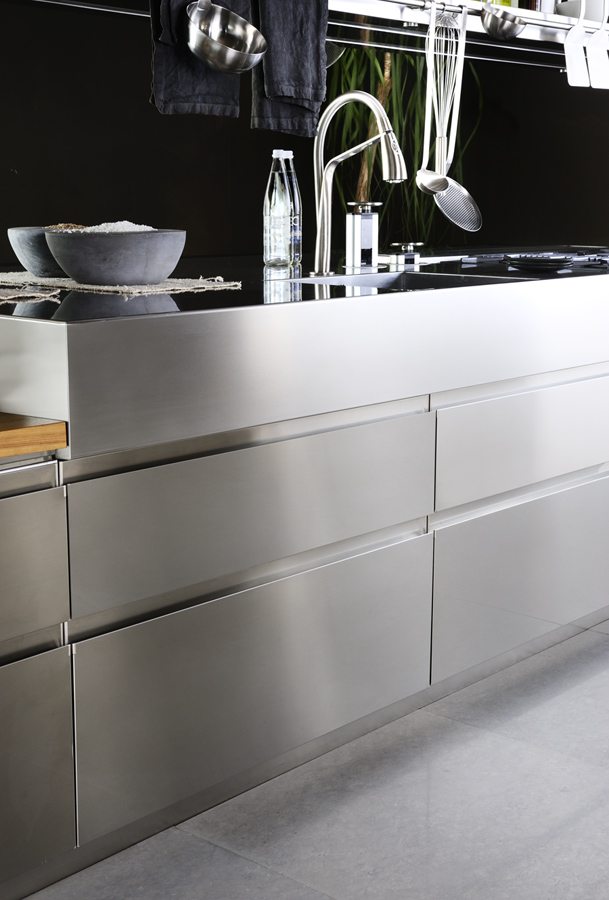 The kitchens of professionals are made of chrome-plated steel, which is now also finding its way into homes
Durable, easy to clean, taste and odour-free and therefore extremely hygienic, as well as, and this is a detail not to be underestimated, beautiful to look at and perfect for modern and minimalist environments: there are so many advantages of stainless steel kitchens that make them one of the preferred options for those who need to furnish a home, especially a modern one. Because of their qualities, they were the first choice for professional kitchens in restaurants and hotels, used by the most famous chefs, who need functionality and quality. Steel is also able to bring out important aesthetic qualities, combining them with practical ones!
Since the technology of a professional kitchen has also arrived in the home, where more and more people want to prepare meals as if they were star chefs with all possible comforts and supports, this material has climbed the list of favourites for modern settings. But before mentioning the main reasons why stainless steel kitchens are a winning choice, it is necessary to clarify a few definitions.
What is chrome-plated steel and what are its characteristics?
Steel is in itself a widely used material in modern furniture, known for its extreme resistance that makes it suitable for furniture and accessories designed to last. When it is chrome-plated, this means that it is mixed with chromium, giving rise to stainless or inox steel. Chromium increases hardness, durability and penetration, but beyond the technical terms, it can be said to make steel rust-resistant. Definitely a nice atout for the kitchen, where you know that the risk of rusting is always just around the corner.
Stainless steel kitchens- easy to clean and hygienic
Stainless steel kitchens are therefore, and this is their first positive feature, actually indestructible. They do not spoil or rust and are also easy to clean! The ease of maintenance comes from the smooth surface that cannot be attacked by bacteria.
As far as hygiene is concerned, as mentioned, bacteria are unable to nest and proliferate, even in contact with food: this is because steel is biologically neutral, which means that it does not alter tastes and smells and does not release toxic substances that are known to be better not to come into contact with food. Beware, however, of the joints between one module and another and of the internal compartments, where some unwanted being could find a place. But with the right care, this does not happen. It is therefore easy to understand why this type of kitchen is a favourite with top chefs, who do not hesitate to choose them for their kingdoms: in addition to the features listed above, they love their durability and ability to adapt to functional and ergonomically designed contexts.
Opting for stainless steel kitchens also means respecting the new sensibility from the point of view of sustainable design, which requires the use of substances and techniques that do not harm the environment and possibly materials that are friendly to nature. Steel is 100% recyclable, so it fits best in this vein.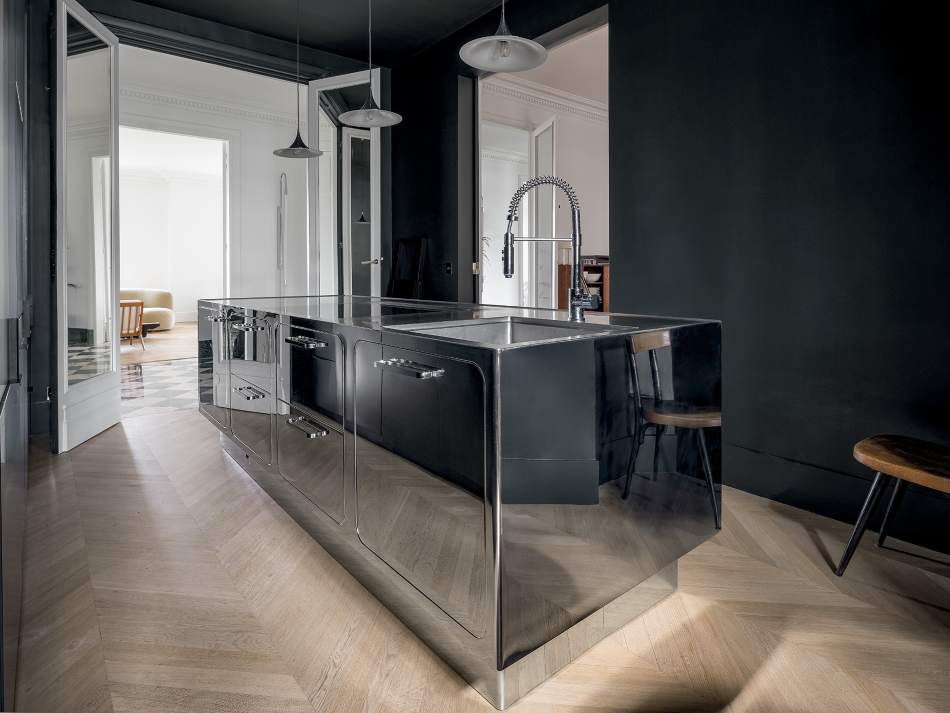 Single or two-tone, glossy or matt, the possibilities with chrome steel kitchens are endless
And how can we forget aesthetics? A steel kitchen, with its industrial aura, is perfect for inter modern designs, but if someone has a classic décor and wishes to include it to take advantage of all the aforementioned merits, they can easily do so, creating a pleasant contrast. The various finishes, from glossy to matt or even mirror, make this type of kitchen flexible and able to fit into any context! Current trends are particularly fond of single-colour kitchens, either in shades of white or black or in brighter colours, or the two-tone combination, where two colours can be juxtaposed (possibly even using contrasting materials).
Also for those who want an outdoor solution, for barbecues or barbecues with friends in their garden or on the terrace, with stainless steel kitchens they are on the safe side!
Need to furnish your home or a single room?
Choose a top-notch woodworking shop.

We have over 50 years of experience!
Contact us!
Il Piccolo, a second generation family business, opens its showroom in Lugano. With over 50 years of experience, Il Piccolo brings with it a wealth of technical and design knowledge of the highest level, thanks to the many interiors designed and furnished around the world. In addition, Il Piccolo represents many of the best international luxury furniture brands. We design, manufacture and sell the best in design.
Also with regard to La Cornue kitchens, we follow the customer from the design to the realisation of the project, integrating the whole process with a precise and professional service.