Il Piccolo Blog
From the kitchen to the office, the stool with casters is ergonomic and appeals to everyone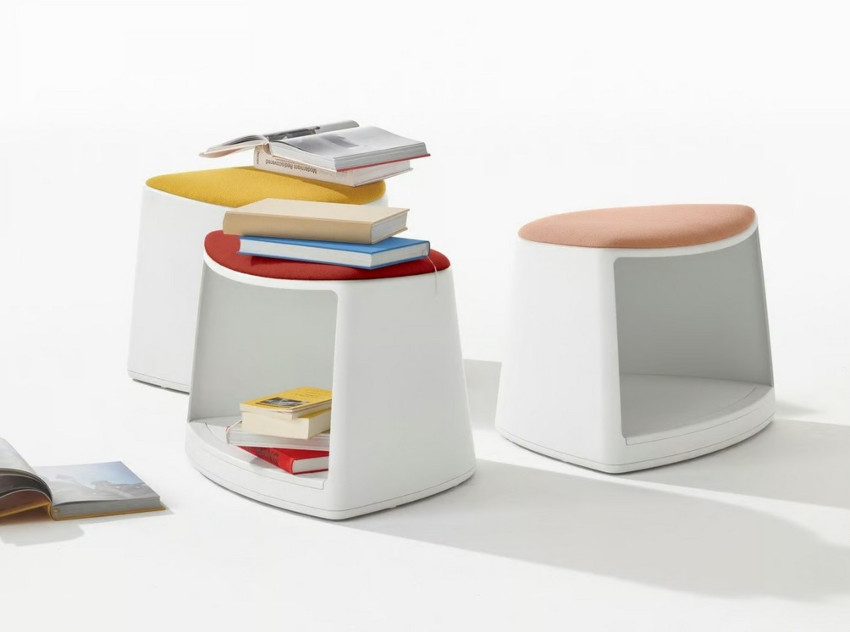 From benches in the classic to stools, how to vary a little from the usual chairs
For a very long time, spaces such as living rooms and kitchens have been furnished with classic chairs. Although the materials varied, for many years the trend was the same, only with different shapes between traditional and modern. Often now there is a desire to vary the ambience a little, and a solution that belonged mainly to rustic environments such as benches has been revived for classic settings, and the use of the stool with casters has been introduced, both for the kitchen and the office, in more modern ones.
Why is the stool with casters recommended for people who sit for long periods of time?
Contrary to what might seem intuitive, they have always been recommended for offices, where one has to sit for many hours at a time. They are in fact considered ergonomic because, as they do not have a backrest in most cases, they automatically make people sit upright, working the back muscles.
One could almost say that adding a backrest, although it may be seen as aesthetically pleasing, detracts from the ergonomic quality: for work stools it is therefore better to avoid it (and in the first models it was not planned, it was added later).
The many uses of the wheeled stool: at the bar and… at the hairdresser's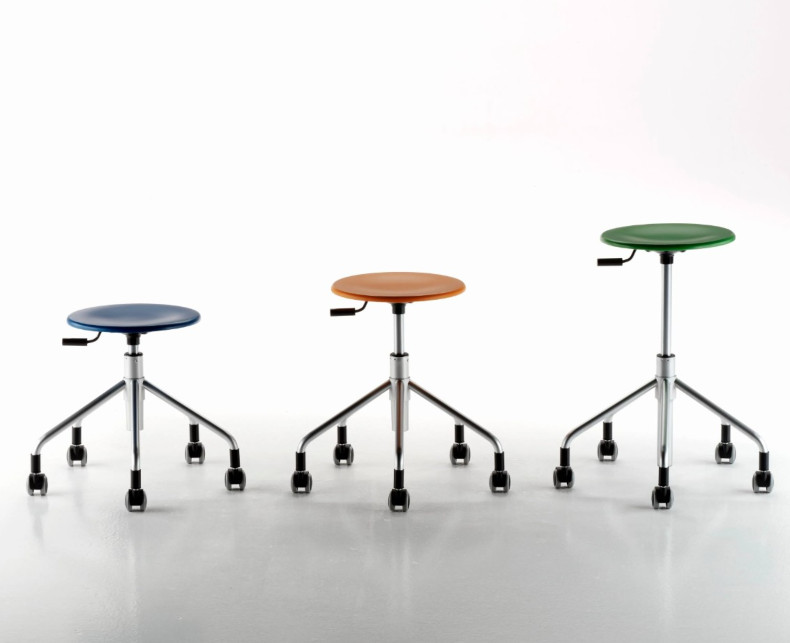 The stool with casters is therefore used both for work contexts, such as offices, and convivial ones such as kitchens and even commercial ones such as restaurants and bars, where they are very common. They are mainly used, along the lines of American bars, to seat customers at the counter, more rarely at tables. Similarly, in kitchens they are preferred for settings where there are islands, rather than around a traditional table, mainly as a matter of height.
Those with wheels guarantee quick movement, an important element when it comes to an office, doctor's office or hairdressing salon. In the kitchen, they can be useful to be able to reach the kitchen counter without getting up. It is also not only a practical but also a design element. Footrests can be added for added comfort.
What is the ideal height of a stool with casters?
The advantage of a stool with casters, apart from being moveable, is that in most cases it is adjustable. If you use it as a chair for eating, keep in mind that the ideal height is between 65 and 70 centimetres, as islands are usually about 90 centimetres high, while for an office it depends on the height of the desk and the PC monitor.
Since it is adjustable, the stool with casters can be lowered and placed under the island or desk top, thus becoming a more space-saving solution than chairs (so are benches, because the inside can be used as a sort of container).
Materials and colours for the stool with casters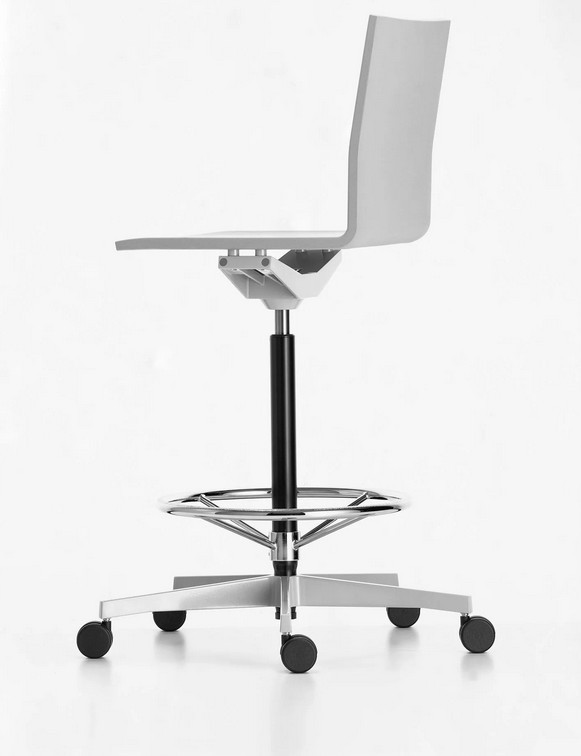 There are stools of all shapes and materials on the market, to be adapted to the style context. The frame, especially if adjustable, is made of steel or steel, which is very resistant over time, an important element if you plan to raise and lower it often.
The seat, if you want something more classical, can be made of wood, or even metal or steel. It can be chosen upholstered in leather or fabric, depending on where it is to be placed. Also for the colours, the possibilities are many, from the classic combination of grey material and black seat to a stool with casters in white or bright colours to liven up the room. The shape and finish of the legs becomes a central design point, from simple to elaborate.
The importance of castors in a stool with casters for floor comfort
When choosing, pay attention to the wheels. They must not ruin the floor by moving several times. If the floor is smooth and hard, soft castors are fine, hard castors are designed for soft floors, and a trick such as runners will leave fewer marks, especially if the material on which they move is delicate.
Need to furnish your home or a single room?
Choose a top-notch woodworking shop.

We have over 50 years of experience!
Contact us!
Il Piccolo, a second generation family business, opens its showroom in Lugano. With over 50 years of experience, Il Piccolo brings with it a wealth of technical and design knowledge of the highest level, thanks to the many interiors designed and furnished around the world. In addition, Il Piccolo represents many of the best international luxury furniture brands. We design, manufacture and sell the best in design. Also with regard to La Cornue kitchens, we follow the customer from the design to the realisation of the project, integrating the whole process with a precise and professional service.CONTACT US