Il Piccolo Blog
Sustainable architecture passes through new uses of traditional materials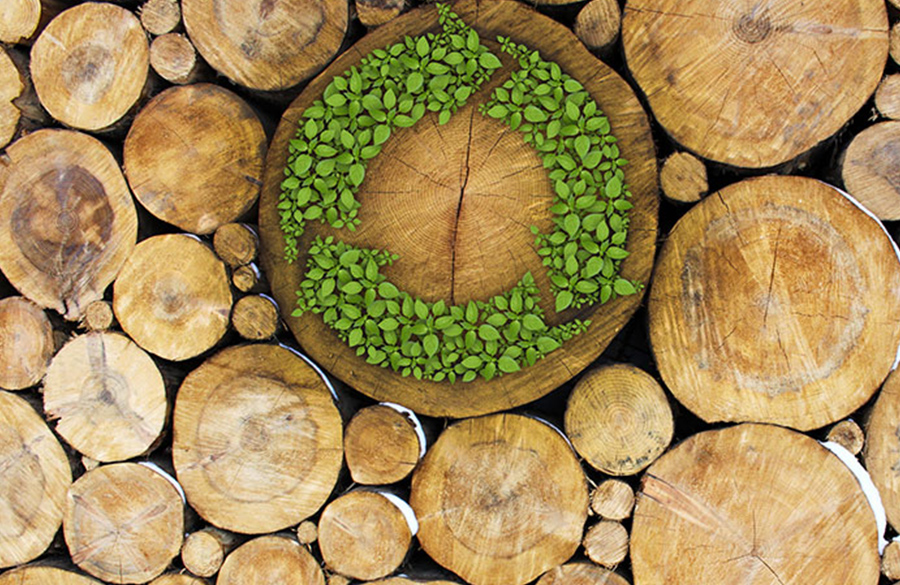 For designers, the use of sustainable, low environmental impact materials is an increasingly pressing need. Increased awareness of the importance of preserving nature and reducing consumption to slow down the process of global warming and climate change is generating new awareness among clients and professionals. Traditional materials used in architecture are being reinvented and interpreted in new ways. All this to satisfy the need for eco-friendly and sustainable furniture.
Wood, the great protagonist of bio-architecture
When it comes to eco-friendly materials, wood is a must. The importance of this element is such that over time a real branch of architecture has developed that exploits the characteristics and qualities of wood in the round. It has even been given a name: bio-architecture.
Environmentally friendly, versatile and biodegradable, wood can be used in the structure of dwellings, in house cladding and in furniture. The list of advantages of wood is very long: just to mention the main ones, it is suitable for a wide range of furnishing styles, has different degrees of resistance, has remarkable insulating properties and guarantees very high levels of energy efficiency. But it should also be considered that not all woods are the same.
Adopting an eco-friendly lifestyle requires not only adopting environmentally friendly materials, but also going beyond the surface and checking the origin and characteristics of the different components of the products. In particular, when it comes to wood, it is important to check both the origin of the wood and the treatments it has undergone.
The origin of the wood has a major impact on the material's ecological footprint. Choosing wood from certified and controlled forests does not only mean you can be sure of the quality of the material, but it also means making a choice that respects the balance of nature. Controlled forests constantly monitor the number of trees cut down and are engaged in reforestation programmes that keep the ecosystem in balance.
Processing and varnishing techniques should also be considered carefully. Choosing wood treated with water-based, non-toxic varnishes and undergoing treatments that do not release formaldehyde means making a choice that respects the environment and the people who will live in the house.
Re-use and recycling to extend the life cycle of products
One of the pillars of the circular economy is the possibility that a material gives rise to something different and this, at the end of its life cycle, can become something else again. Reusing, imagining in a different way what we know, and recycling materials is a necessary step to reduce the impact of consumption on the environment and harmful emissions.
Plastic is one of the most versatile materials, also in terms of recyclability. Plastic bottles can be used to make valuable furniture items such as tables, chairs and textiles. That's right: plastics can be used to make soft, comfortable yarns for carpets and rugs in the home.
Recycled plastic chairs are the perfect example of the virtuous cycle that can be generated by recycling materials. The recovery of plastic bottles makes it possible to create a useful object which, in turn, can be recycled again to generate a new product, without negative consequences for the environment.
Extraordinary products can also be obtained from the recovery of manufacturing waste. For example, the recovery of cement and stone yields light and strong bricks that can be used in the construction of buildings with a low environmental impact. The recovery of textiles yields high-quality yarns that can be used to cover sofas and armchairs or even curtains.
Cellulose fibres and wood fibres can be used to make light, strong panels for thermal and acoustic insulation.
The challenge that interior designers and architects are increasingly faced with is to see materials that have always been used in architecture and in our daily lives with new eyes. To think in a new way, to observe and intuit innovative uses for wood, plastics and waste products. Adopting a sustainable approach and proposing quality and design solutions is not only possible, but allows innovative, highly efficient projects to be realised with considerable savings in resources and emissions.
Do you have to carry out an Interior Design project?
Choose a high-level carpentry.

We have over 50 years of experience!
Contact Us

Il Piccolo is a luxury joinery, specialised in interior design. We are a recognized brand, spokesman of the made in Italy all over the world.
For over 50 years, we have been serving the most demanding clients and the most innovative designers. We are reliable interpreters of the projects of architecture studios, which we work alongside as consultants on the latest in industrial design and as scouts for unique pieces to be included in furnishings, from modern antiques to contemporary art.
Our clients have a personal and direct relationship with us: this gives them the certainty of achieving their objectives, meeting tight deadlines and solving last-minute problems. The project leader, who is always one of the owners, also takes care of the logistics.
Each stage follows a precise path and is documented. From the plans to the prototyping, so that the best choices can be made from the outset: materials, colours, wood finishes and polishes, stucco effects. By contacting us, you can be sure of excellent customer care. CONTACT US!