Il Piccolo Blog
The natural interior design concept and its growing success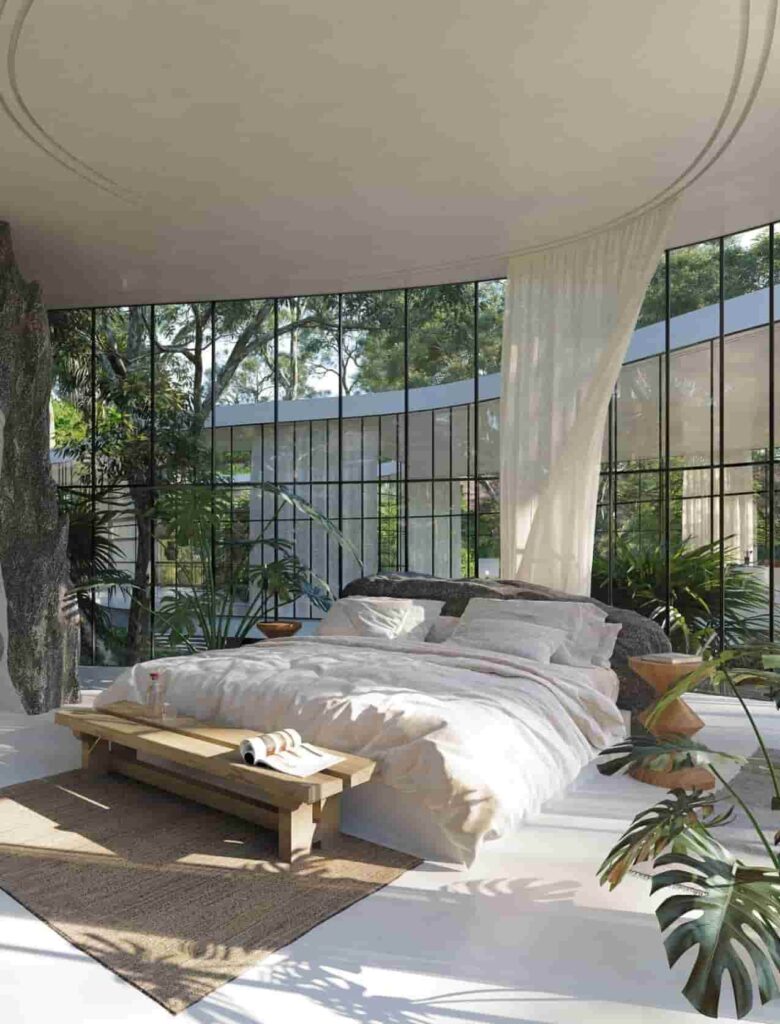 Analysing interior design projects carried out in recent years, the trend towards naturalness emerges strongly.
Aspects related to nature enter into an interior design project for several reasons: the most important is the growing need to re-establish contact with the environment, but the idea of creating furniture that is designed to ensure a certain continuity between the outside and inside of the home should not be underestimated either.
What is nature-inspired interior design?
What is a natural interior design concept? Let us define the theme precisely. Interior design projects inspired by the natural world attract attention through their authentic and harmonious appearance. The idea behind these interior design solutions is to create pure and fresh environments that are somehow alive and related to their surroundings.
The highest goal of natural interior design concepts is to create a kind of heavenly experience in the home. The home becomes a kind of Garden of Eden, in which to live surrounded by beauty and in perfect balance with nature itself.
If one takes this point of view, it is easy to understand how important it is to build a harmonious relationship with nature and the outside world. In a concrete way, this objective is translated into the use of materials of plant origin for furniture, accessories and home textiles, the presence of plants and flowers distributed in various rooms in the home, and the strategic use of decorative wooden elements to give accents of colour.
The main characteristics of a natural interior design concept
The trend to integrate natural elements into interior design projects is recent and is linked to the creation of contemporary-style furniture. A typical example of interior design that includes elements inspired by the natural world is Scandinavian-style furniture, reinterpreted from time to time to take into account the client's specific wishes and needs.
When you move into a space furnished in this way, you find yourself surrounded by light-coloured wood furniture left in its natural hue, by textiles made of raw, vegetable fibres and, more generally, by elements that are white or that amplify the brightness of the space. If in Scandinavian countries this solution responds to a specific need, which is to counteract the darkness during the winter season, in modern interior design it is adopted to create a fresh, young and comfortable environment.
Those who like more sophisticated solutions can include natural elements, whether furniture or decorative elements, within a project based on the use of designer furniture. A possible example is a piece of furniture made of dark wood with golden details, which stands out in a room with exposed beams and unfinished wooden floor. In this case, the focus is on the choice of exclusive premium materials, which will be enhanced by the use of plants and flowers or the presence of wood and natural stone elements. Whether you follow one approach or the other, you can complement the furnishings with a lighting system that enhances natural light and compensates for its absence with artificial lighting, and uniquely decorate each space in the home with custom-made natural fibre carpets. Generally speaking, if in spaces furnished in the Nordic style the principle guiding the choices is simplicity, in designer environments there is a meticulous construction of the spaces, with the aim of creating a refined and sophisticated décor.
In a natural interior design concept, well-being and harmony arise from a connection with nature
The search for a daily bond with nature, also through the furnishing choices made for one's home, is gaining increasing acceptance. Some even speak of biophilia, indicating with this term the desire to pursue a feeling of joy and well-being through the presence of natural elements in the home.
Applying the principles of biophilia in interior design requires careful planning of spaces and a structured approach that touches multiple aspects of existence. Those who wish to approach this way of conceiving spaces in the home can, however, adopt certain tricks that allow them to create a home environment that is more in harmony with nature.
In spaces designed according to these principles, for example, it is usual to make extensive use of greenery. In the presence of gardens and large terraces, it will be possible to create a dedicated garden design project, but even those who live in a flat can make use of the relaxing power of plants and flowers to beautify the space and increase their well-being.
In addition to the presence of plant life in the home, it is common to design spaces in a way that stimulates the senses and emotions through the use of colours, smells and material finishes. These solutions also contribute to a solid natural interior design concept.
Devi realizzare un progetto di Interior Design?
Devi arredare casa o un singolo ambiente?

Scegli una falegnameria di alto livello.
Contattaci
Il Piccolo, a second-generation family-run joinery, opens its own showroom in Lugano. With over 50 years of experience, Il Piccolo brings with it a wealth of technical and design knowledge of the highest level, thanks to the numerous interiors designed and furnished throughout the world. In addition, Il Piccolo represents the most prestigious brands of furniture worldwide. Il Piccolo designs, produces and sells the best of the interior design made in Italy, following the customer from the design to the realization, delivery and installation of the work, integrating the process with a precise and professional assistance service. CONTACT US!