Il Piccolo Blog
The smoked glass walk-in closet: what it is and how to choose it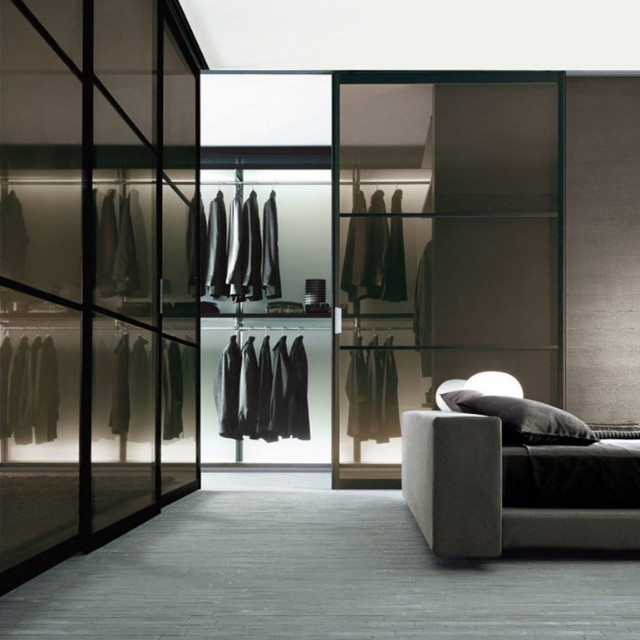 The smoked glass walk-in closet is an excellent alternative to the classic open walk-in closets which leave the wardrobe visible. As well as partially protecting clothes and accessories, this solution helps to define a personalised design and allows you to create a walk-in closet even in unusual spaces in the home.
What is the ideal structure for a smoked glass walk-in closet?
The strength of a walk-in closet in smoked glass lies in the choice of inserting doors or shelves in a material with a special appearance. Smoked glass was used in interior design especially during the 1970s, and then made way for more modern and versatile materials. In recent years, glass, and particularly smoked glass, has been rediscovered and used for unique and elegant projects.
The number of shelves and doors and their size can be decided when designing the cabin. The aesthetic and functional result will be different if you choose to introduce full-height doors that cover most of the walk-in closet or if you choose to insert only a few glass panels in selected areas of the wardrobe. The ease with which glass can be processed also makes it possible to customise the colour of the components and recall the shades used to furnish the various rooms in the house.
Those who choose to create a special space in their home for a walk-in closet often do so because this solution allows a very high degree of customisation. Considering the size and structure of the room and taking into account the use of the wardrobe, you can opt for hinged doors or sliding smoked glass doors.
Thanks to the modular structure of modern walk-in closets, it is possible to create made-to-measure designs that take into account the specific needs of the people living in the home. By combining drawers, trays, shelves and hanging space, you can create an organised space in which to store the clothes of the whole family.
Choosing glass doors for your walk-in closet is an ideal solution for those who want a partially closed walk-in closet but also want to be able to see the contents of the wardrobe. Transparent smoked glass doors guarantee maximum visibility of the contents of the walk-in closet, while those who want a more nuanced effect can choose glass doors with a satin finish.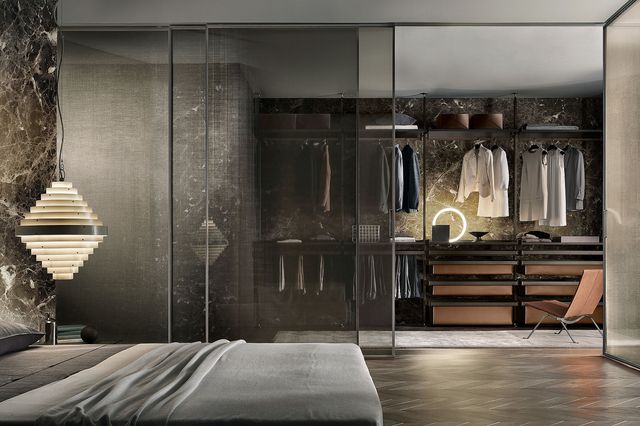 When to choose a smoked glass walk-in closet?
Generally, the walk-in closet is dedicated to a special room, usually connected to the bedroom. However, smoked glass walk-in closets can count on a great ability to furnish spaces and are therefore excellent solutions to exploit spaces in the home that would otherwise remain empty, such as corridors or the entrance area.
In smaller rooms, it is possible to design cabinets with a structure closer to that of a traditional wardrobe and, for the visible part, it is possible to choose smoked glass doors with special finishes. If you want a design solution that catches the eye, you can choose a walk-in closet with smoked glass parts together with elements and inserts in other materials. You can choose wooden doors or components, for example, if you want a more traditional look, or metal elements to give the walk-in closet a more contemporary look. Matching the glass doors with mirrors is another good idea, especially for making darker rooms appear larger and brighter.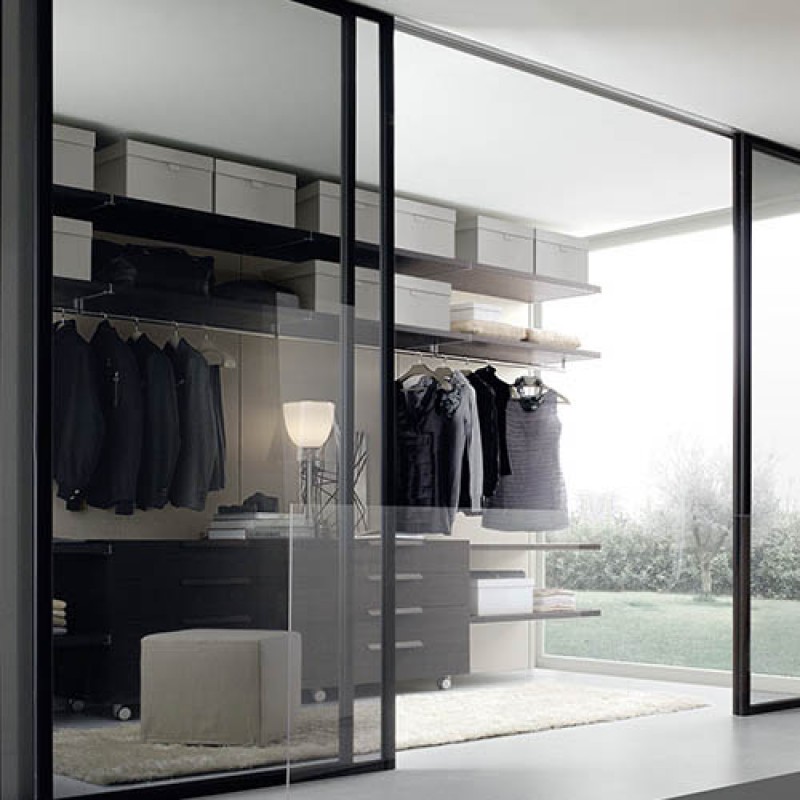 The size and shape of the space to be furnished are the starting point for the design of a walk-in closet that is aesthetically pleasing and designed to make daily wardrobe management practical.
A walk-in closet in smoked glass is particularly suitable for those who appreciate this furnishing solution for its practicality but do not like the total display of clothes and accessories. The presence of the glass doors allows you to protect part of the wardrobe and leave only a portion of it open.
Smoked glass walk-in closets are ideal in an environment furnished in a contemporary, industrial or minimalist style. Even in a loft you can choose this solution, allocating part of the open space to the walk-in closet and taking advantage of the presence of the glass doors to hide the contents of the wardrobe from view.
Need to furnish your home or a single room?
Choose a top-notch woodworking shop.

We have over 50 years of experience!
Contact Us
Il Piccolo, second generation family-run carpentry shop, opens its showroom in Lugano. With over 50 years of experience, Il Piccolo brings with it a wealth of technical and design knowledge of the highest level, thanks to the many interiors designed and furnished all over the world. In addition, Il Piccolo represents the most prestigious brands of furniture worldwide. Il Piccolo designs, manufactures and sells the best of interior design made in Italy, following the customer from design to implementation, delivery and installation of the work, integrating the process with a precise and professional service. CONTACT US!