Il Piccolo Blog
Transparent glass walk-in closet, show off your wardrobe… with elegance without forgetting functionality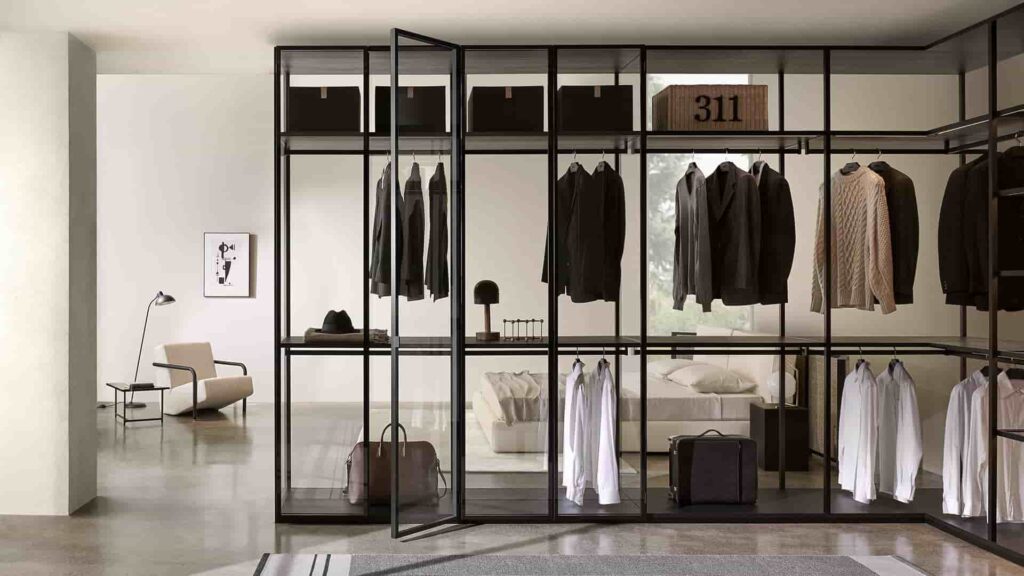 When furnishing a room, generally a bedroom, it is important to take into consideration the type of walk-in closet to be installed. A walk-in closet is a space, sometimes as large as an entire room, whose purpose is to house clothing, footwear and accessories. The transparent glass walk-in closet offers a solution that combines functionality and elegance.
Why choose a transparent glass walk-in closet
As an alternative to a wardrobe, which can often take up a lot of space and be uncomfortable and cumbersome, especially in smaller bedrooms, walk-in closets come in different styles and materials. A walk-in closet with glass doors provides an optimal solution in terms of aesthetics, perfect for those who pay particular attention to order, and moreover, thanks to its transparency, it does not appear as heavy as other types of walk-in closets or wardrobes.
This type of walk-in closet is suitable for tidy people precisely because, in this case, the clothes inside are visible due to the transparency. The main advantage of this type of furniture is that it offers the garments the same protection as a closed wardrobe, but allows everything to be visible, which can be very convenient especially for those who need to choose clothes to wear very quickly. Just as important is that the garments are protected from dust, just as with a closed wardrobe, and the transparent glass walk-in closet also meets this requirement, without forgetting a touch of class.
Complete transparency
If the transparent glass walk-in closet can only have glass doors, it is also possible to opt for a solution that guarantees that the entire walk-in is made of glass, and therefore the surfaces will also benefit from the transparency effect. This solution is generally preferred by those who need a walk-in closet in their bedroom, where its inclusion means opting for a piece of furniture that combines aesthetics and fashion, and does not forget refinement and design.
As for the models to choose from, you will be spoilt for choice. Some of them rely on glass doors while others take into account the internal division, including a double hanging rod and shelves. Most existing models can be customised.
Yes to lightness and capacity
Transparent glass walk-in closets stand out from the others precisely because of the image of lightness they give, while at the same time offering ample capacity and space for storing clothes, accessories and shoes. You can choose the degree of transparency of the glass depending on the effect you want to achieve. Those who want to opt for the greatest possible effect will therefore choose a completely transparent glass that allows you to see inside the walk-in closet, while those who want less transparency can consider the smoked variant.
There are different materials available, but what is important to bear in mind is how this type of walk-in closet gives the bedroom an element of break that focuses on the surprise effect given by the mix of modern and contemporary. Such a choice makes the room seem more airy thanks to the juxtaposition between, for example, a wardrobe and the clothes themselves hanging inside the walk-in closet. As they are partially or totally visible thanks to the transparency of the wardrobe, they become decorative elements of the room.
Style details for the transparent glass walk-in closet
In the walk-in closet made of transparent glass, the doors generally slide and the metal handles are slender and tapered. Many of these walk-in closets also have a metal frame inside which can give them an industrial feel. It is also possible, if you opt for a transparent glass walk-in closet made of tempered material, to choose different colours with which to add a touch of colour.
Devi realizzare un progetto di Interior Design?
Devi arredare casa o un singolo ambiente?

Scegli una falegnameria di alto livello.
Contattaci
Il Piccolo, a second-generation family-run joinery, opens its own showroom in Lugano. With over 50 years of experience, Il Piccolo brings with it a wealth of technical and design knowledge of the highest level, thanks to the numerous interiors designed and furnished throughout the world. In addition, Il Piccolo represents the most prestigious brands of furniture worldwide. Il Piccolo designs, produces and sells the best of the interior design made in Italy, following the customer from the design to the realization, delivery and installation of the work, integrating the process with a precise and professional assistance service. CONTACT US!