Il Piccolo Blog
To combine work and leisure, consider a TV cabinet with desk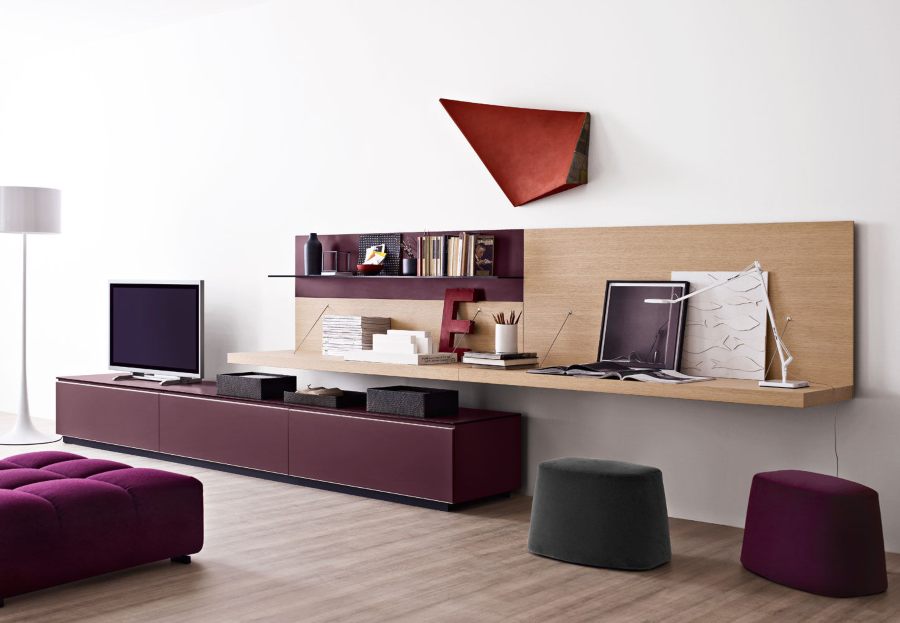 Smart working and open space, spaces are versatile
Versatility is one of the most important features when designing a house, especially if we are talking about an open-plan style flat, where there is no real division of rooms. For example, the kitchen is open to the living room, and the same living room could be used not only for relaxing but also for working. In that case, a TV cabinet with desk is just the thing.
In times of smart working, people live and work in the same spaces: not only the living room but ideally also the bedroom. Dynamic rooms are desired, which can be transformed from office to relaxation area with just a few changes. One must be able to switch from a TV corner to one with a PC for working: how? All you need is a TV cabinet to which a desk and chair can be added, and you're done.
With a TV cabinet with desk the elements can disappear
A TV cabinet with a built-in desk allows the screen to be placed next to the workspace. The television in this case is placed on a shelf that also serves as a work area.
If you wish, you can opt for a TV cabinet with desk that allows the television to disappear when not in use. In this way, when you are resting in front of a film the corner will have one configuration, when you are concentrating another. It is the ideal solution for those who struggle to divide private life from work and for those who want a perfect order that does not mix different elements such as a PC and TV screen. It is furniture capable of hiding the TV screen, by means of a lifting mechanism. A desk top is added to it.
If you like completely concealed furniture, the desk can also disappear. In this way, when you want to watch TV, the top where you work disappears and magically the TV is pulled out.
Desk and TV could find a place in a wall unit
The TV cabinet including the desk can be integrated into a wall system, a concept that is very popular for living rooms because it allows you to combine design, practicality and extreme versatility, giving you the possibility of actually creating the wall you want, tailored to your needs and the measurements of your room.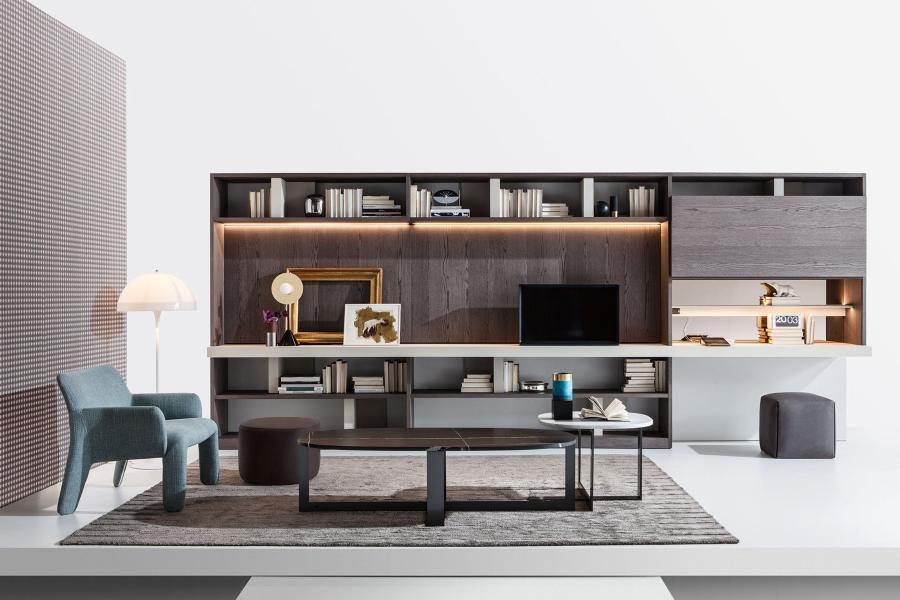 What style for your TV cabinet with desk?
When it comes to the style, colours and materials of the TV cabinet to which one will add one's work desk, it may seem trivial but the guideline is, as always, continuity with the rest of the furnishings. When it comes to living rooms that follow the classic style, therefore with furniture of important dimensions and classically rounded shapes, it is ideal to opt for a piece of furniture with a wooden desk and TV stand. You can go from the most demanding and imposing woods to lighter ones. For the colour, it is best to follow that of the rest of the furniture: from white coloured lacquer, which is perfect for shabby chic styles, to natural colours.
If, on the other hand, the flat follows modern, minimalist canons, the TV cabinet with desk should also be linear and simple. As a material you can opt for metal or, for something elegant and refined, glass, or a combination of the two, to add a touch of design to a piece of furniture that must first and foremost be extremely functional.
Some things not to be forgotten
Don't forget that cables and various decoders may usually be required to work on a PC (but also for TV use). If possible, it is best to place the TV cabinet with desk so that there are no wires and devices lying around. A bit of strategy is needed to best hide them, perhaps choosing a position close to the wall. In fact, it operates in a concept of order and linearity where the fewer objects around the better.
Need to furnish your home or a single room?
Choose a top-notch woodworking shop.

We have over 50 years of experience!
Contact Us
Il Piccolo, a second generation family-run joinery, opens its own showroom in Lugano. With over 50 years of experience, Il Piccolo brings with it a wealth of technical and design knowledge of the highest level, thanks to the numerous interiors designed and furnished all over the world. In particular, Il Piccolo has a wealth of experience in the design and production of several corner wardrobe models. Finally, Il Piccolo represents the world's most prestigious furniture brands.
Our company designs, manufactures and sells the best of made-in-Italy interior design, following the customer from the design to the realisation, delivery and installation of the work, supplementing the process with a precise and professional assistance service. Looking for the ideal corner wardrobe for your room? CONTACT