Il Piccolo Blog
Modern or contemporary, the Tv wall with bookshelves is suitable for every living room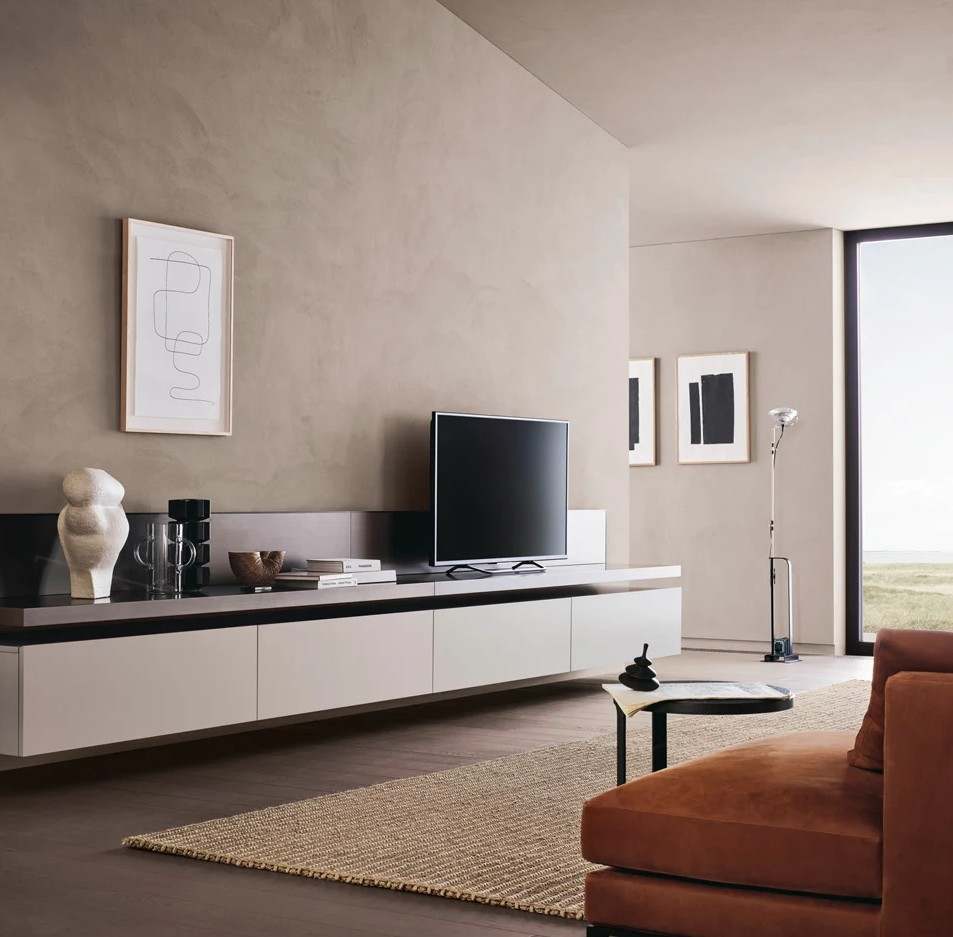 Books and TV, the perfect combination for relaxation and design
A series of books to choose from to immerse yourself in reading, and a TV screen from which to watch films with the whole family. It is often said that reading and watching television are at odds with each other, but this is not the case at all: they are both ways of relaxing and spending quality time, which are not at odds with each other. A need that at the furniture level is met by a Tv wall with bookshelves, capable of accommodating the owners' collection of novels and essays as well as the screen.
The TV wall, which in principle occupies an entire wall of the living room with shelves and shelves, is one of the most popular pieces of furniture in interior design these days, because it allows enormous ductility and freedom of design.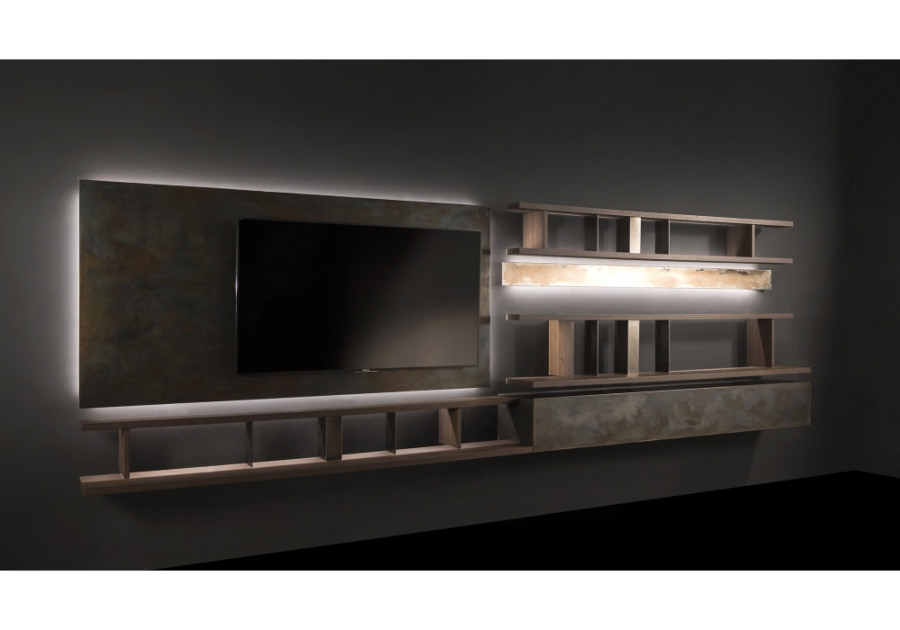 The advantages of a Tv wall with bookshelves
A bookcase, for those who love reading but not only, is an indispensable piece of furniture in a living room: it creates atmosphere and, in addition to books, it can house a series of objects that are placed for design effects. Deciding on a Tv wall with bookshelves saves space compared to opting for a classic bookcase, detached from the TV cabinet. You are in fact furnishing and exploiting an existing wall, rather than placing an additional piece of furniture in the remaining space: a bookcase, in any case, can act as a division in an open space, with a double-sided solution.
The equipped wall exploits and enhances what is already there, avoiding the empty effect of a bare wall and not taking up additional space. It is the ideal solution for contexts that are therefore not enormous, but also for those of important dimensions that want to pursue a different type of furnishing, moving towards an elegant minimalism, using the available resources without adding too much.
How to adapt it to a classic context
The solution of the Tv wall with bookshelves adapts to classically furnished living rooms as well as to more contemporary interiors: all you need to do is adapt the type of furniture, the material and the colour, without changing the concept of the same. When dealing with a classic environment, one can think of an important and imposing wall unit. The main material is wood, and the whole structure is characterised by a certain harmony. The shelves for books will therefore tend to be all the same size, with the one for the TV necessarily being larger. It will be placed at a suitable height, at least one and a half metres from the floor, to allow ideal viewing for viewers without creating neck and back problems, but it will probably be located in the middle, giving symmetry to the entire piece of furniture.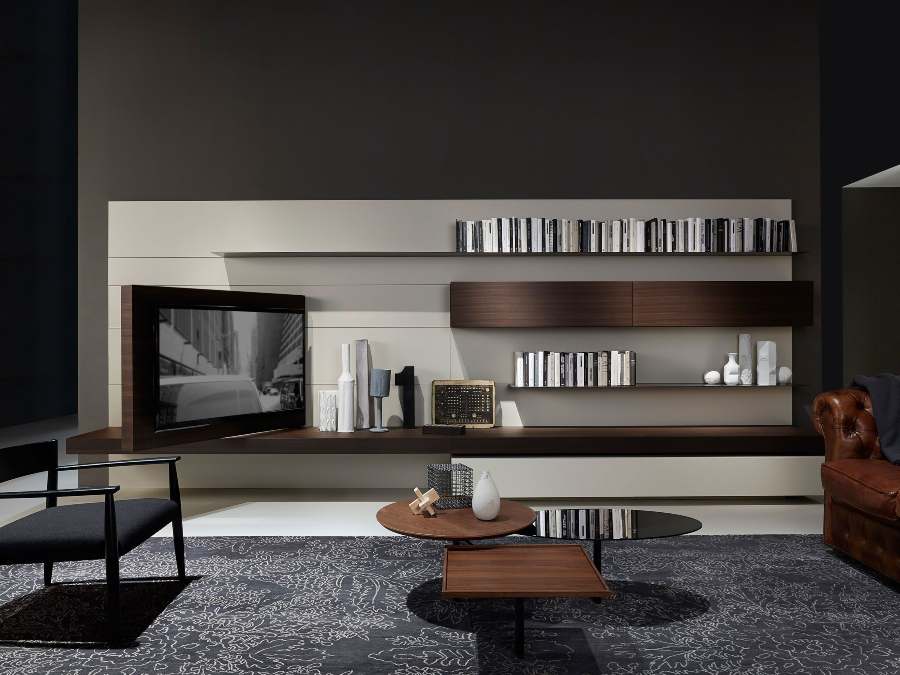 The Tv wall with bookshelves in a modern living room
On the other hand, a Tv wall with bookshelves for a contemporary and modern living room is undoubtedly characterised by greater fantasy and compositional freedom, although there is nothing to prevent one from aiming for symmetry. The shelves and shelves, which will be thinner than those of classic furniture, could be placed at different heights, creating different compartments to give movement to the whole. One can play on empty and full spaces, choosing to leave some spaces without books. In this case the material can be wood, which adapts to every context, being evergreen, thanks also to polishing and lacquering. Other perfect materials, however, are metal and steel, which wink at a more modern interior design.
Colours: from natural wood to black
As far as colours are concerned, they must go well with the existing furniture. In classic living rooms, wood can be natural or white, in modern living rooms, natural metal colours are popular as well as shades such as black and white, which create interesting contrasts. Polished material is also very much in fashion.
Need to furnish your home or a single room?
Choose a top-notch woodworking shop.

We have over 50 years of experience!
Contact Us
Il Piccolo, a second generation family-run joinery, opens its own showroom in Lugano. With over 50 years of experience, Il Piccolo brings with it a wealth of technical and design knowledge of the highest level, thanks to the numerous interiors designed and furnished all over the world. In particular, Il Piccolo has a wealth of experience in the design and production of several corner wardrobe models. Finally, Il Piccolo represents the world's most prestigious furniture brands.
Our company designs, manufactures and sells the best of made-in-Italy interior design, following the customer from the design to the realisation, delivery and installation of the work, supplementing the process with a precise and professional assistance service. Looking for the ideal corner wardrobe for your room? CONTACT