Il Piccolo Blog
Relaxation and home warmth, who doesn't want a Tv wall with fireplace?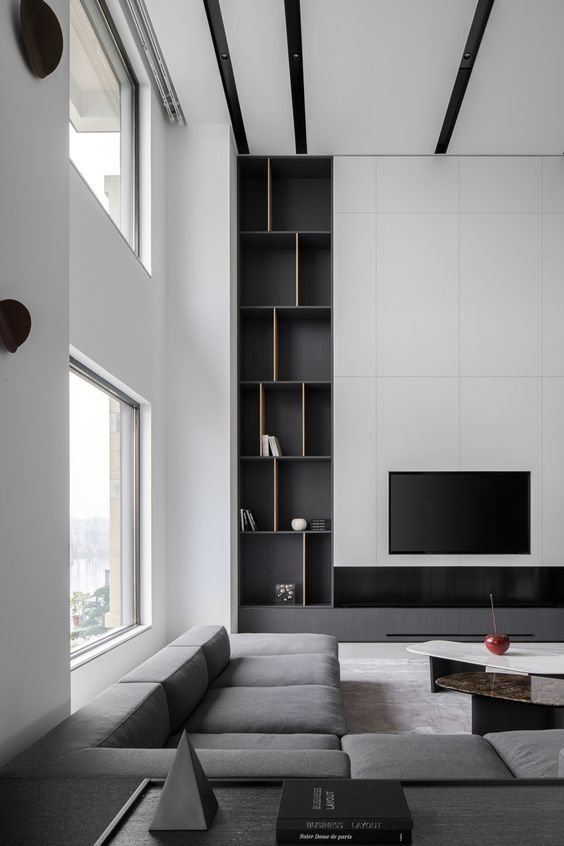 What is a Tv wall with fireplace
Nothing more than a beautiful fireplace with its crackling fire on cold winter evenings gives the feeling of home and domestic warmth. And it matters little whether we are talking about a mountain chalet, where it is absolutely indispensable, or a modern open space: the fireplace never goes out of fashion and is increasingly being integrated into a Tv wall with fireplace.
It is an equipped wall, therefore capable of covering the entire wall, a solution that is generally adopted, or just a part. It is usually placed on the largest wall in the room, which is generally the living room, although it is not compulsory. It is made up of shelves and shelving, an absolutely versatile and creative piece of furniture, capable of combining design and functionality and adapting to the needs of each individual family. It is no coincidence that it is one of the most popular interior design ideas for living rooms of all kinds!
How to choose your fireplace in a wall unit
Choosing a Tv wall with fireplace for your living room, whether modern or contemporary, allows you to enjoy evenings with the whole family watching a film or documentary and watching the flames crackle in the fireplace. What better atmosphere, especially in winter?
You can put in a traditional wood-burning fireplace or opt for more modern solutions such as an electric fireplace
, which is in fact merely aesthetic (and consumes a lot) or bioethanol. There is no one better decision than the other, as always, and it is not necessarily related to the style of the house. Ideally the traditional wood-burning fireplace is imagined in a rustic or antiquated context, perhaps with everything in wood, while the electric fireplace appears suitable for minimalist, technological and modern furnishings, but this is not necessarily the case. The fireplace is in fact evergreen, in all its variations.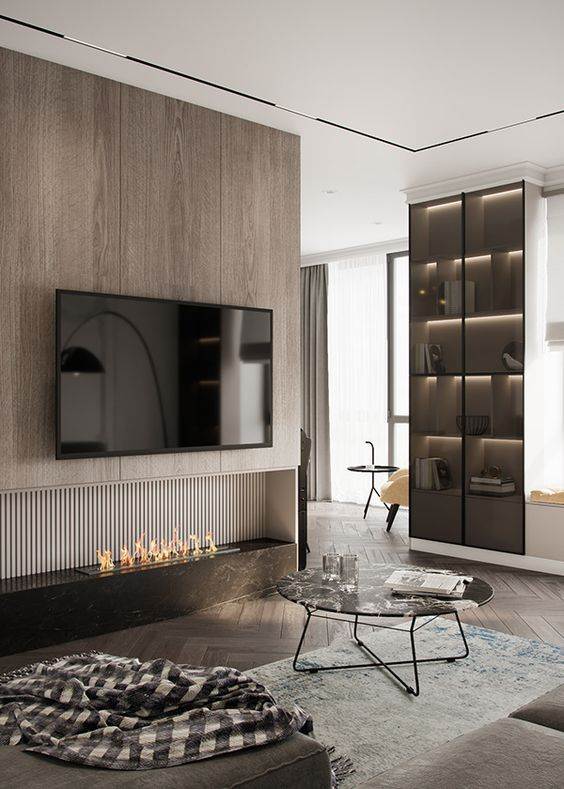 Styles, materials and colours for your Tv wall with fireplace
A wall with space for the TV and fireplace solves the problem, common to many contexts where there is a fireplace, of where to put the TV. In fact, with just one piece of furniture you make the most of a wall and maybe even find a way to add a bookcase or other design objects! Some may think that television and open fire do not get along well, but this is not the case at all; on the contrary, it is an extremely elegant and modern combination, perfect for any living area and synonymous with relaxation.
While the idea of a Tv wall with fireplace is ideal for any living room décor, of course the style, colours and materials change according to it. Especially if you are thinking of a traditional solution, with wood, you can envisage a stone fireplace cladding: a classic and elegant choice that fits well in a living room furnished in wood, perhaps in a natural colour, with classic and imposing furniture. The key word is domestic warmth. The wall unit in turn can be made of wood, in classic and modern contexts, and of steel, metal or aluminium in modern and contemporary ones.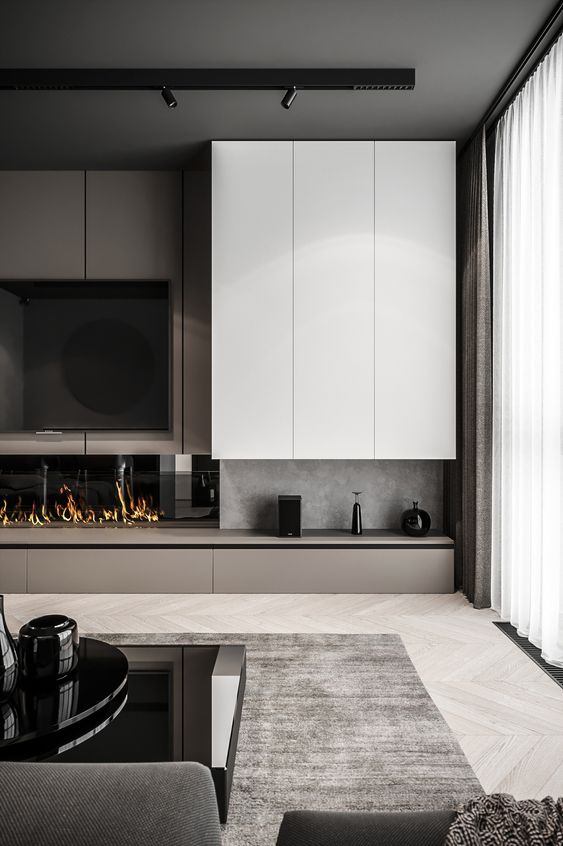 Screen beside or above the fireplace in the Tv wall with fireplace?
Where should the TV be placed? Generally, in a Tv wall with fireplace you can choose whether to place the TV screen next to or above the fireplace. In reality, both options are valid, although the one with the screen above the fireplace is the most popular. This is primarily because, as is well known, in order to be able to watch television, the screen must be at a certain height from the ground, and if one chooses the flanking fireplace, the screen must also be about one and a half metres from the ground. However, care must be taken to keep a proper distance so that the heat of the fireplace, especially if it is wood-burning, does not damage the TV. Insulation should also be provided.
Need to furnish your home or a single room?
Choose a top-notch woodworking shop.

We have over 50 years of experience!
Contact Us
Il Piccolo, a second generation family-run joinery, opens its own showroom in Lugano. With over 50 years of experience, Il Piccolo brings with it a wealth of technical and design knowledge of the highest level, thanks to the numerous interiors designed and furnished all over the world. In particular, Il Piccolo has a wealth of experience in the design and production of several corner wardrobe models. Finally, Il Piccolo represents the world's most prestigious furniture brands.
Our company designs, manufactures and sells the best of made-in-Italy interior design, following the customer from the design to the realisation, delivery and installation of the work, supplementing the process with a precise and professional assistance service. Looking for the ideal corner wardrobe for your room? CONTACT