Il Piccolo Blog
The wall unit , heart of the living area: how to choose the right model for your living room?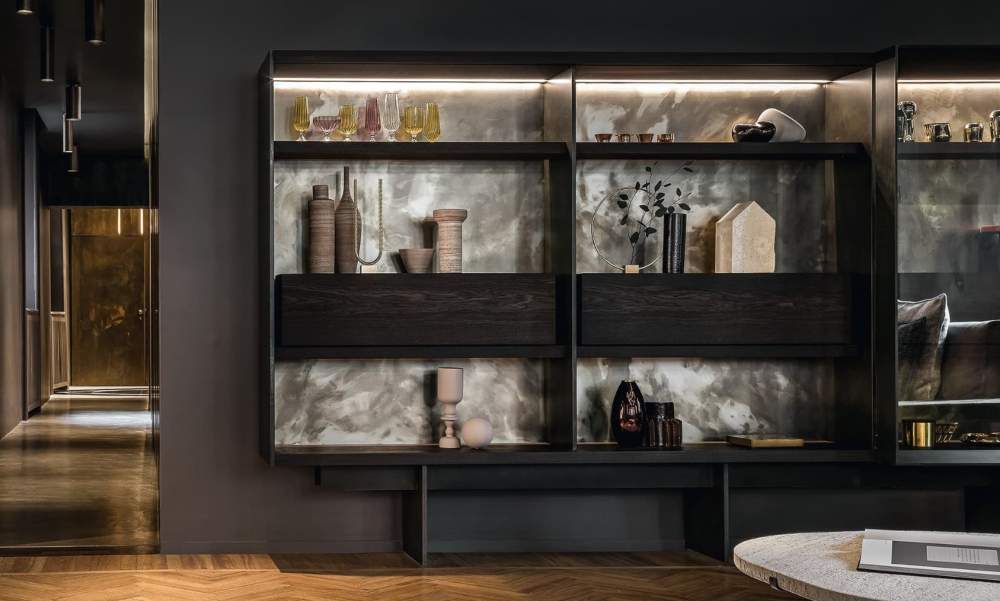 You can call it a storage wall, a living room cabinet, a bookcase or whatever you like: furnishing the living room is one of the most demanding challenges for the success of any interior design project.
The living room project must therefore be thought out with due care and with the support of an experienced interior designer. Indeed, the functionality, aesthetic balance and general harmony of the entire living area of your home depend on the furnishing choices made for this space.
What is a storage wall?
Let us start by defining what it is that is the protagonist of this article. Basically, the equipped wall is a must-have piece of furniture in modern living rooms, because – through the positioning of compartments, shelves, supports and drawers – it allows you to functionally house your television, furnishings, accessories, photographs, vases, books, CDs, DVDs, precious objects, works of art and so on.
Generally, wall units are composed of modular modules, which have different dimensions and heights. It is the designer who is in charge of customising the different projects, choosing the most suitable materials and configurations. His objective is only one: to select furniture that contributes to creating a special style and atmosphere. All while guaranteeing maximum comfort of use.
Do you want a high quality wall unit?
Do you want truly unique living room furniture?
Choose those that guarantee you the highest level.
CONTACT US
Function and functionality of living room furniture. What's next?
Having said that, let's get straight to the heart of the matter: what is the ideal living room furniture for a flat, for a loft, for a villa? How do you choose living room furniture and bookcases? There are tips for finding your way around the various quality proposals, so that they fit in perfectly with the style of the overall furnishing project.
However, it is complicated to give general indications that are valid for all projects, indiscriminately. It would indeed be necessary to know the specific requirements of each individual location. However, some general advice can be given. And that is precisely our intention: to help you orient yourself in general terms, so that you have clearer ideas. And that's not all: thanks to our guide to wall units, you will be able to avoid the most common mistakes when furnishing a room.
Having said this, one fact must be emphasised: living rooms in homes can be designed more freely than in the past. Indeed, it is no longer necessary to conceive of the living room as a purely traditional place. Nowadays, living rooms are more dynamic, i.e. much less tied to certain conformisms of the past. This is also reflected in the choice of living room wall, living room furniture and bookcase.
In aspecifically, the latest furnishing styles focus on furniture that is compact, multifunctional, modular and, very often, even transformable. This new philosophy has radically transformed the way we understand our living room spaces. Consequently, it has equally radically affected interior design. The result of these changes in taste? It's quickly said: today, living rooms are seen as modern rooms with a complex and changing identity and – as indicated – an absolutely contemporary feel. This is also somewhat the case for kitchens, which in recent years have been protagonists of the same 'revolution'.
The other key theme is customised solutions. We will give it due space in the continuation of this guide.
Looking for a quality wall unit?
Are you looking for truly unique living room furniture?
Choose those who can guarantee you the highest level.
CONTACT US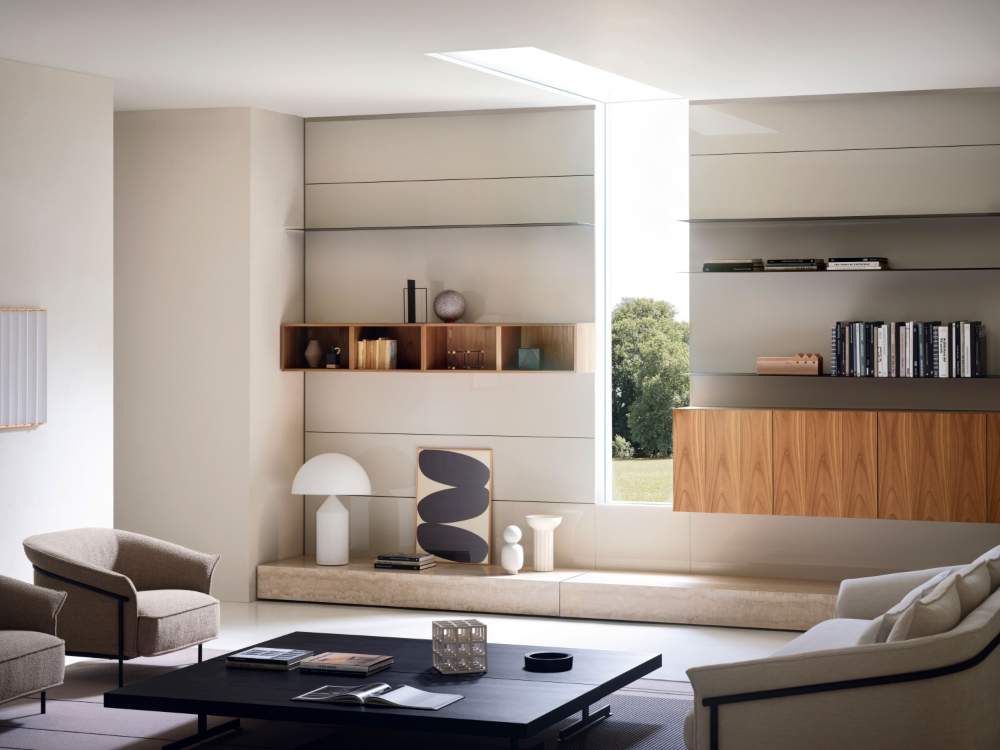 The key word for your wall unit? Dynamism!
In the living area, everything becomes more modern, more contemporary. This is a clear trend, which involves all furniture, even that of the living room. And it is precisely the fitted walls that represent a part of the furniture that is fundamental in creating this effect. Because it is mainly these furnishings that are responsible for creating the perception of a modern design context in the eye of the beholder.
This is why the equipped wall – like the living room furniture and the bookcase – becomes a furnishing solution that provides both empty and full spaces, both symmetries and asymmetries, compartments and shelves of various types, drawers and storage units, glass and refined finishes, broken geometries and uneven thicknesses, colours combined in unusual ways compared to tradition, materials that are no longer limited to wood alone. Everything contributes to the idea of the new, the modern and, in some ways, the unusual – understood as unique and original. In other words, everything contributes to a strong feeling of dynamism, as we have already pointed out.
If this is the picture, it is easy to understand why designers are increasingly turning to customised solutions. It is an almost compulsory choice, given the need to bring together furnishings that not infrequently have characteristics and personalities that are undoubtedly heterogeneous.
But let us return to the specifics of the wall unit. Designers are betting decisively on modularity, as far as this specific piece of furniture is concerned. They do this to respond to even the most particular furnishing needs. As a result, living rooms are populated with modular furniture that play with shapes, colours and materials.
On the one hand, the various modules of wall units, living room furniture and bookcases must functionally accommodate the television, furnishings, accessories, vases, photographs, books and records, precious objects, works of art and so on. On the other hand, equipped wall modules are themselves design objects, capable of expressing refined taste. In other words, they are furniture that is beautiful to look at, capable of giving a special character and intensity to any type of living room. And this regardless of the type of lighting, whether natural or artificial.
A quality wall unit?
Are you looking for truly unique living room furniture?
Choose those who assure you the highest level.
CONTACT US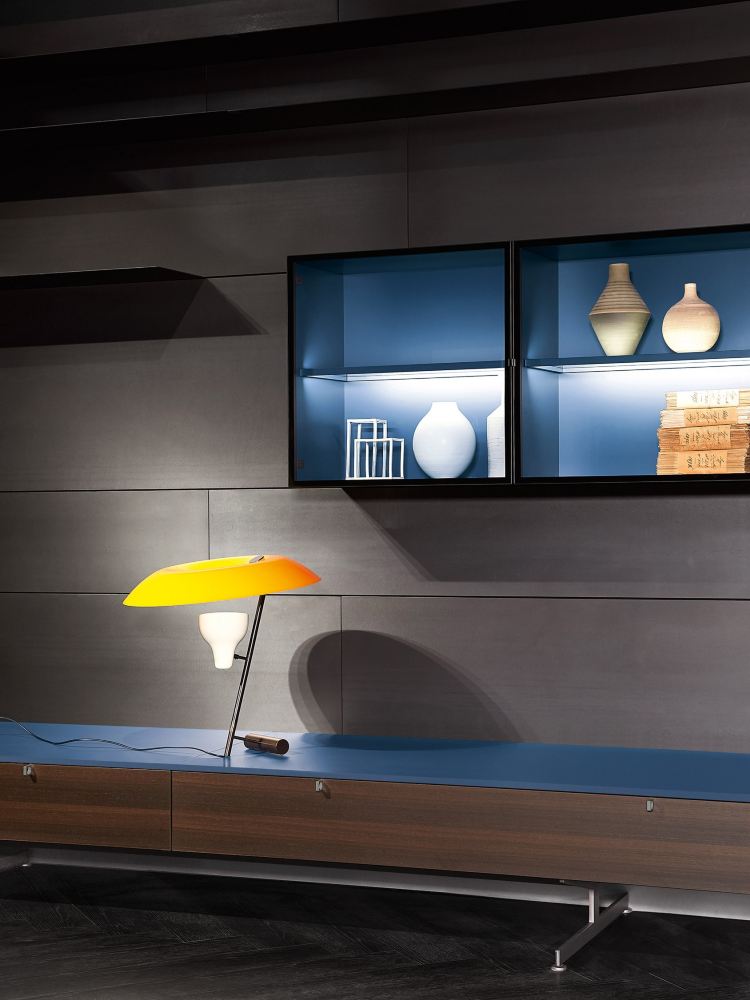 Advice on how to choose a wall unit that gives a unique touch to the room
The preference of designers is therefore clear: we are increasingly moving towards furniture choices that are modern. And this trend also applies – as one would expect – to wall units.
Given these premises, how should one design one's living room? Or, if we want to look at the question from another point of view: what are the suggestions for choosing the most suitable wall unit for one's living room? Let us try to give some useful indications, remembering that you can only be truly precise in your advice if you have the opportunity to study an ad hoc project in detail, that is, specific to the individual room.
Let us then give a few examples. A rather common choice is that in equipped walls there are mostly visible compartments and shelves. The purpose is to expose objects to the admiring gaze of guests. There is, however, a design alternative, which goes in the opposite direction. In fact, it is possible to opt for a scheme with a preponderance of containers and closed modules. In this case, the intention is to give the living room a tidier, more linear look.
There is no choice that is the best or one that is the worst. It all depends on the individual design requirement. Generally speaking, however, it is advisable to include compartments in projects with closed modules and vice versa. This is because a certain alternation between the two solutions can avoid repetitiveness in the composition, while preserving the overall balance of the wall.
And the bookcase? A timeless piece of furniture of great elegance, it is capable of giving a strong personality to the entire room. The designer can decide, for example, to arrange the bookcase modules above the TV set. Alternatively, he can place the TV in the exact centre of the wall unit, thus creating a true compartment and arranging the bookcase modules to the right and left of the TV compartment. An identical argument can be made if the bookcase is composed of shelves instead of modules. The logic is perfectly the same.
What about colours and materials? Those who want to break away from the more classic styles also have complete freedom here. It is indeed possible to experiment, with colour combinations and material choices that give warmth and movement to the entire living room. Here too, the recommendation is to preserve the overall compositional harmony. Something that can only be achieved by turning to an experienced and reliable interior designer.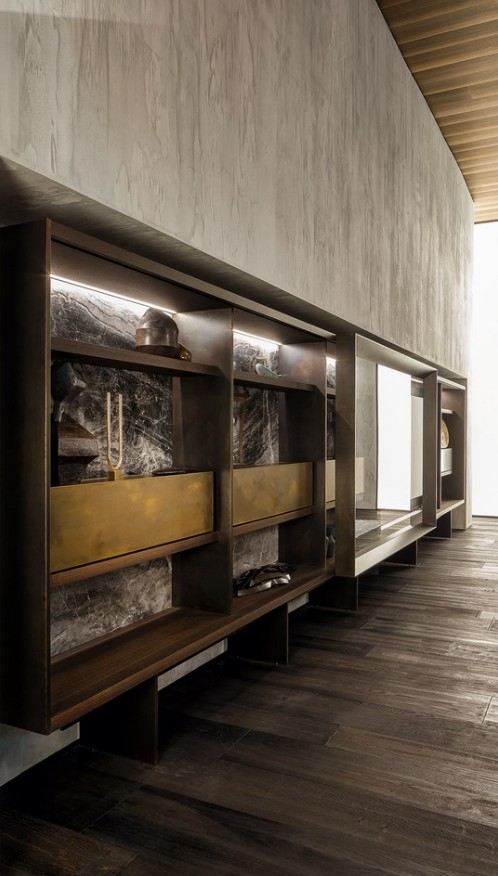 Are you looking for quality living room furniture?
Are you looking for truly unique living room furniture?
Choose someone who can guarantee you the highest level.
CONTACT US
Il Piccolo, a second generation family-run joinery, opens its showroom in Lugano. With over 50 years of experience, Il Piccolo brings with it a wealth of technical and design knowledge of the highest level, thanks to the many interiors designed and furnished around the world. In addition, Il Piccolo represents the world's most prestigious furniture brands.
The company specialises in designing, manufacturing and installing any type of wall system, living room furniture or bookcase. This also applies to wall units, living room furniture and bookcases of the world's best brands: Il Piccolo has all the necessary skills to realise complete turnkey projects.
In general, since 1968 Il Piccolo has been designing, producing and selling the best of Made in Italy interior design, following the customer from the planning stage to the realisation, delivery and installation of the work. This tried and tested work process is complemented by a precise and professional assistance service with the direct involvement of the owner. CONTACT US