Il Piccolo Blog
Capacious, space-saving, designer: a guide to the world of the wardrobe for clothes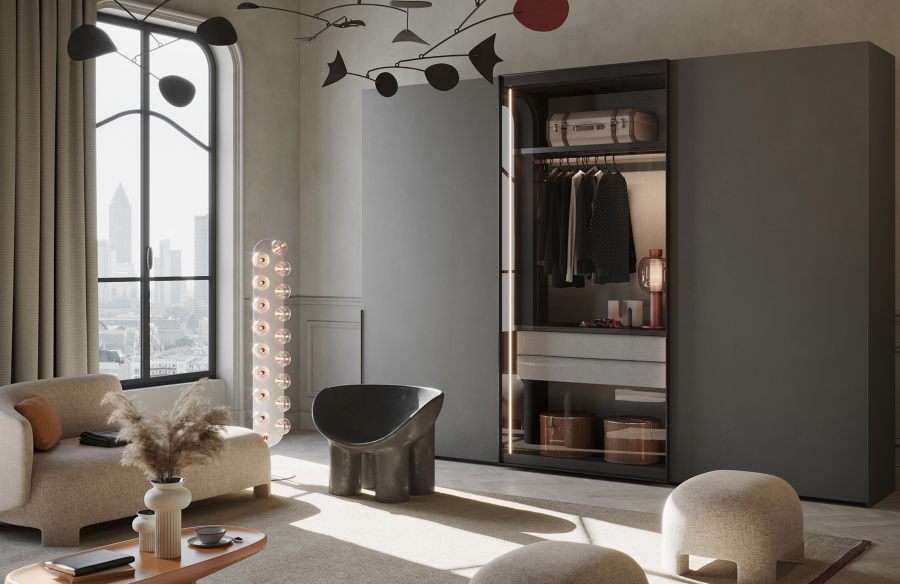 A wardrobe for your clothes is an essential element. And you need space!
First of all, roomy. Secondly, practical, organised so that you can really fit everything in it, and with today's wardrobes that is not self-evident. Lastly, also nice to look at, design-wise. And of course, space-saving. In every home, especially in bedrooms but also, if desired, in rooms such as an entrance hall or corridor, the clothes wardrobe is essential not only from the point of view of aesthetics but above all from that of functionality. You really can't do without it!
Coats, jackets, dresses, jumpers, ties, shoes, socks: how many garments do you have to put in a wardrobe? So many! For this, it is necessary to have enough space available, particularly in bedrooms.
A wardrobe for clothes is usually one of the first elements one starts with when furnishing a room, and it becomes one of its central points, along with the bed of course. The need is to have as much space as possible at one's disposal, perhaps adopting corner solutions that allow for no empty and unused surfaces. For this reason, the wardrobe sector is one of those where made-to-measure projects are most in demand, often carried out by carpentry workshops, like us at Piccolo Sagl.
Wardrobe for clothes, what materials? From wood to metal
The wardrobe that is to contain one's clothes does not necessarily have to be made of wood, however. This is the most commonly used material, especially when dealing with classically furnished bedrooms with wooden furniture, a choice that is always a winner but not the only one possible. Cabinets can also be made of metal, particularly suitable for minimalist and very modern contexts.
Whatever the material chosen, the range of possible declinations for the wardrobe for clothes is really wide. They range from the more rounded and majestic shapes of a classic style to the linear and square, very light shapes of a model that recalls minimalism. To make it more aesthetic, several materials can be combined, playing with the effects of glass. Inserts make the wardrobe particularly refined, or even glass doors let you see inside.
What kind of doors for your Wardrobe for clothes? Pros and cons of hinged and sliding doors
Do you prefer hinged or sliding doors? Of course, there is no right answer. The first option allows greater functionality and the ability to control the entire wardrobe with just one opening. In the case of sliding doors, part of the wardrobe is always hidden by the doors, which overlap one another. The hinged choice gives the possibility of a deeper wardrobe.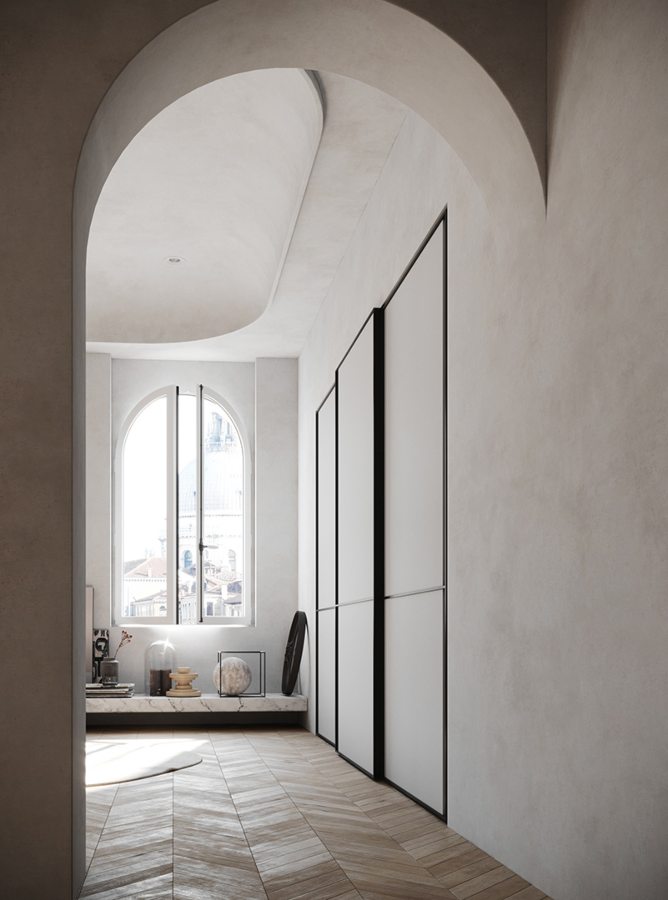 How to organise clothes inside your wardrobe
Obviously, the interior needs to be organised. What do you want to store? Mainly jackets, long dresses, shirts that need to be hung up? Then you will need hangers and hangers. Shelves are always useful, where you can place folded clothes. Drawers are also undoubtedly a solution to be envisaged, especially for storing those items, such as underwear for example, that are not used every day and must therefore remain protected from dust. A rational organisation of space and how you want to position your clothes inside the wardrobe are essential in the design phase.
Alternatives to the wardrobe for clothes: from walk-in wardrobe to bed with storage space
In recent years, an alternative to the Wardrobe for clothes that has become very popular is the walk-in wardrobe, a kind of room within a room where people can enter to store and choose clothes but also to get dressed. As with the classic wardrobe, it can have all sorts of shapes, from linear leaning against the wall to angular. For those who love their wardrobe and want to highlight it, there are glass walk-in wardrobes, where the display of clothes becomes the real star of the room (be careful with the order though!).
And if space is not enough, you can provide beds with storage, for example, without disdaining hangers for the clothes you are using at that precise moment.
Need to furnish your home or a single room?
Choose a top-notch woodworking shop.

We have over 50 years of experience!
Contact Us
Il Piccolo, a second generation family-run joinery, opens its own showroom in Lugano. With over 50 years of experience, Il Piccolo brings with it a wealth of technical and design knowledge of the highest level, thanks to the numerous interiors designed and furnished all over the world. In particular, Il Piccolo has a wealth of experience in the design and production of several corner wardrobe models. Finally, Il Piccolo represents the world's most prestigious furniture brands.
Our company designs, manufactures and sells the best of made-in-Italy interior design, following the customer from the design to the realisation, delivery and installation of the work, supplementing the process with a precise and professional assistance service. Looking for the ideal corner wardrobe for your room? CONTACT