Il Piccolo Blog
Wardrobe for sloping ceilings to utilise every inch of your attic space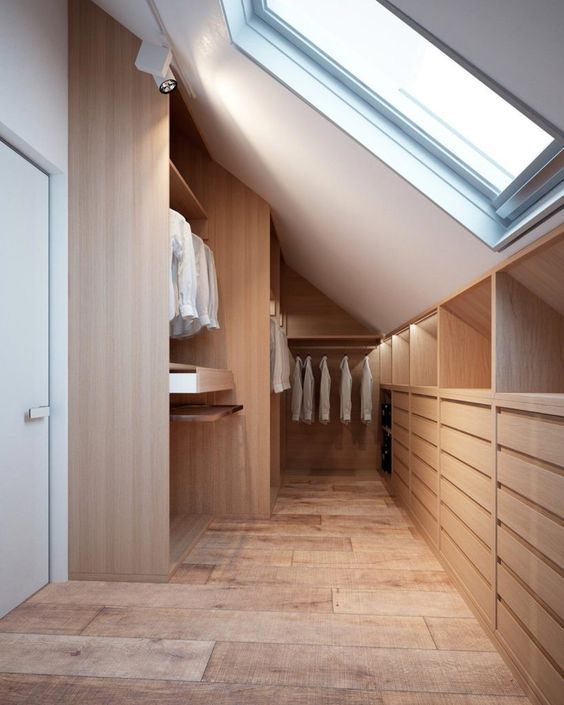 The special feature of attics and their sloping ceilings
The attic is a very special and suggestive type of room or dwelling, which can create a truly unique environment if it is furnished in a way that highlights its characteristics. It is, according to the definition, one or more rooms created inside a sloping roof, with windows that often open above the cornice. Since this is a surface with different heights, it is necessary to think carefully about how to use each space functionally and creatively, with attention also paid to the aesthetic effect. In particular, since you always need a lot of surface area for storing your wardrobe, wardrobe for sloping ceilingsmust be effectively planned.
Rooms with sloping ceilings often require custom-made furniture
In most cases when dealing with a room or even an entire flat characterised by an attic, custom-made furniture is needed. You will need to find a carpenter's shop or at least a furniture shop that will design and plan each piece of furniture ad hoc and in design. With unconventional heights, it will be difficult to resort to something modular or already on the market: the risk is having to opt for something too low that leaves free, unused space, which is not aesthetically pleasing. When it comes to wardrobes, even a little space that cannot be used often makes a difference. An attic, in addition to having different heights, is never standard in terms of inclination. Therefore, custom-made wardrobe for sloping ceilingsare needed, depending on the dimensions and also to be adapted to the interior design style.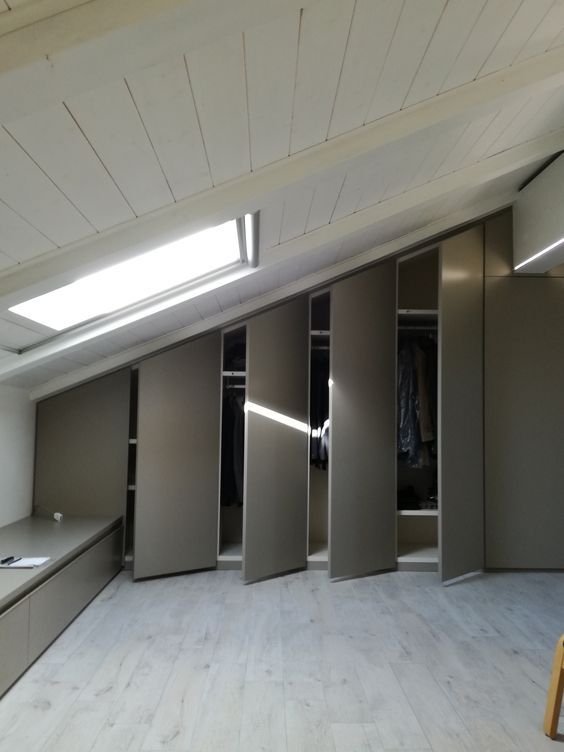 How wardrobe for sloping ceilings will be composed
Especially when it comes to wardrobes, in fact, and especially for bedrooms, where a lot of space is needed for clothes and accessories, the main advice is to reach up to the ceiling. The wardrobe will inevitably have a sloping top like the roof. The interior will probably have to be composed of several modules of different heights, placed side by side. Good measuring and workmanship could allow the interior of the closet to be divided into shelves of similar size if desired, but this is not certain, it depends on the slope and inclination of the roof, as irregular dimensions could force shelves of different heights. But sometimes wardrobe for sloping ceilingswith an interior with different heights is not a limitation at all, on the contrary, it can become a plus! Think of the different types of clothes and accessories that can be placed and hung there. And if you don't like the idea, in any case there will be doors to hide the interior (unless you opt for an open wardrobe that has transparent doors and allows you to see the contents, or even for an open wardrobe space, but then the clothes themselves become part of the furniture).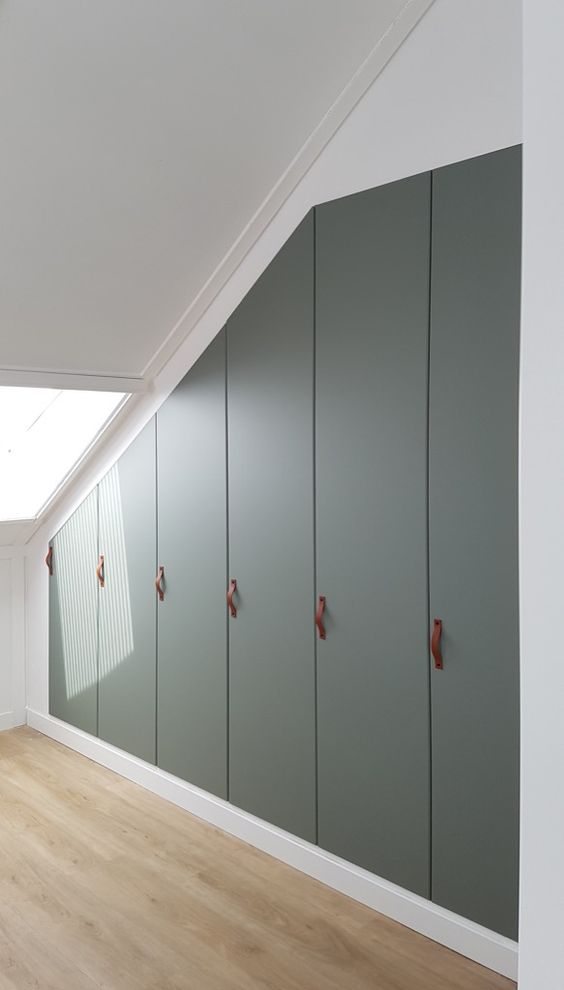 Doors and walk-in wardrobe for sloping ceilings
With regard to the doors, they could be single doors for ease of opening and fixed one by one on the side of shorter length. If only one triangular (or trapezoidal) door is chosen, there is a risk of being obstructed when opening by the ceiling, as well as taking up too much space.
If you want to gain space, instead of wardrobe for sloping ceilings, in order to make the most of medium-sized rooms such as attics, you have the option of choosing attic walk-in wardrobes, which, unlike wardrobes, do not reduce the floor space of the room.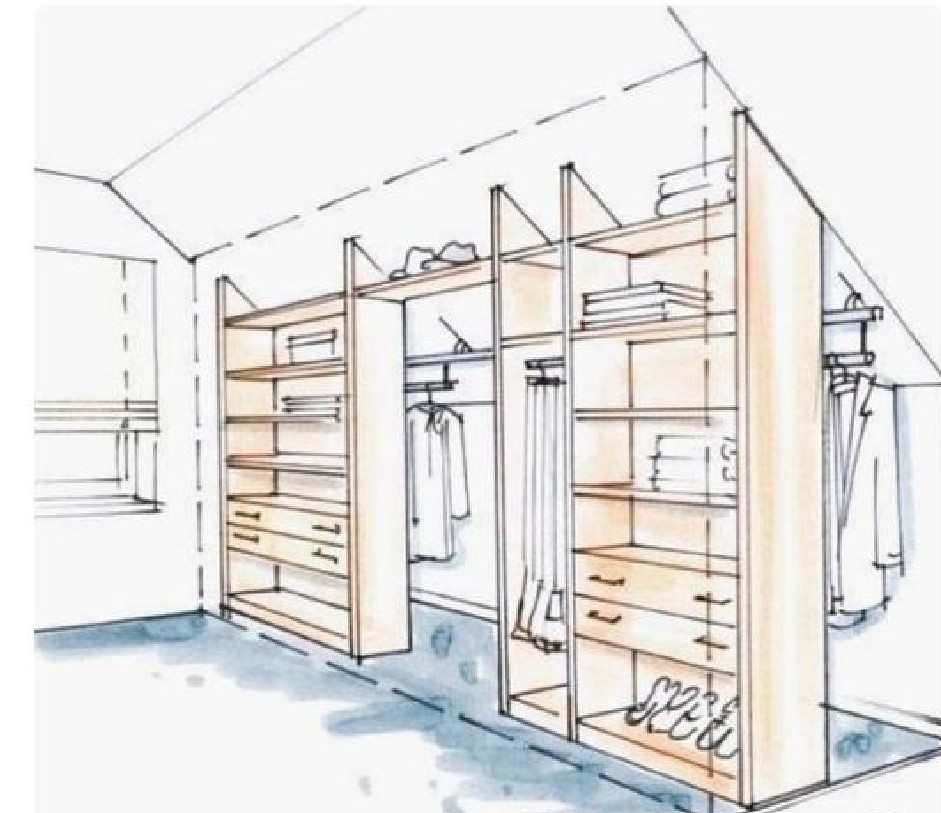 Materials: wood for wardrobes in attics. Or for modern contexts metal is also fine
When it comes to materials, you have maximum freedom of choice. When one thinks of an attic, one usually associates it with wood, which then becomes the most suitable material for the furniture. The effect will be rustic enough and extremely warm in terms of atmosphere, perhaps left natural. Nothing, however, prohibits the choice of metal wardrobe for sloping ceilings, especially in modern environments.
Need to furnish your home or a single room?
Choose a top-notch woodworking shop.

We have over 50 years of experience!
Contact us!
Il Piccolo, a second generation family business, opens its showroom in Lugano. With over 50 years of experience, Il Piccolo brings with it a wealth of technical and design knowledge of the highest level, thanks to the many interiors designed and furnished around the world. In addition, Il Piccolo represents many of the best international luxury furniture brands. We design, manufacture and sell the best in design. Also with regard to La Cornue kitchens, we follow the customer from the design to the realisation of the project, integrating the whole process with a precise and professional service.CONTACT US