Il Piccolo Blog
Wardrobes without doors: a step-by-step guide to choosing the most suitable model for your bedroom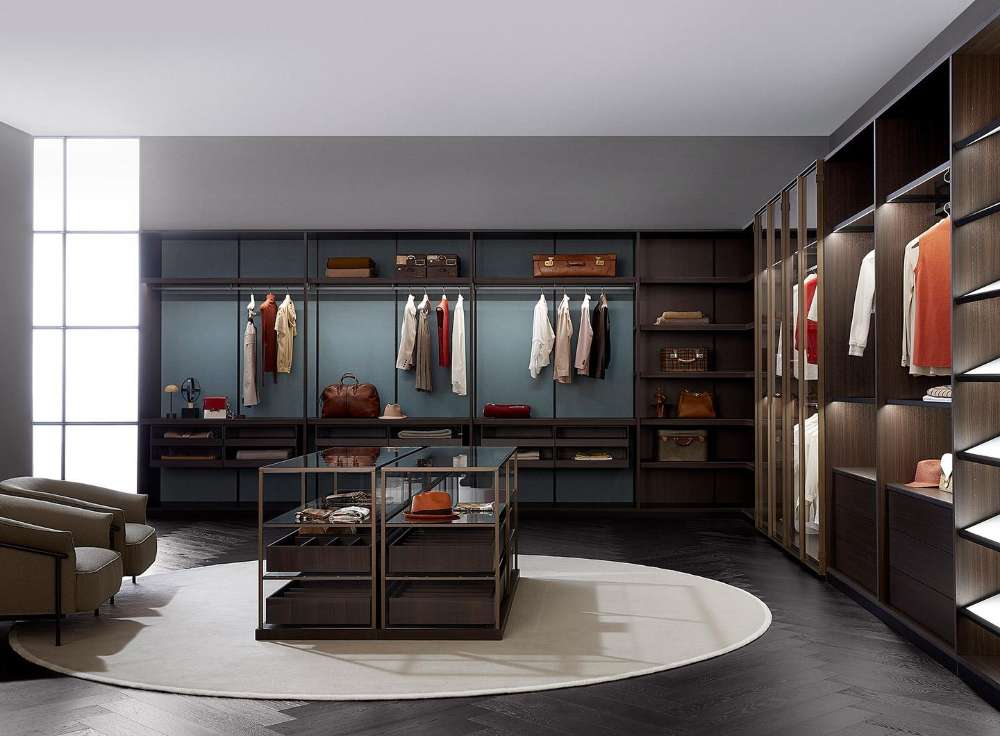 Wardrobes without doors are a type of furniture that provides maximum flexibility and allows you to optimise the space available in your bedroom.
Having the wardrobe visible and well organised in an open system also gives an overall impression of order and balance. And this configuration is typical of rooms furnished according to the principles of contemporary interior design.
Specifically, wardrobes without doors are also ideal as replacements for a walk-in wardrobe and, thanks to the many made-to-measure solutions available, can be customised with great ease. This allows you to definitely find the perfect model for your specific needs.
Why choose a wardrobe without doors?
The use of open wardrobes in bedrooms is a trendy solution that has become increasingly popular over the years. There are several reasons for the success of this type of furniture. Firstly, this furniture is consistent with the principles of contemporary interior design, which is constantly looking for minimal and highly efficient solutions to furnish the spaces of today's homes.
Wardrobes without doors also appeal because they have a simple and, at the same time, rather sophisticated appearance. It is no coincidence that open wardrobes are often inspired by the solutions adopted by boutiques and luxury shops to display their designer clothes. Placing wardrobe items in the foreground allows you to enhance the highlights of your wardrobe. In other words, it allows you to show off your good taste and assert your unique style.
The versatility of wardrobes without doors is another important reason for their success. They are in fact furniture that can easily find a place in very different contexts. In a standard bedroom, for example, they can complete the decor by making the room appear brighter and more spacious. In a walk-in wardrobe, on the other hand, such a wardrobe helps to organise the wardrobe and allows everything to be at hand.
Thanks to made-to-measure solutions, even difficult or unusually large spaces can be furnished. This is the case, for example, in bedrooms with irregular walls or in attics with low or sloping roofs. The absence of doors facilitates the creation of a customised structure and makes it possible to exploit even very small spaces where it would be difficult to fit a traditional wardrobe.
Which type of doorless wardrobe should you focus on?
Furniture manufacturers offer various types of wardrobes without doors. Each individual model is suitable for furnishing a specific space. In order to choose between one model and another, one must take into account the type of space to be furnished and one's needs in terms of wardrobe organisation. Let us look at some examples of possible choices.
In addition to the classic wall structure, you can opt for a corner wardrobe, in case you need a lot of space to store clothes and accessories. In smaller bedrooms, such as children's rooms or guest rooms, you could instead consider a doorless wardrobe with a bridge structure. In this case, the space around and above the bed is utilised. The fact that the wardrobe structure has no doors gives the room a lighter, de facto minimalist look.
This is certainly not the end of the story. Wardrobes without doors are also perfect for those who wish to have a walk-in wardrobe. For example, double-sided wardrobe models are an excellent solution for those who have chosen to create a walk-in wardrobe within the bedroom. In fact, the wardrobe structure marks the separation between the two rooms and is perfectly functional.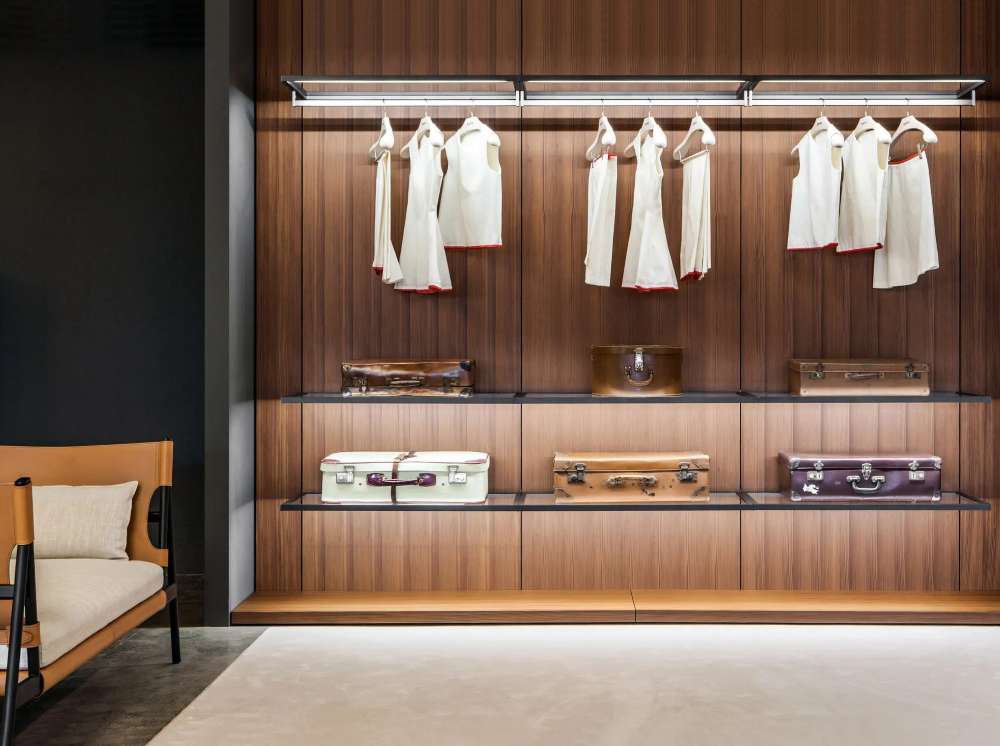 Customise your doorless wardrobe with a made-to-measure solution
One of the main advantages of wardrobes without doors is the ease with which their structure can be customised. Depending on your needs, you can add drawers, storage trays, open compartments and shelves. All these elements add to the hanging spaces and give a very original look to each wardrobe.
Customisation also involves the choice of materials and finishes of the open wardrobe. Generally, the cabinet structure is made of wood, but open wardrobes made of metal or a mix of elements made of both these materials can also be requested. Those who like furniture with a structure that is both light and strong can instead opt for a cabinet made of wood and aluminium. On the other hand, those who love the industrial style can choose one of the metal models with a satin finish.
Colour is another important element influencing the process of choosing wardrobes without doors. Often, such furniture is offered in natural wood, but there are also many different solutions in coloured versions, ranging from pastel shades to bright colours. Thanks to such a wide variety of models, all of which are modular and can be made to measure, everyone can find the most suitable solution to complete their bedroom furniture.
Need to furnish your home or a single room?
Choose a top-notch woodworking shop.

We have over 50 years of experience!
Contact Us
Il Piccolo, a second generation family-run joinery, opens its own showroom in Lugano. With over 50 years of experience, Il Piccolo brings with it a wealth of technical and design knowledge of the highest level, thanks to the numerous interiors designed and furnished all over the world. In particular, Il Piccolo has a wealth of experience in the design and production of several corner wardrobe models. Finally, Il Piccolo represents the world's most prestigious furniture brands.
Our company designs, manufactures and sells the best of made-in-Italy interior design, following the customer from the design to the realisation, delivery and installation of the work, supplementing the process with a precise and professional assistance service. Looking for the ideal corner wardrobe for your room? CONTACT US!