Il Piccolo Blog
White TV cabinet: how to choose the right model for your interior design?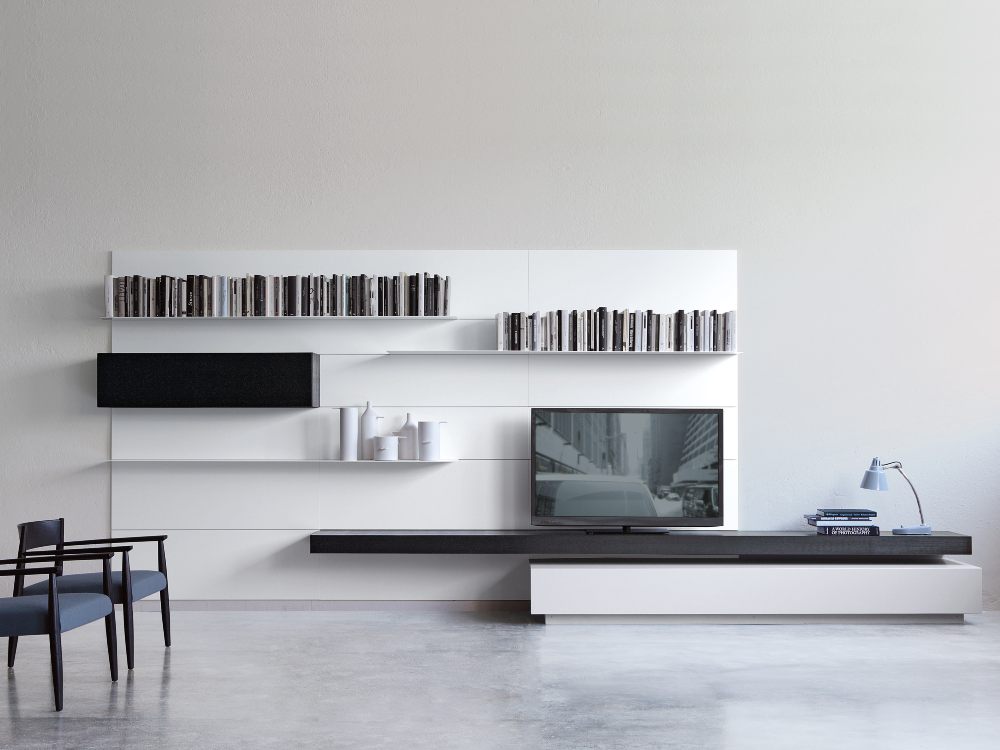 A white TV cabinet is the most practical solution for storing the television in a home furnished in a contemporary style. Thanks to its light colour, this type of furniture is perfect in all contexts where there is a need to brighten up the room.
The versatility of the available options makes it easy to find the solution that best meets your needs. In fact, it is possible to choose from a variety of furniture, which have different sizes, shapes and structures, even made to measure.
What are the advantages of white TV furniture?
Using a white TV cabinet allows you to organise the space that houses the television in an orderly manner. Specifically, the colour white has the advantage that it matches perfectly with any other colour and, in addition, it succeeds in brightening up the surrounding space.
It is therefore clear that white TV furniture is optimal in homes with little light or small spaces. In such situations, using furniture in dark colours risks darkening the room and, in a way, risks stealing some of the light present.
The qualities of white TV furniture can also be appreciated in very large rooms. In such spaces, both the lines of the furniture and the colour will stand out. Depending on the furniture choices that have been made, the furniture can either blend in with the rest of the room or stand out by contrast. Both furnishing options are valid.
As can easily be guessed, a white TV cabinet is not only a piece of furniture that fulfils a specific function, but also becomes an integral part of the interior design and can be used to highlight other elements in its vicinity. Generally speaking, a TV cabinet enhances the design of carpets, sofas, armchairs and coffee tables.
Another tip? The versatility of white TV furniture is such that it allows excellent combinations with both traditional and contemporary style furniture.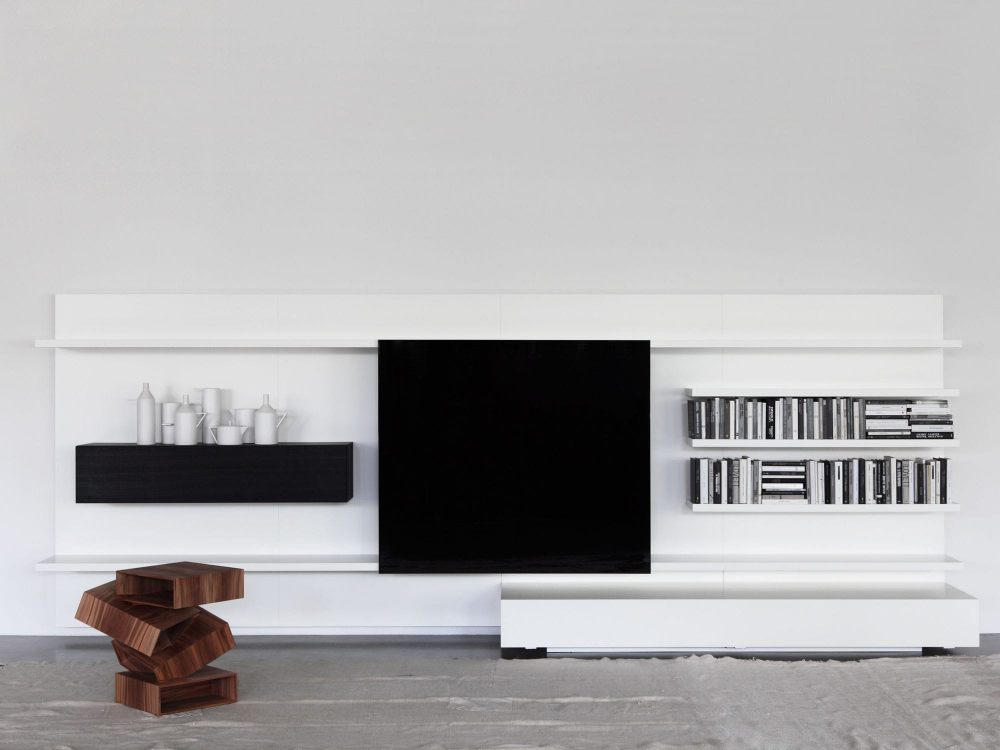 Which white TV furniture to choose?
When choosing white TV furniture, several factors come into play. These range from the appearance of the piece to its structure, materials and manufacturing details.
The appearance of the furniture is often the first element one focuses on. A white TV cabinet with straight or curved lines or with mouldings can have different uses and can fit into living rooms or halls that have been furnished differently.
In general, a white TV cabinet stands out for its elegance. This makes it the ideal choice for the living area and, in some cases, also for the sleeping area of homes where a refined and luxurious interior design has been chosen.
The clean aesthetic lines of this furniture go hand in hand with its ability to keep the area occupied by the TV organised. The presence of cable covers and compartments in which to store DVDs, decoders, remote controls and video games allows for a certain order at all times.
The appearance of this furniture is, of course, influenced by its structure. The most common choice is white TV furniture resting on the floor. However, there are other good alternatives to consider, such as wall-mounted TV furniture and wall-hung furniture. Another good solution is to fix the TV set to the wall and add a white piece of furniture underneath, which can also be suspended or rest on the floor.
As far as materials are concerned, in most cases we are talking about white TV furniture made of wood, with a glossy or matt finish. Depending on your preference, you can choose a white TV cabinet that is lacquered and made entirely of wood or a piece made of a mix of wood, glass, metal or crystal.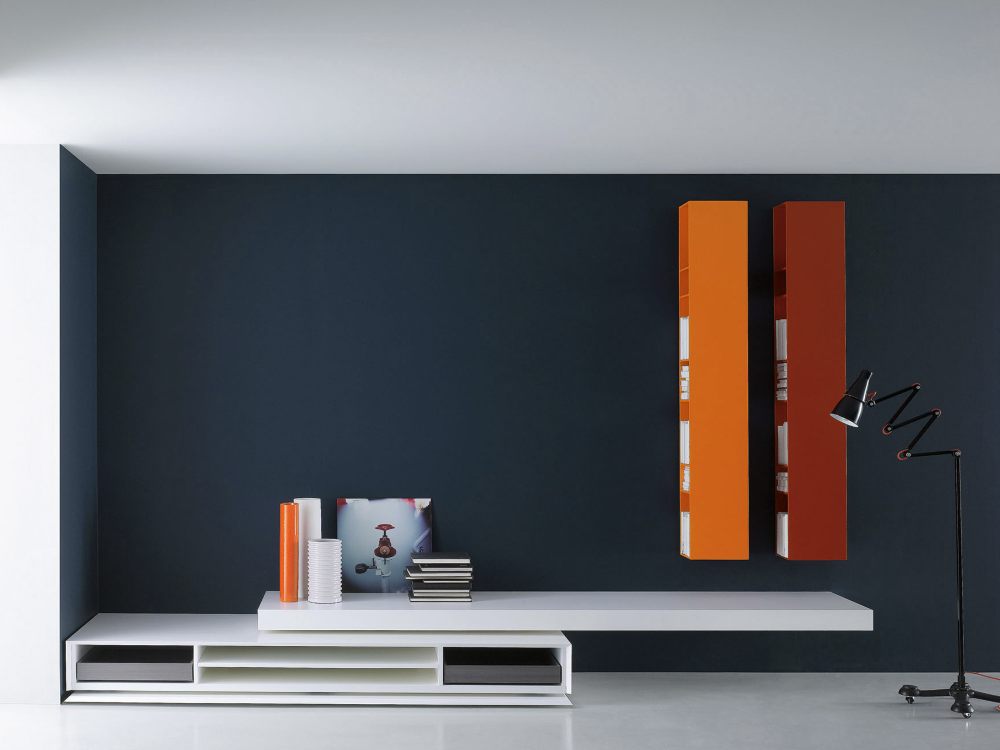 How can a white TV cabinet be integrated into the room decor?
With a few small tricks, you can best integrate a white TV cabinet into your specific interior design project. Analysing in detail the furnishing style chosen for the rest of the furniture in the room is the starting point. In this way, the most suitable alternatives can be identified.
Scandinavian and Nordic style furniture is the one in which white TV stand furniture is best integrated. In rooms of this type, both lacquered furniture with a high-gloss finish and furniture in bleached or varnished wood can be placed.
Any other suggestions? In spaces furnished in an industrial style, a white TV cabinet can be seen as the element that breaks away from the rest of the furniture. To give character to this element of the furniture, you can opt for a hanging cabinet that has integrated LED lights.
In living rooms and halls where traditional style furniture is present, on the other hand, a tall  TV cabinet can be inserted. Or rather, a piece that recalls in style the old cupboards or sideboards of days gone by.
Need to furnish your home or a single room?
Choose a top-notch woodworking shop.

We have over 50 years of experience!
Contact Us
Il Piccolo, a second generation family-run joinery, opens its own showroom in Lugano. With over 50 years of experience, Il Piccolo brings with it a wealth of technical and design knowledge of the highest level, thanks to the numerous interiors designed and furnished all over the world. In particular, Il Piccolo has a wealth of experience in the design and production of several corner wardrobe models. Finally, Il Piccolo represents the world's most prestigious furniture brands.
Our company designs, manufactures and sells the best of made-in-Italy interior design, following the customer from the design to the realisation, delivery and installation of the work, supplementing the process with a precise and professional assistance service. Looking for the ideal corner wardrobe for your room? CONTAC