Il Piccolo Blog
A white wardrobe is the solution for every room. A joker of refinement to be played everywhere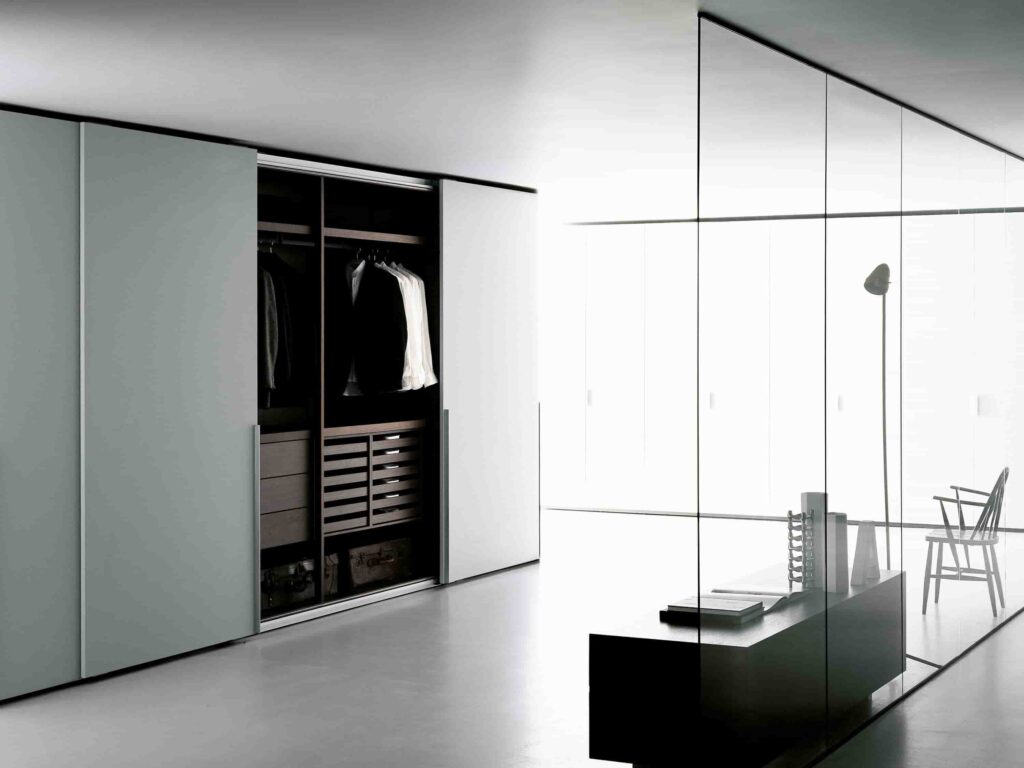 Where to place a white wardrobe? From the kitchen to the bedroom to the living room…
It is often said that you can never go wrong with white, and in fact, placing a wardrobe in that colour in any room in your home is a choice that suits every style and every environment. It can be used in bedrooms, kitchens and corridors, as well as in bathrooms, and it goes well with classical and harmonious environments, with romantic shabby style rooms and with ultra-modern and essential flats, even in the Nordic ones that are so popular nowadays.
A white wardrobe is therefore perfect for every environment and for every type of home, as well as for every material chosen, from evergreen wood to modern steel. It is a colour that brings with it an idea of harmony and cleanliness.
White, a colour that enhances all rooms
When it comes to kitchens, for example, white is a very popular choice. In fact, total white or total black are among the trends for those who opt for a modern and essential kitchen, very technological, but also for those who opt for something more traditional. Adding a white cupboard is feasible, even at a later date, and does not create any disruption. However, when you think of a bathroom, white is the colour that immediately comes to mind, even if it is not necessarily the case and especially if you opt for Luxury you can dare. A white wardrobe also goes well with a bedroom.
With a white wardrobe, important combinations and contrasts
It is a colour that seems to increase the size of the room and makes it bright. But certainly an all-white wardrobe, while it may be good for the kitchen or the bathroom to give a fresh feeling, may be a bit monotonous in the bedroom. One way of giving your white wardrobe a bit of movement would be to create finishes in different colours and, why not, different materials. Wood, for example, goes well with other materials, accentuating the shapes. Even when it comes to the kitchen, brightening up the effect with coloured finishes or accessories is certainly advisable.
A white cupboard, in any environment, can be combined with different furnishings. It goes well with black, with bright colours such as red, blue and purple, or with more subtle and soft shades such as grey, sand and beige. It should be borne in mind that it can also enhance the fabrics in a room and this can apply to curtains or leathers, velvets and cottons, increasing the sense of softness that could characterise sofas and beds. White is also a colour that brings tranquillity and serenity, so it is ideal for rooms where you need to relax, such as bedrooms and living rooms: just be careful not to overdo it, resulting in an aseptic appearance.
Classic, luminous, essential, white to lighten up or give new life to wardrobes
We can therefore say that a white wardrobe is a winning decision in all cases. It will guarantee a touch of refinement and elegance regardless. By increasing brightness, it will also allow you to adjust the lighting. In this case, it can be further accentuated by using glass or crystal. While it may look easily soiled on the surface, in reality dust will be less noticeable on it than on dark furniture.
When the style is modern, opting for a white wardrobe (often without handles) enhances the shapes and essentiality. If, on the other hand, it is part of a classic style, it brings harmony and warmth, lending itself as a backdrop to any type of finish, from wood panelling to a mirror, from lacquer to decoration.
Lastly, white is the solution that lightens up wardrobes and furniture that may be bulky and heavy. Or it is a way of giving new life to antique furniture.
Devi realizzare un progetto di Interior Design?
Devi arredare casa o un singolo ambiente?

Scegli una falegnameria di alto livello.
Contattaci
Il Piccolo, a second-generation family-run joinery, opens its own showroom in Lugano. With over 50 years of experience, Il Piccolo brings with it a wealth of technical and design knowledge of the highest level, thanks to the numerous interiors designed and furnished throughout the world. In addition, Il Piccolo represents the most prestigious brands of furniture worldwide. Il Piccolo designs, produces and sells the best of the interior design made in Italy, following the customer from the design to the realization, delivery and installation of the work, integrating the process with a precise and professional assistance service. CONTACT US!