Il Piccolo Blog
Traditional and at the same time modern, space-saving and decorative: the thousand uses of the wooden console table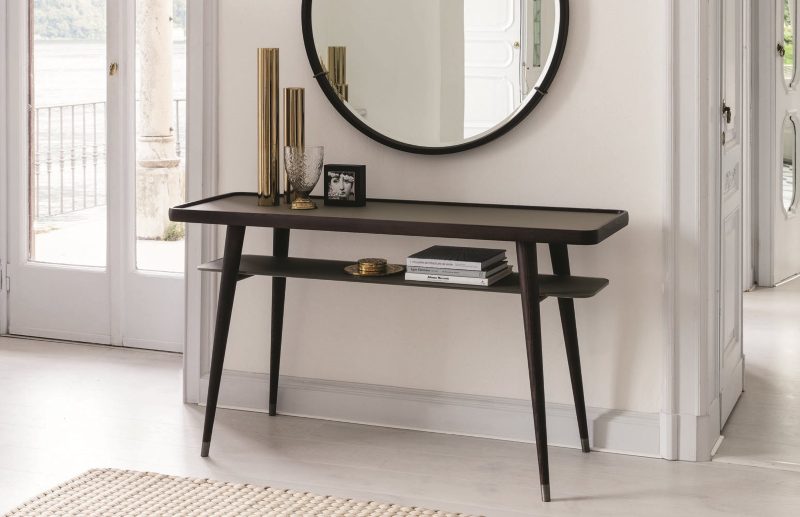 Classic and contemporary, beautiful and useful, the console table
If you are looking for a piece of furniture that comes from tradition and is also adapted and used in modern styles, bringing it up to date and making it contemporary and dynamic, if you want something that, without taking up a lot of space, can furnish different rooms with taste and at the same time functionality, including the entrance hall and a corridor, buying a wooden console table is certainly a good choice.
What is a wooden console table and where can it find space?
Versatile and practical, it can find a place anywhere, lending itself to being, when needed, useful, and when not, decorative and designer. A console table is defined as a wall shelf where various objects are placed, often positioned under a mirror. It rests on two legs, in modern design it sometimes has four legs, like a table, and in most cases it stays close to a wall.
Which room is it good for? Any, from the living room to the bedroom to the entrance hall and corridor, and even the bathroom. It is no longer intended, as is the case with many pieces of furniture, only in a decorative sense, but becomes a useful extra storage space, and with extendable models it can become a table.
The functions of a console table in every room: how practical!
In fact, if initially the wooden console table was used to place valuable objects and choose refined and decorative shapes, we have now opened up to functionality. In an entrance hall, it can become a shelf where you can place what you take out of your jacket pockets, from your mobile phone to your keys.
The same applies to a hallway, creating extra space to rest objects in an otherwise unused place. Incidentally, this is one of the places in the home that is most likely to remain uncluttered and anonymous because it is little considered and difficult to furnish, the console table with its long, narrow shape is perfect. In the bathroom it becomes a shelf where creams and products or linen can be placed.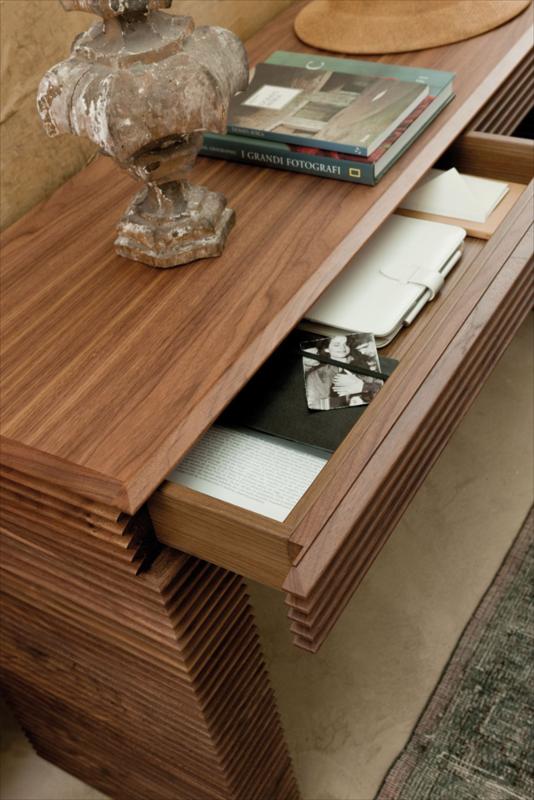 The models of the extendable wooden console table, an extra table when needed
When placing it in the living room, it is useful to think of an extendable model, so that it can be transformed into a table. When not needed, it becomes a shelf again. Similarly to extendable tables, there are various types of opening, from the simple folding one, characterised by hinges, to the one that is enlarged by placing several extensions.
The latter is an extremely dynamic solution because it allows you to choose as you go along how much extension you need. Telescopic profiles are used to extend the console by sliding the legs.
How big is a wooden console table?
Generally speaking, a console table is small and rectangular, with a tendency to be long and narrow. We are talking about a depth of about 35-40 centimetres and a height of about 80 centimetres, with a variable length usually around 90-100 centimetres when it is fixed, while when it is extendable the depth is a little greater, around 50 centimetres. Do not forget that enough space must be provided to open the wooden console table, and also possibly to set up chairs.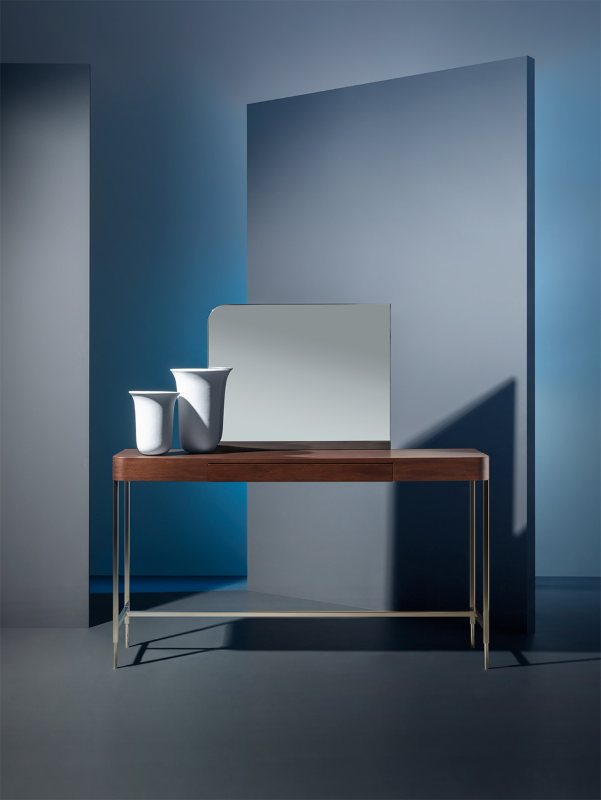 For every style a console table
Even in modern interior design, although there are metal models, a wooden console table is often used, with different types, starting with the large ones to the lighter ones. There are rough versions, for classic or country style, others lacquered and carefully finished for refined and elegant living rooms and contexts, with a crystal or glass top to add a unique touch.
They come in various shapes, from the imposing ones with important and decorated legs to the essential and square ones for a minimalist room. In terms of size and use, they adapt to different contexts, as well as, as mentioned, to all rooms, becoming a traditional yet modern piece of furniture, space-saving and capable of furnishing corners and areas that might otherwise remain empty, even to divide two different areas of the same room.
Need to furnish your home or a single room?
Choose a top-notch woodworking shop.

We have over 50 years of experience!
Contact us!
Il Piccolo, a second generation family business, opens its showroom in Lugano. With over 50 years of experience, Il Piccolo brings with it a wealth of technical and design knowledge of the highest level, thanks to the many interiors designed and furnished around the world. In addition, Il Piccolo represents many of the best international luxury furniture brands. We design, manufacture and sell the best in design. Also with regard to La Cornue kitchens, we follow the customer from the design to the realisation of the project, integrating the whole process with a precise and professional service.CONTACT US