Il Piccolo Blog
XL corner sofas: when extra-large sizes can give a unique touch to rooms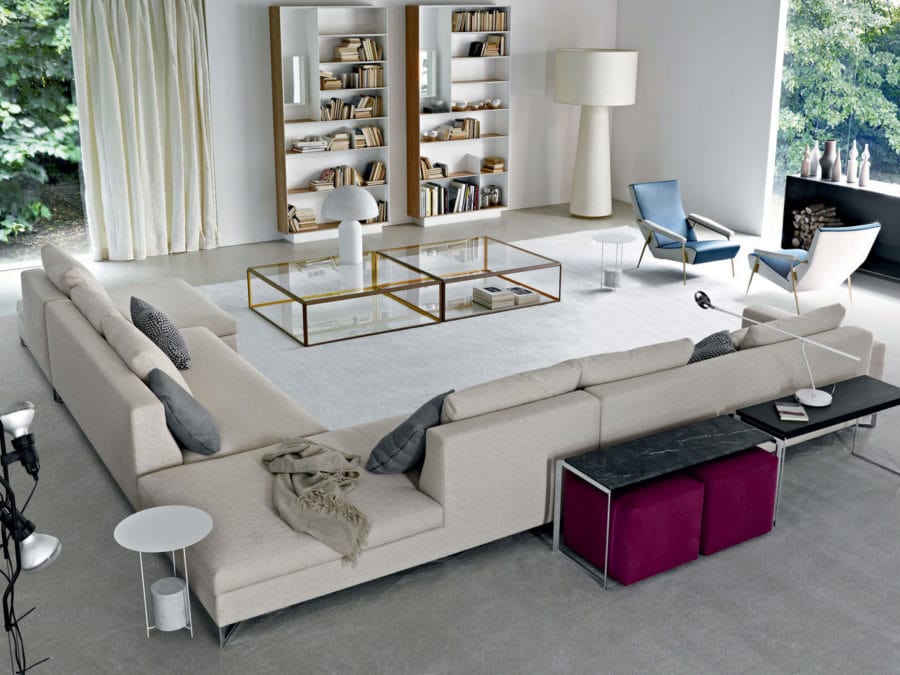 A distinctive feature of homes furnished in a contemporary style is the presence of corner sofas. In the most spacious rooms with generous dimensions, XL corner sofas dominate the furnishings. They can accommodate four people or more and offer comfortable and inviting seating.
The most futuristic solutions also integrate audio systems, electrical sockets and LED lighting, turning the sofa into a perfect command centre for managing one's own moments of relaxation.
Modular and versatile: XL corner sofas are the perfect choice for customised furniture.
When we talk about XL sofas, we are referring to furniture that is larger than the standard size. Generally, a sofa has a structure designed to accommodate two or three people. Extra-large models have seating for four, six or even more people.
In corner models, the arrangement of the seats may vary depending on the configuration chosen. We can find ourselves before a sofa with a fixed structure or before modular models, composed of several independent elements that can be moved and reassembled as many times as desired. Having a sofa of the second type in the home guarantees great freedom of action, because it allows you to define the most suitable composition for your needs with a minimum of effort. From Flexform's Groundpiece model, for example, you can create a chaise longue or poufs, to be placed next to the central body of the sofa to create a living room within the living room.
The versatility of XL corner sofas is also evident when analysing the many choices available in terms of materials. The most classic models are made of leather, an elegant and resistant material. There are also fabric sofas, available in an infinite number of colour shades, and in innovative materials, often obtained from research into sustainable solutions with low environmental impact.
Why choose an XL corner sofa for your living room
Extra-large sofas with a corner structure are the most natural choice for those who have a large family or are used to organising parties and inviting friends home. A large XL sofa, possibly combined with ottomans and armchairs, offers the possibility to stop and chat. In other words, it is the most suitable furnishing element to create an intimate atmosphere in which to exchange chats and confidences.
It would be a mistake to think that an extra-large sofa is only a prerogative of those who live in homes frequented by many people. An XL corner sofa is also perfect for singles and couples. In recent years, the structure of sofas has evolved, and the functions of this essential element of home furnishing have changed. From a simple piece of furniture in which to sit, the sofa has become the fulcrum around which all activities related to relaxation and entertainment revolve. In particular, the large surface area of an XL corner sofa can become a place to lie down and read a good book, to sit and play video games, to have a long phone call with your loved ones or to lie down and watch your TV programmes, films or series.
Some futuristically designed XL sofas also incorporate various technologies that further emphasise the role of the sofa as the centre of entertainment activities. Thanks to the audio system, it is possible to listen to music in high definition, for example. On the other hand, the presence of electrical sockets and USB sockets allows you to recharge your devices without having to leave the sofa.
When to furnish a house with an extra-large corner sofa?
We have already said that XL corner sofas have important dimensions. When you are evaluating the purchase of a sofa of this type, you must therefore avoid the risk of overloading the furniture of the room. It is therefore essential to check that the space available is sufficient to guarantee a good balance between the various elements. From this point of view, the homes in which an XL sofa fits in ideally are lofts and large open spaces.
The colour of the maxi corner sofa also influences the final result. The choice between light or dark colours will essentially depend on the brightness of the room, the space available and the furnishing style present in the rest of the house.
In conclusion, contemporary XL corner sofas are excellent for furnishing homes in hi-tech or Nordic style, or in which you have chosen to mix different elements in terms of age and design.
Need to furnish your home or a single room?
Choose a top-notch woodworking shop.

We have over 50 years of experience!
Contact Us
Il Piccolo, second generation family-run carpentry shop, opens its showroom in Lugano. With over 50 years of experience, Il Piccolo brings with it a wealth of technical and design knowledge of the highest level, thanks to the many interiors designed and furnished all over the world. In addition, Il Piccolo represents the most prestigious brands of furniture worldwide. Il Piccolo designs, manufactures and sells the best of interior design made in Italy, following the customer from design to implementation, delivery and installation of the work, integrating the process with a precise and professional service. CONTACT US!