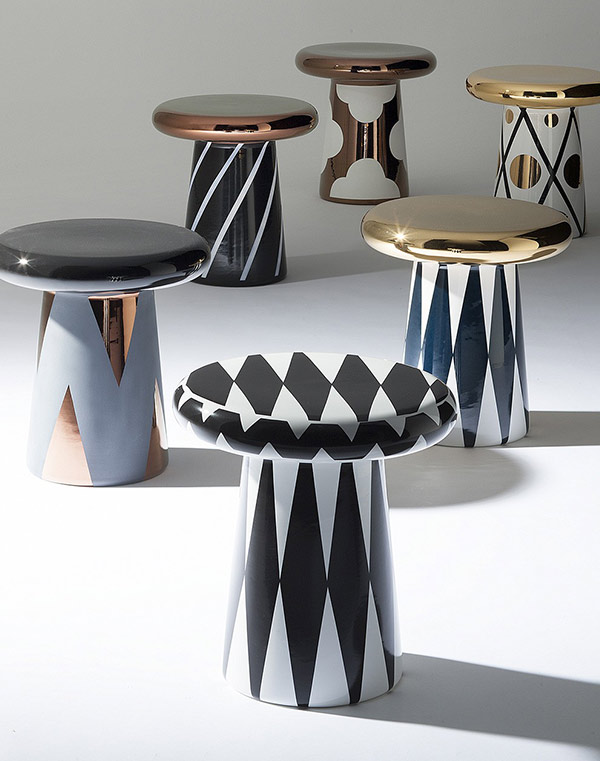 Furnishing
Although the name suggests a 'complementary' essence, furniture accessories are of absolute importance in interior design. Iconic of the style that the home and professional spaces are intended to convey, if chosen and arranged tastefully these accessories can add the touch of colour that brings vibrancy, the tactile sensation that increases comfort and the function that was missing from household appliances.
For the choice of furnishing accessories in Lugano, turn to Il Piccolo: many and dedicated to the different areas of the house, furnishing accessories can be used with a precise purpose, such as the textiles that finish and warm the house, the coat racks that welcome guests, the mirrors and lighting elements, or have a more distinctly decorative function as in the case of paintings, posters and sculptures chosen eminently for their aesthetics.
In general, but especially in this last case, to define with elegance the domestic and professional spaces it is advisable to choose design furniture complements, able to bring an added value to our interiors. For these reasons Il Piccolo proposes furnishing accessories in Lugano and in Switzerland – Canton Ticino, design furnishing accessories of the highest workmanship and quality value.
Objects that do not constitute true elements of furniture, furnishing accessories often have a precise function within the home, even when they are chosen exclusively (or prevalently) for their decorative value.
Among the furnishing accessories in Lugano available at the Il Piccolo showroom, a point of reference for design enthusiasts in Switzerland and the Canton of Ticino, are countless categories of more or less functional elements.
Textiles: fundamental furnishing accessories for all environments
Among the furnishing accessories, a particularly important role is played by textiles. Curtains, household linen and carpets created according to the best design principles and made from high-quality raw materials, textile furnishing accessories use natural fibres such as cotton, hemp and linen. These timeless materials acquire a contemporary charm by being clothed in fresh and original shapes, colours, patterns and designs, the result of the contamination between styles and cultures.
Particularly important in the range of textile furnishing accessories on display at the Lugano showroom are the highly refined Nodus rugs, sold exclusively for Switzerland and the Canton of Ticino by Piccolo. Strictly hand-woven, Nodus rugs recover and reinterpret the most ancient knowledge of the art of rug-making through the vision of contemporary designers and architects, producing unique pieces to complete the most refined homes, studios, professional and exhibition spaces in an absolutely exclusive way.
Alongside carpets, we cannot forget bed and bedroom textiles, furnishing accessories that are decidedly more indispensable than "complementary", through which the spaces of comfort and rest are defined. In the Piccolo showroom in Lugano you can find textile proposals signed by Elite Beds, a Swiss company that has always proposed only highly refined complements for the night area.
If you are looking for textiles to furnish your rooms with taste or if you are looking for furnishing accessories in general in Lugano, the showroom of Il Piccolo is a must.
Lighting proposals
But the furnishing accessories are not limited to the textile sector: in the Lugano showroom you can find, for example, the lamps and design lighting proposals by Brand Van Egmund, a Dutch brand currently present in over 60 countries that creates a rare and extremely refined fusion between technology and craftsmanship: real unique and customisable lighting sculptures where light is the absolute protagonist, Brand Van Egmund lamps illuminate and define the style of interiors through the combination of the strength of metal and the value of crystals.
Furnishing accessories and brands: the proposals of Il Piccolo
Another brand that has made research and experimentation in design its absolute vocation is Dilmos Milano, which was founded in the 1980s as an exhibition space dedicated to designer furniture and furnishing accessories, and later oriented its activities more and more towards art and design.
Through the continuous research of objects with a strong communicative and narrative charge, Dilmos proposes furnishing accessories that are iconic of the author's thought, a vehicle of communication and interaction with the world. The object, freed from the function that represents its raison d'être and legitimacy, does not however become a mute totem and symbol of an increasingly light society. On the contrary, according to Dilmos, the furnishing accessory becomes a stylistic sign, the bearer of a thought, a philosophy and a poetics expressed through extremely refined aesthetic research.
And there's more: in the Lugano showroom you can find the Elite, To Be furnishing accessories, which, through the synthesis of design, manages to reconcile the suggestions and traditions of two distant lands such as Friuli and Australia.Elite To Be's proposals include a complete range of refined furniture and evocative furnishing accessories, with a rich catalogue of furnishing elements expressly dedicated to wine enthusiasts, perfect both for the home and for furnishing wine bars, clubs and professional spaces.
And let's not forget Glas Italia, with its refined crystal tables and furnishing accessories suitable for both the most sophisticated homes and top-level professional spaces, and Laurameroni, the brand devoted to luxury design that offers exclusive and refined furnishing accessories: boiserie, chests of drawers, consoles, lamps, mirrors, coffee tables and objects of purely ornamental value await you at the Il Piccolo showroom in Lugano, an authorised retailer of the best international design brands.
Furnishing complements Lugano – Cantons Ticino – Switzerland
Dedicated to the home or to professional spaces, furnishing accessories make up the vast and heterogeneous population of the infinite horizon of design furniture: from vases to clocks, from scented candles to textiles, the furnishing accessories proposed by Il Piccolo of Lugano to customers in Switzerland and Canton Ticino operate a refined conciliation between form and substance, aesthetics and function.
The best design, as we know, is the one that combines utility and vanity, putting its multifaceted soul at the service of the art of living. For over 40 years, Il Piccolo has offered a sophisticated interior design and renovation service inspired by the best Italian and international design. To complete the most refined furnishing projects, the Lugano showroom offers in Switzerland and Canton Ticino complements of absolute value, perfect to define the style of the home or professional space.
Each detail is carefully studied, matched and inserted into the furnishing project to make each space more functional and refined. Every furnishing accessory, whether it be textiles, mirrors, lamps, tables, paintings or sculptures, deserves to be chosen with rationality and passion, the same passion that Il Piccolo has always poured into its activity where art, craftsmanship and design have been intertwined without interruption for almost half a century.
Fundamental yet complementary, furnishing accessories can completely change the look of a room, adding comfort, style and warmth: from the softness of the finest textile fibres to lighting designed to facilitate the habits of those who live in the spaces, furnishing accessories born of the best design await you in the Il Piccolo showroom in Lugano, a reference point for designer furniture in Switzerland and Canton Ticino.