Il Piccolo Blog
Flexible in size and materials, pivot doors are an original solution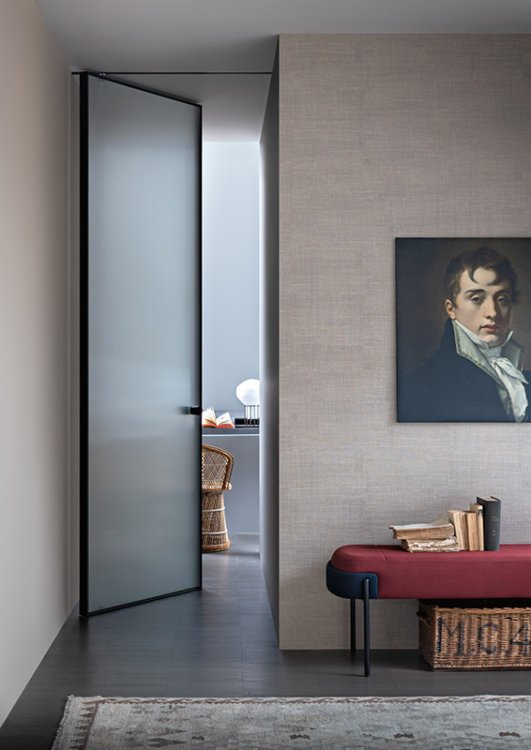 The evolution of the door concept in interior design
As is often the case in the world of interior design, doors used to be considered merely a complement to divide one room from another, a necessity that went beyond aesthetics, because being able to close oneself off in one's own room or bathroom has an indispensable function of privacy and soundproofing, where possible. Over time, open-plan flats have developed, but one cannot do without, apart from in some spaces, doors, especially if one is dealing with a reality inhabited by several people. But nowadays they are no longer just practical, as each element fits into the overall design of the home. This is the reason for the exponential spread in recent years of a special and extremely flexible solution such as pivot doors.
What pivot doors are
Compared to doors as we know them, the opening and construction system changes completely. Usually, when we talk about a pivot door, it is fixed by means of hinges to the compartment and when it opens it rotates, either inwards or outwards, depending on what one chooses, and the footprint is equal to the width of the door leaf. There are also folding and retractable systems, popular in recent decades, which reduce the space required and are used in more modern contexts. The pivot door has an even different concept: it does not rotate around the extension of its vertical axis, but rather thanks to a lower and an upper pivot hinge. It is in fact a pivoting panel, consisting of a leaf, a pivot system, a floor plate and a ceiling plate, resulting in doors that rotate around a concealed pivot. Actually, this is not a new invention, in fact it has been used for a long time, but only recently has it become widespread for interior doors.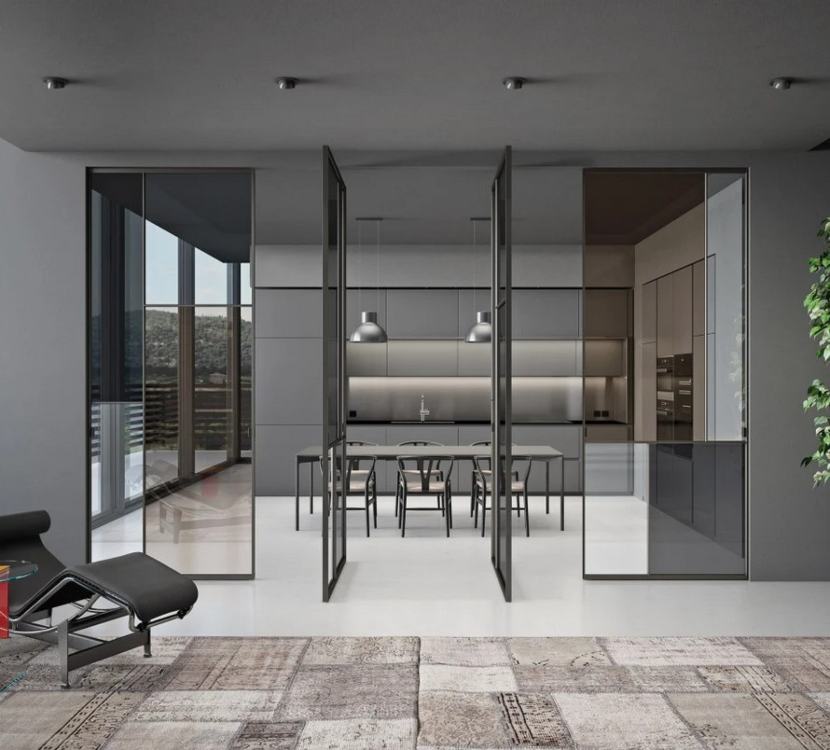 Versatility is the main feature of a pivoting door
Why is this system so popular? The main feature of pivot doors is their enormous flexibility, both in terms of size and materials, and also in terms of finish and therefore design. It is a solution that adapts to any interior design, although it is most often chosen in minimalist and modern contexts due to its minimalist and versatile appearance. They have total design freedom and can be inserted in any context even afterwards, think of a renovation or in cases where you want, for whatever reason, to add a door (e.g. to divide an open space that is not very liveable).
The elegance of movement of pivot doors
Even the movement of a pivot door is different from that of a traditional one, because if you position the hinge a few millimetres away from the side of the door, say 4 millimetres, you will create a tail, made up of the space between the side itself and the jamb. The tail will rotate inwards or outwards, depending on the option chosen, creating a fluid and elegant movement, capable of becoming a design element in itself. What's more, the pivots are almost invisible, unlike those of traditional doors, so pivot doors can be created to be virtually unseen or appear to rotate almost magically on themselves.
It is a method of construction that gives the possibility of being very flexible with regard to door height and width, being able to opt for very large, very dramatic solutions.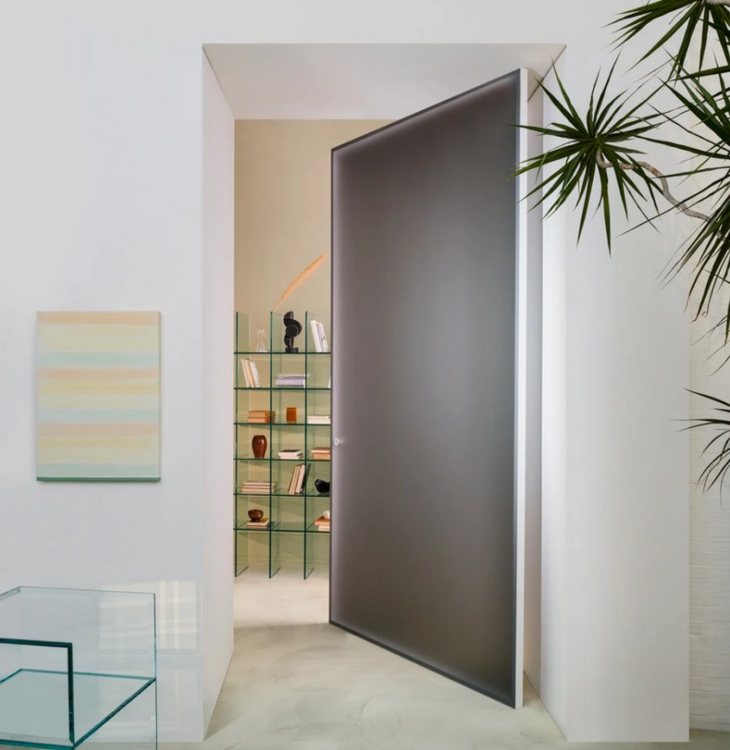 There are also endless possibilities for materials, from wood to… marble
The materials for pivot doors also allow great freedom, as the way they are constructed the opening system can support even the heaviest ones. The only condition is that the hinges can be fitted inside the door leaf. Green light, therefore, to wood or glass and steel, which are the most common choices for classic and modern interior designs respectively, but also to marble, for a very special door.
Need to furnish your home or a single room?
Choose a top-notch woodworking shop.

We have over 50 years of experience!
Contact us!
Il Piccolo, a second generation family business, opens its showroom in Lugano. With over 50 years of experience, Il Piccolo brings with it a wealth of technical and design knowledge of the highest level, thanks to the many interiors designed and furnished around the world. In addition, Il Piccolo represents many of the best international luxury furniture brands. We design, manufacture and sell the best in design. Also with regard to La Cornue kitchens, we follow the customer from the design to the realisation of the project, integrating the whole process with a precise and professional service.CONTACT US