Il Piccolo Blog
Wood and more: the characteristics of a cosy and intimate mountain house kitchen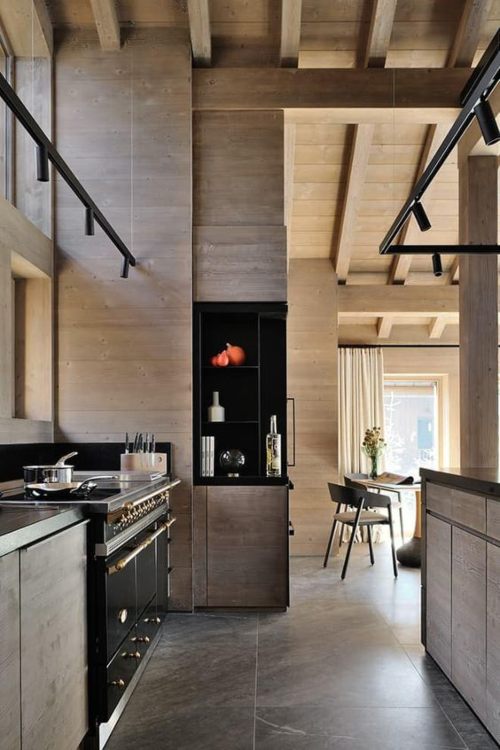 The characteristics of a mountain house kitchen
Warm tones played with wood, left natural as well as stone, to create a cosy and rustic environment, without disdaining or neglecting contemporary elements, and of course modern appliances and functionality. Furnishing a mountain house kitchen is an operation that, if it follows certain guidelines, can create an interior design that combines modernity and tradition, comfort and practicality, suitable for a mountain retreat.
Sea or mountain, the decor changes
Whether in winter in the midst of high, white snow or in summer kissed by the sun and surrounded by meadows and peaks, in the common imagination when one thinks of a chalet one cannot help but imagine a wooden house, designed to relax at the end of the day and be together. The essential prerogative of a second home, because in most cases that is what it is, is to be able to make everyone feel at ease, but the style and furnishings will usually be different if we are talking about a seaside location or a mountain chalet, so getting advice from an interior designer and experts on a kitchen studio, a key room, can be a very good idea.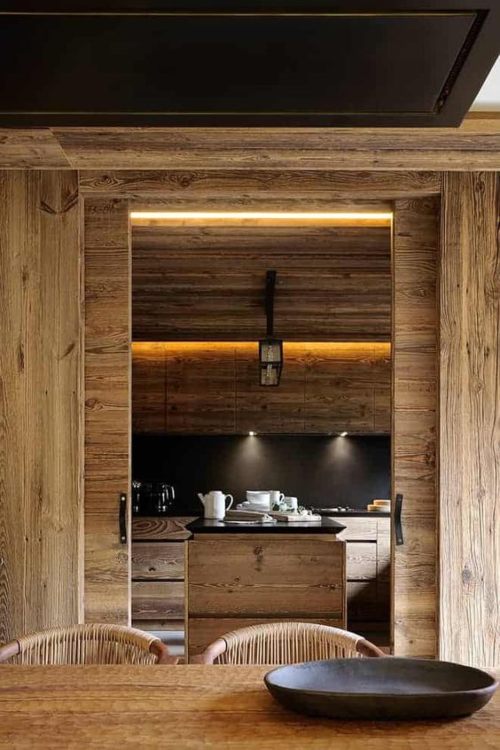 For a mountain house kitchen start with wood
There is nothing to prevent you, if you wish, from bringing the style of a typical chalet kitchen to the city as well, although you need a space that is suitable. In terms of lines and materials, in fact, it is something very reminiscent of country kitchens, which are increasingly popular in urban contexts as well. In fact, they share the setting, the rustic touch and the desire to give warmth, bringing modernity to a traditional kitchen.
As mentioned, the first characteristic of a mountain house kitchen: wood, wood and wood. This is the material par excellence associated with a mountain home, although it must be skilfully combined with others. It is no coincidence that wood is the material that conveys home warmth most of all. It can be used for the kitchen, for the table, for the chairs, in short for everything, chosen in lighter or darker tones. To give it an even more rustic touch, a certainly winning choice is to leave it natural, highlighting the breezes that are able to make each surface unique. Moreover, since it is usually particularly cold in the mountains in winter, wood is also an excellent thermal insulator, another reason why it is widely used.
What materials should be combined with wood? From marble to steel
It is a mistake to think that a wooden kitchen is necessarily classic, because it is a material used for all kinds of styles, including contemporary ones. Nor is it true, however, that a mountain house kitchen has to be made of wood alone. It will be other materials, such as stone or more modern ones, that will make it truly unique. For an original design that goes beyond the norm and adapts to people, we at Piccolo work with various premium brands, such as La Cornue and Lacanche.
In addition to wood, marble can be used, which is perfect for worktops, or concrete for an even more rustic effect. To give a touch of modernity and an almost industrial feel to your mountain house kitchen, you can insert steel, the material of excellence in contemporary kitchens, taken from professional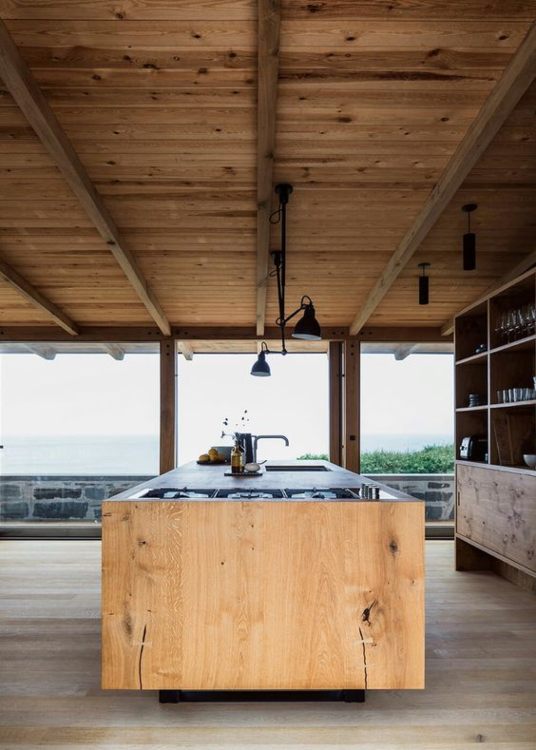 Furniture and colours, what to take into account
When it comes to choosing furniture for the mountain house kitchen, the table is the central one, around which you gather. And if you prefer an island? If you want to embrace a modern concept, you can do so, safeguarding the concept of the convivial heart of the room. And the colours? Wood tones are ideal, then other colours can be added, but they must, like everything else, evoke a feeling of warmth. Better, therefore, warm colours and primary colours, also in the utensils on display, in the finishes and in the fabrics, which can be cushions or curtains.
Need to furnish your home or a single room?
Choose a top-notch woodworking shop.

We have over 50 years of experience!
Contact us!
Il Piccolo, a second generation family business, opens its showroom in Lugano. With over 50 years of experience, Il Piccolo brings with it a wealth of technical and design knowledge of the highest level, thanks to the many interiors designed and furnished around the world. In addition, Il Piccolo represents many of the best international luxury furniture brands. We design, manufacture and sell the best in design. Also with regard to La Cornue kitchens, we follow the customer from the design to the realisation of the project, integrating the whole process with a precise and professional service.CONTACT US