Il Piccolo Blog
Classic kitchens, symmetry and functionality but also an eye for design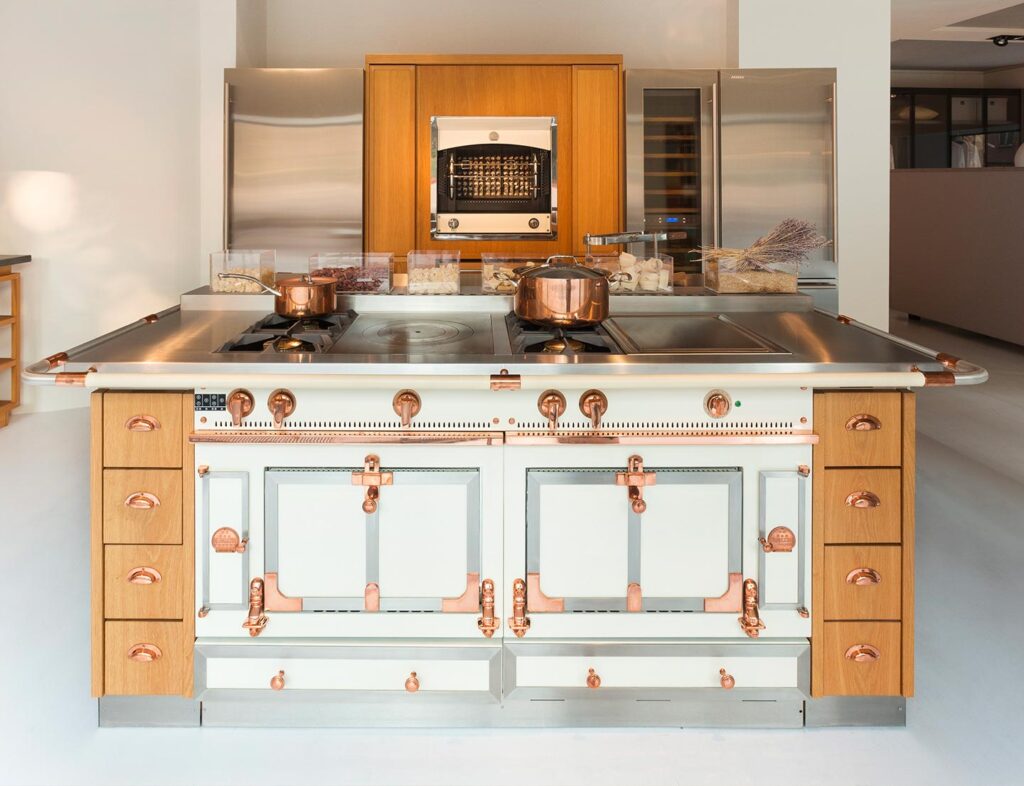 Classic designer kitchens, where you cook and live
Kitchens nowadays are increasingly in the design field, including classic kitchens. Whichever style you choose for your kitchen, but the same goes for the whole house, you combine design with practicality. People often opt for furniture and appliances that give them an image and at the same time allow them to perform the most advanced functions.
Classic kitchens, with their design touches, more than any other, combine the functional aspect with that of a living room: you want to be able to really cook and spend time with friends at the same time. Classic kitchens rarely lack a table to sit at, and it is not just a design element, but a central element where people talk and laugh.
What do classic designer kitchens look like?
A classic kitchen often uses wood as a material (Link to article: Modern kitchens wood), choosing either solid wood or solid wood. Although many opt to use laminates, wood is definitely a choice that recalls the warmth of the hearth and also gives an image of essentiality and elegance. Those who want a classic kitchen, however, do not disdain solid marble or stone tops, sometimes in laminate or quartz when looking for design details. Don't forget glass models, which combine elegance, design and aesthetics.
The knobs of classic kitchens are often made of ceramic or are silver handles embellished with an antique effect. There are, in a classic kitchen, glass doors and display cabinets where glasses or precious plates can be inserted as a design element. The same doors, wall units and drawers are designed with sinuous shapes that bring a touch of classicism.
Classic designer kitchens, symmetrical shapes
Classic kitchens are characterised by a symmetrical shape, where order reigns. The hob is placed in the central area, together with the oven and hood: it is the beating heart of the room and gives a feeling of regularity typical of classic models.
Appliances are not missing in classic kitchens
Those who opt for classic designer kitchens do not skimp on appliances: they choose modern ones, ready to help and lighten life. They are often interlocking rather than free-standing. The finishes are metallic, an element that doesn't quite match the other materials but could be a design addition. The classic can be seen in the lines: fitting appliances into each other allows a classic, linear design to be maintained.
If anyone thinks that a classic kitchen is necessarily reminiscent of the rustic, perhaps the antique, they are wrong: classic kitchens have many design elements and are produced on an industrial scale. These are prestigious handcrafted elements, in which Italy excels.
For their unique performance and design, the French "La Cornue" kitchens are worth mentioning. They have become the symbol of a lifestyle for true lovers of professional cooking at home. An enamelled steel kitchen with ovens handmade in Paris.
Finishes and details as design elements in classic kitchens
There is no shortage of attention to detail, as fine supplies, in classic kitchens. Very designer is to choose ceramics, preferably hand-decorated, an option that gives a sense of delicacy. Chairs, cabinets and even the table should be chosen carefully, in continuity with the rest of the classic kitchen, to fit in with the environment.
The ideal fabrics for classic designer kitchens are linen and cotton, both for tablecloths and curtains. Floral patterns are very popular. The colours of a classic kitchen are often light and bright, without too many daring particular colours. Everything is designed to give a sense of continuity, including the floor.
When an island is used in a classic kitchen
In recent years, the concept of the island has also developed in the field of classic designer kitchens. It saves space and goes well with the classic philosophy where the hob is the heart of the kitchen. Kitchens with an island are often intended for homes furnished in a minimalist or contemporary style, but they also fit in well with classic kitchens and can even be a design element.
Need to furnish your home or a single room?
Choose a top-notch woodworking shop.

We have over 50 years of experience!
Contact Us
Il Piccolo, second generation family-run carpentry shop, opens its showroom in Lugano. With over 50 years of experience, Il Piccolo brings with it a wealth of technical and design knowledge of the highest level, thanks to the many interiors designed and furnished all over the world. In addition, Il Piccolo represents the most prestigious brands of furniture worldwide. Il Piccolo designs, manufactures and sells the best of interior design made in Italy, following the customer from design to implementation, delivery and installation of the work, integrating the process with a precise and professional service. CONTACT US!