Il Piccolo Blog
Classic luxury wardrobe: elegant and impressive for mostly classic rooms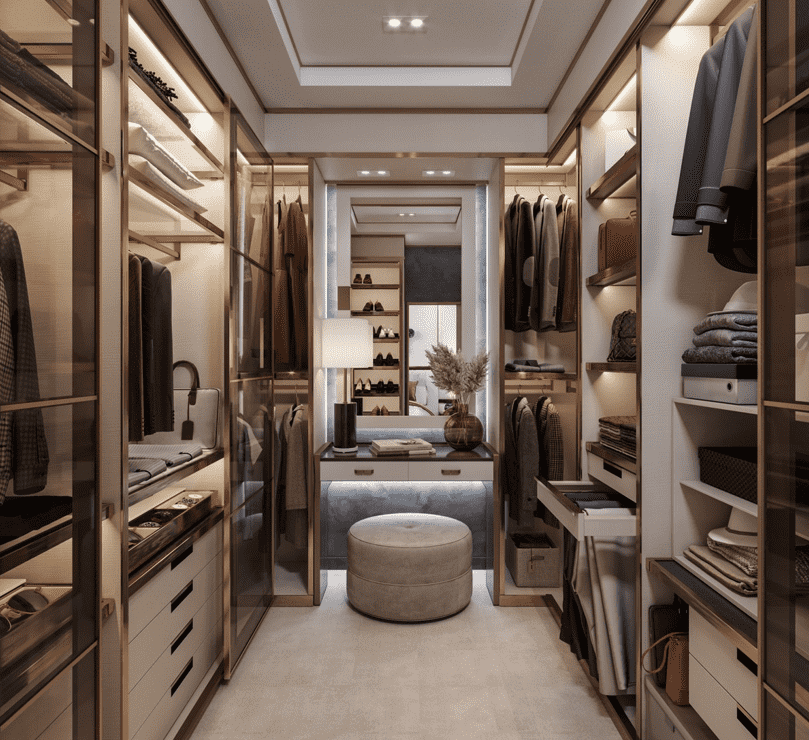 A classic luxury wardrobe can be placed in a classic room
A classic luxury wardrobe is perfect for enriching a bedroom furnished according to classic taste, an evergreen that recalls elegance and an inimitable style, coming from a bright past but perfectly suited to the present. In such a room, a luxury classic wardrobe is preferable to a walk-in wardrobe, although this second solution can also be declined with great elegance.
Classic bedrooms are set in soft tones that play skilfully with light, giving brightness and class, with materials such as wood and, if you want to add a definite touch of luxury, marble, stone, lacquer and velvet.
Classic furniture is in most cases imposing. They should be seen and noticed, not camouflaged, and create continuity with the rest of the furniture. Of course, functionality is not forgotten in a classic luxury wardrobe either.
Classic luxury wardrobe, attention to accessories and upholstery
Classic absolutely does not mean antique, on the contrary! As mentioned, a classic luxury wardrobe is imposing in size and appearance. It stands out! It is characterised by geometry with rigorous, well-defined lines. The simplicity of the lines leaves plenty of room in a classic luxury wardrobe for elegant touches of finish. Accessories and facade panelling are of great importance, because it is they who give the classic luxury wardrobe its extra touch and turn it into a design object in the room.
Why wood is the right material for a classic luxury wardrobe
The classic style prefers continuity to contrast. It is therefore furnished with predominantly wooden furniture with a romantic atmosphere. It is not uncommon to see, for example, a four-poster bed in rooms in this style, which like nothing else recalls the dreamy atmospheres of movie palaces. Wardrobes, bedside tables and accessories such as lamps and accessories create a harmonious whole, often playing on the same colours. In most cases, both for a classic luxury wardrobe and for the other pieces of furniture, we choose soft colours, from white to dove grey to cream, capable of being bright and delicate. Even in cases where the colours are a little more particular, we do not go overboard: yellow will be very delicate and suffused, green tending towards sage. The classic luxury wardrobe is no exception. Wood, with openings to laminate panels that are expertly painted and lacquered to look a lot like it, lends itself perfectly.
Functionality should not be forgotten in a classic luxury wardrobe
The classic luxury wardrobe is imposing, although it can easily be adapted to the needs of the room, perhaps by placing it in empty corners. As mentioned, classic and luxury does not mean not functional. In fact, the interior of the wardrobe is organised in such a way that everything can be stored in the classic luxury wardrobe: hooks for clothes, drawers, shelves, closed shelves for less frequently used items and tie clips.
How to add essential elegance to a classic luxury wardrobe
The finishing touches are of great importance in a classic luxury wardrobe. They should be visible and elegant, perhaps with special knobs. A golden hue looks very good on classic designer wardrobes in muted colours and provides a touch of sophistication. Geometric and floral motifs decorating the doors are very popular in the classic style. The upholstery is often made of precious wood – red, ebony, wild pear, apple, eucalyptus – which is given a glossy sheen. The idea of playing with mirrors and glass inserts is also very popular, to make your classic luxury wardrobe even more elegant, and for those who want to be daring, inlays, mosaics and copper elements or small sculptures in relief on the fronts are also very classy. In a classic luxury wardrobe, as well as in the whole house furnished in this style, the key words are balance and refinement, so you play with the right mix of elements to make everything elegant but not heavy.
Need to furnish your home or a single room?
Choose a top-notch woodworking shop.

We have over 50 years of experience!
Contact Us
Il Piccolo, a second-generation family-run joinery, opens its own showroom in Lugano. With over 50 years of experience, Il Piccolo brings with it a wealth of technical and design knowledge of the highest level, thanks to the numerous interiors designed and furnished throughout the world. In addition, Il Piccolo represents the most prestigious brands of furniture worldwide. Il Piccolo designs, produces and sells the best of the interior design made in Italy, following the customer from the design to the realization, delivery and installation of the work, integrating the process with a precise and professional assistance service. CONTACT US!